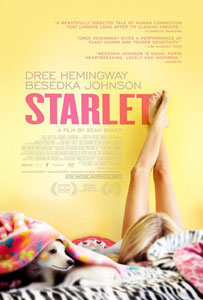 I saw director Sean Baker's last film, Prince of Broadway, at the 2009 San Diego Film Festival and it was hands down, the best film I saw that weekend. Gritty, realistic and mostly cast with non-actors, the is film about Lucky (Prince Adu), a hustler in New York City's wholesale district who is forced to adapt to when an ex-girlfriend drops a baby off on him. 
In his newest effort, Starlet, Baker moves coasts to Los Angeles and once again, knocks it out of the proverbial park.
The film stars Dree Hemingway (yes, of that Hemingway family) as Jane, an up-and-coming porn star who forms an unlikely friendship with the elderly Sadie (Besedka Johnson). After she finds a stash of money from a vase purchased at a yard sale, Jane, along with her dog Starlet, attempts to find out the story of Sadie's mystery cash.
Jane's world of porn shoots, bad roommates and sketchy mentors seem like a world away from Sadie's insular and restrained life and as the story moves forward, Jane finds herself becoming more and more attached. Unlike everyone else in Jane's life, Sadie doesn't need her and watching Jane force herself upon Sadie, you get the feeling that that is Jane's lot in life; being needed and wanted. Read more