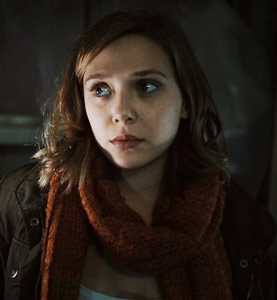 Though she gained rave reviews in the 2011 Sundance Film Festival release Martha Marcy May Marlene, Elizabeth Olsen also starred in another film that debuted at Sundance 2011, the horror film Silent House, which is finally being released this month. 
Olsen stars as Sarah in the unique film, which not only plays in real-time and is rendered to appear to have been done in one continuous shot.  Olsen speaks about why she decided to star in a horror film and what it was like shooting such a challenging movie.
Olsen was immediately interested in starring in the film because she's a fan of horror movies.  She explains, "I love horror movies, I like being scared, and I laugh my ass off, screaming and laughing as an audience member." 
However, Olsen is particular about the type of horror movies she enjoys, which her led her toward her role in the unconventional Silent House.  She clarifies, "I personally don't like horror movies that are about slicing and dicing.  I like feeling claustrophobic and that is where this one goes." Read more
It's probably accurate to say that most actors with decades-long careers feel comfortable doing a certain genres and are hesitant to branch out into more physical roles. 
Not Denzel Washington,  whose last three films have been the action/thrillers Book of Eli, Unstoppable, and Safe House. 
In an interview with Metro, Washington talks about how he has seen changes in both his roles and the film industry as a whole over his acting career, and what ambitions he has left.
Like Liam Neeson, Washington is one of the few actors who are known for dramatic roles but have begun to do more action roles in his late fifties.  However, Washington claims that the only difficulty he had with his action scenes is… jumping?  Read more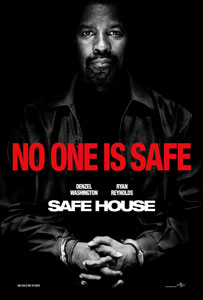 Safe House: Matt Weston is a rookie CIA operative frustrated with his lackluster post running a safe house in Cape Town, South Africa. All that changes when his first "guest" is Tobin Frost, a renegade intelligence officer who had been on the run for almost a decade. When mercenaries attack the house, Weston and Frost make a narrow escape and together must find out who they can trust.
Starring: Denzel Washington, Ryan Reynolds, Brendan Gleeson, Sam Shepard, Vera Farmiga
Directed by: Daniel Espinosa

In Theaters: February 10, 2012
Read more
While on location in South Africa shooting the CIA thriller, Safe House, Interview Magazine hung out with Ryan Reynolds on his day off to talk about his latest films, Green Lantern and The Change-Up.
When, towards the end of the article, he was asked if he had any projects coming up, Reynolds said, "I don't really know what I'm going to do next. I'll meet with some directors via Skype."
Then, he added, "If the camera angle's just right, you can be ferociously masturbating and they have no idea."
And that is why I love Ryan Reynolds.
Read more