Here are 2 clips from Captain America: The First Avenger and yes, it does look cool. Very cool.
Starring Chris Evans, Hayley Atwell, Hugo Weaving, Sebastian Stan, Toby Jones, Samuel L. Jackson, Dominic Cooper, Tommy Lee Jones, Stanley Tucci, and Neal McDonough, the film tells the story of Steve Rogers. When he volunteers to participate in an experimental program for the Army, he's turned into Captain America, the first Avenger.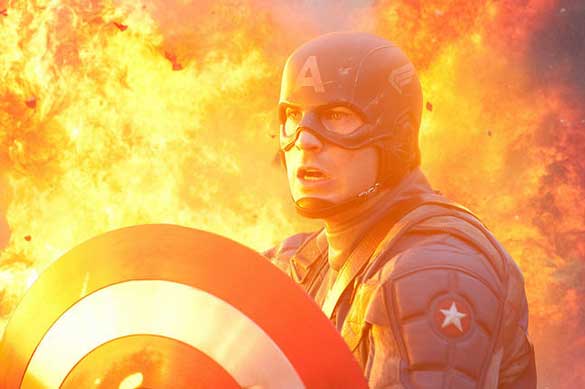 The movie comes out in July 22, 2011. Or the 21st if you're in San Diego for Comic-Con.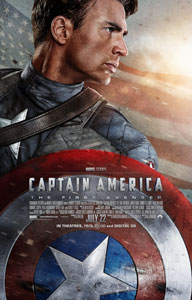 Captain America: The First Avenger – When Steve Rogers is refused enlistment in the United States army during World War II, he is determined to find some way to serve despite his physical weakness. He jumps at the chance to take part in a military experiment that transforms him into the supersoldier known as Captain America. He and his companions Bucky Barnes and Peggy Carter battle a malevolent group called HYDRA and Hitler's chief weapons researcher, a man known as the Red Skull.

Director: Joe Johnston
Cast: Chris Evans, Tommy Lee Jones, Hugo Weaving, Hayley Atwell, Sebastian Stan, Dominic Cooper, Toby Jones, Neal McDonough, Derek Luke, Stanley Tucci
Writers: Christopher Markus, Stephen McFeely

In Theaters: July 22, 2011 – From this trailer, I wish it were today!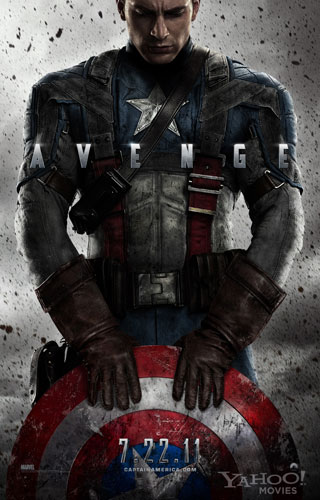 Captain America: The First Avenger: The film will focus on the early days of the Marvel Universe when Steve Rogers (Chris Evans) volunteers to participate in an experimental program that turns him into the Super Soldier known as Captain America. As Captain America, Rogers joins forces with Bucky Barnes (Sebastian Stan) and Peggy Carter (Hayley Atwell) to wage war on the evil HYDRA organization, led by the villainous Red Skull (Hugo Weaving.) from trailers.apple.com
Director: Joe Johnston
Cast: Chris Evans, Tommy Lee Jones, Hugo Weaving, Hayley Atwell, Sebastian Stan, Dominic Cooper, Toby Jones, Neal McDonough, Derek Luke, Stanley Tucci
Writers: Christopher Markus, Stephen McFeely