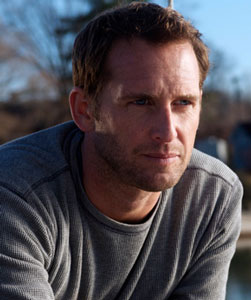 While Josh Lucas might be best known for his role in 2000′s American Psycho, the Arkansas-born actor has kept himself busy appearing in films like A Beautiful Mind, Poseidon, The Lincoln Lawyer, and J. Edgar.  He has also appeared in a number of smaller, independent projects, including Hide Away, an introspective drama which is now in limited release.
The story for Hide Away actually began its life as a poem.  Lucas explains to the Wall Street Journal that its unique origins appealed to him, saying, "That was the challenge of it. It was a 75-page treatment/poem. It was something that had basically no dialogue, it was more of an outline in a way. The script was designed to take advantage of nature and what was going to happen to us. It was a passion project in every way." Read more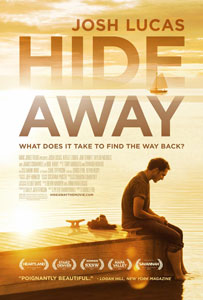 I saw this film at the 2011 SXSW Film Festival when it was called A Year in the Mooring. I thought it was great and Josh Lucas was wonderful in it. I hope the only thing they changed was the name.
Hide Away: Directed by Chris Eyre (Smoke Signals, Edge of America) and an audience favorite at SXSW festival, HIDE AWAY is a stirring drama that follows the story of a successful businessman (Josh Lucas) attempting to resurrect his life. Entering an idyllic harbor as a broken and haunted man, he buys and boards the dilapidated sailboat, Hesperus. Disturbed at night by unsettling dreams of his past, the boat becomes a beacon of hope as he begins the challenge of bringing back the shine to the tarnished vessel–and to his life.
Director: Chris Eyer
Cast: Josh Lucas, Ayelet Zurer, James Cromwell, Casey LaBow
Writers: Peter Vanderwall
In Theaters: May 25th  Read more
"The Lincoln Lawyer" star Josh Lucas is considering a move from the big screen to the small one, negotiating to star in NBC's "The Firm."
Lukas Reiter penned the two-hour pilot script, which picks up ten years from the point where the movie left off (starring Tom Cruise) and we see Mitch McDeere leaving the Federal Witness Protection Program after bringing down a Memphis law firm run by the mafia.
This would be the first television series for Lucas, who has been busy with films Life as we Know It, Glory Road and  A Year in the Mooring.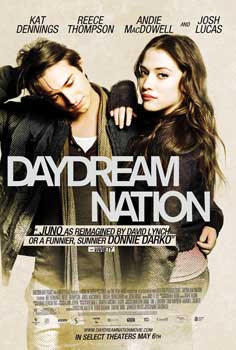 Daydream Nation: Seventeen-year-old Caroline Wexler (Kat Dennings) is facing a teenager's nightmare: her widowed father has moved them from the big city to a tiny town in the middle of nowhere. When Caroline realizes she has nothing in common with the burnout losers in her new school she pursues the one person who excites her interest – her handsome young teacher, Mr. Anderson (Josh Lucas). A bizarre love triangle ensues between Caroline, Mr. Anderson, and a sweet, but troubled classmate (Reece Thompson). Featuring a hit indie soundtrack in this mash-up of the bizarre and the beautiful, Daydream Nation is a coming-of-age story for the 21st century. from trailers.apple.com
Director: Michael Goldbach

Cast: Kat Dennings, Reece Thompson, Andie MacDowell, Josh Lucas
In theaters: May 6th, 2011
Podcast: Play in new window | Download (Duration: 9:53 — 6.8MB)
Let me just get this out of the way: I'm a huge Josh Lucas fan. He's a truly great actor and he just keeps getting better.
I talked to him at SXSW where his new film, A Year in the Mooring premiered.  Directed by Chris Eyre, the film is about Josh's character, trying to start his life over. He buys an old sailboat and spends a year fixing it up. It's haunting, beautiful and because of his performance, it's a must watch. The film has virtually no dialogue and his performance is just incredible.
Josh is one of the nicest guys I've ever interviewed.  To get a better sense of him and the conversation, I really recommend that you listen to the audio portion of the interview.
We talk about the film, how he created the character when he had no dialogue and his time on Broadway!
For the full interview, click the audio link above or download from iTunes
The film takes place over a year and with having virtually no dialogue, how do you go about creating a character who has, like you do in the movie, a sense of mystery?
Josh Lucas: I think it's like asking that question of yourself. Ok so, let's take, anything as an actor, take the premise of what's going down and try to put it in your own life in terms of how would you react? And in terms of Psychology, I guess they say there's 7 stages of grief. The first obviously being rage, and the second being, I don't remember exactly what they are… but for me trying to monitor each phase of this movie knowing, "Ok, where are we within that?" And hopefully can see that 'cause there's times where honestly, you could say my performance at times looks almost numb, like there's not really much going on. That was on purpose, because I've met people who are in horrible mourning, who seemed numb.
And it's interesting doing Charles Lindberg right now, 'cause I'm doing this movie J. Edgar that Clint Eastwood is directing, and when you read about what he went through when his baby was kidnapped some people said they thought that maybe he had been involved because his reaction was so numb, so cold. And so, that becomes part of the… you can't, you're not just gonna be crying, that becomes the joy of the craft. Not to be indulgent [laughing].
Read more