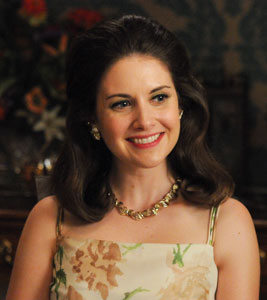 Talented, entertaining, and funny, Community and Mad Men star Alison Brie says she can make an egg salad sandwich with her feet. 
The twenty-nine year old California native also shared with Vulture how she got her start right out of college, juggling her acting gigs and jobs at a yoga studio. "I was very lucky to have a manager come and see me in a play while I was still in school and sort of pickpocket me and set me up with a commercial agent and a theatrical agent right out of college, so I was able to kind of hit the ground running auditions-wise right after I graduated," she said. Read more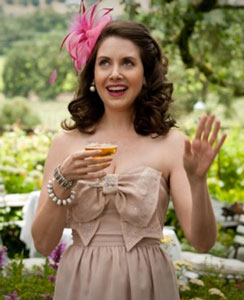 Community and Mad Men star Alison Brie has her most high-profile movie role so far in The Five-Year Engagement as the sister of lead actress Emily Blunt.  Of course, the American Brie had to work on her accent to sound like the English Blunt, and she talked to MovieFone about how she prepared for that and gave some insight into the problems on the set of Community.
As previously revealed, Brie worked with Emily Blunt on set in order to sound like she could be her sister.  However, almost prophetically Brie was working on her English accent before she was even cast in the role.  She reveals, "I just sort of on a whim thought it would be a good idea to brush up on a British accent, so I'd been [listening to] … these accent CDs on my way to work in the morning and on my way home. So it was like fate."  She also admits working on other accents, too, but she tells the interviewer that she isn't quite as proficient at them.  She says, "I had a couple other CDs — Irish and German — but I couldn't just whip them out. I'd have to go back and brush up on the CDs." Read more
Podcast: Play in new window | Download (Duration: 18:42 — 12.9MB)
Each time I talk to Alison Brie in a Q & A, she's also so bubbly and happy. And why shouldn't she be? She's on two great shows; Community and Mad Men, and just starred in Scream 4.
Community is winding down for the season and I got a chance to talk to her again about the 2 part season finale. The episodes, which also has Lost's Josh Holloway guest starring, centers on an end-of-the-year picnic. When the dean announces plans for a "small, quick, safe, game of paintball," an epic battle in waged in perfect Community style.
Alison talked about working with Holloway, her upcoming film with Emily Blunt and her advice to actors.
For the full interview, click the audio link above or download it from iTunes
Community airs on Thursdays at  8/7c on NBC
What was it like working with Josh Holloway?
Alison Brie: First of all, Josh Holloway is incredible to work with. He's very easy on the eyes, he's very nice, he's such a – he's just such a positive guy. And, you know, we always have such fun on set, but when you're working these really long hours, it was even great to have this breath of fresh air kind of come into the cast and just be so excited about every scene that we were doing.
And also, he was a really good sport about talking about Lost with all of us because we're all big Lost fans, and it only took us about 20 minutes before we just jumped right into like, "So, what were you drinking when you were drinking those Dharma beer cans?" And – that was a Danny Pudi question, and you know, "What was it like being in the forest with," you know, I don't know. We just had to – we just were Lost nerds, so that was really fun.
I guess it was going really well and they ended up adding some lines and adding some moments for Josh and I later in the episode or later in that scene, and that was exciting for me. I was like, "Yes, chemistry with Josh Holloway; nailed it."
Podcast: Play in new window | Download (Duration: 10:02 — 6.9MB)
Alison Brie and Danny Pudi, the stars on NBC's Community, got together to talk about the show earlier this week.
The two friends bantered back and forth as they answered questions about the sitcom, what's up with Annie and Jeff and who cracks up the most while filming.
Community airs on Thursdays at 8/7c on NBC
For the full interview, click the audio link above or download from iTunes
With all the television and movie references, have you ever been in a situation you just have no idea what the reference is to?
Alison Brie: Yes that's what's happened yesterday. Shirley says a line sort of in secret I turn to Danny after we did the scene. I was like Danny, what does that line mean?
Danny Pudi: And I was like no idea, have never had an idea.
Alison Brie: So then we turned to Gillian. We're like Gillian what does the line mean? Of course she knew immediately.
Danny Pudi: She did, yes.
Alison Brie: So that was good. I think between all of us there's always someone who's going to know. And then there's this little thing called Google. So I think we have some help all around.
I don't think any of us ever look to Dan and ask. We don't want him to know that we don't know.
Danny Pudi: The good thing is that we have such a great collective ensemble. Someone's always around who probably has an idea of what's going on. So it's just a matter of turning your head enough times and eventually someone will tell you what you're talking about.
Read more
How many actors do you know who are appearing in two hit TV shows at once? The only name that comes to me is Alison Brie. She's currently on both Community and Mad Men… and she's playing two totally different characters!
She recently talked with Vulture about both shows, how she started acting and more.
Did you start out as a comedienne?
Not originally. In my personal life, I'm hilaaaarious! I was always a bit of a jokester. My sister and I would put on these little SNL-esque sketches at family barbecues, which were actually a little dirty — though we were only about 8 and 10, so our idea of dirty humor was, like, hot dogs as wieners. Our parents got a great kick out of them. But I was gearing toward dramatic work, in high school and at Cal Arts. I thought I probably had a more dramatic look, I'm not sure why — maybe it came from teachers. But the first TV show I ever booked was a guest spot on Hannah Montana. And then I booked Mad Men pretty quickly, so I thought, Well, here's the drama. But even there, Trudy is more comic relief. It's nice to think that I can do both.
Both Annie and Trudy are such fully formed characters, and both clothing and voice seem to figure heavily into that. Is that true for you?
I think you're totally right. For Trudy, she's obviously very fashionable and it puts into perspective how she spends her days, and for Annie, watching how her clothing evolved over the season was a big part for me to see how she was maturing, discovering herself as a woman, maturing sexually, discovering boys. The shirts got a little more low cut, the sweaters are a little tighter. But it's as much an outside-in process as an inside-out process. With Trudy, especially with the period undergarments alone, you hold yourself differently, and with Annie it was a lot of thinking about her self-consciousness, how she's not a person used to being looked at.
Knowing you're no Wasp, your Wasp affect on Mad Men is particularly fabulous.
Honestly it just came sort of naturally with the way the character was written; I didn't totally realize I was doing it until Vincent Kartheiser started making fun of me. He does this impression of me, "Ooooh, you're Truuudie Campbell!" And I'm like, I do a voice? Both characters are a bit affected …
It seems like you guys hang out a lot as a cast. Who are you close with?
Danny [Pudi] is probably my closest buddy on set. We are trailer neighbors; our trailers conjoin at the bathroom wall. So we tend to check in every morning, and we both live in Pasadena. We have conversations through the wall when we're both in the bathroom. That's as close as you can get with someone, maybe?
For the whole article, click here
Alison Brie tweeted this picture of her and Ken Jeong from a photo shoot for the upcoming season of Community.
Love this show!