Screenplay: 'Kill Your Darlings'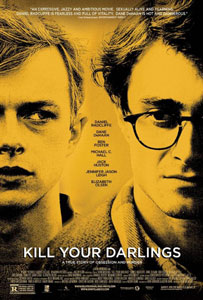 Kill Your Darlings: Daniel Radcliffe stars as Beat Generation icon Allen Ginsberg in this biopic set during the famed poet's early years at Columbia University, and centering on a murder investigation involving Ginsberg, his handsome classmate Lucien Carr, and fellow Beat author William Burroughs. The year is 1944. Ginsberg (Radcliffe) is a young student at Columbia University when he falls hopelessly under the spell of charismatic classmate Carr (Dane DeHaan). Alongside Carr, Ginsberg manages to strike up friendships with aspiring writers William Burroughs (Ben Foster) and Jack Kerouac (Jack Huston) that would cast conformity to the wind, and serve as the foundation of the Beat movement. Meanwhile, an older outsider named David Krammerer falls deeply and madly in love with the impossibly cool Carr. Later, when Krammerer dies under mysterious circumstances, police arrest Kerouac, Burroughs, and Carr as potential suspects, paving the way for an investigation that would have a major impact on the lives of the three emerging artists.
Cast
Daniel Radcliffe as Allen Ginsberg
Dane DeHaan as Lucien Carr
Jack Huston as Jack Kerouac
Ben Foster as William S. Burroughs
Michael C. Hall as David Kammerer
Elizabeth Olsen as Edie Parker
Jennifer Jason Leigh as Naomi Ginsberg
David Cross as Louis Ginsberg
Kyra Sedgwick as Marian Carr
David Rasche as Dean
John Cullum as Professor Steeves
Director: John Krokidas
Story by: Austin Bunn
http://www.dailyactor.com/wp-content/uploads/2015/10/Bridge-of-Spies-Tom-Hanks-Mark-Rylance.jpg
Tom Hanks on Working with Steven Spielberg and Mark Rylance in 'Bridge of Spies'
"Steven does this incredible thing when he casts you: He empowers you with the scene." - Tom Hanks on Steven Spielberg
http://www.dailyactor.com/actors-on-acting/tom-hanks-working-steven-spielberg-mark-rylance-bridge-of-spies/
http://www.dailyactor.com/wp-content/uploads/2015/09/Tom-Hardy-Legend.jpg
Tom Hardy on Playing Twins in 'Legend,' Being Seen as a Tough Guy, and Working with Philip Seymour Hoffman
Hardy speaks about why he challenged himself to play twins, what he thinks of his tough guy image, and working with the late Philip Seymour Hoffman, who directed him on stage.
http://www.dailyactor.com/actors-on-acting/tom-hardy-playing-twins-legend/
http://www.dailyactor.com/wp-content/uploads/2015/09/Emily-Blunt-Sicario.jpg
Emily Blunt on Action Movie Roles: "I think it's important to show different layers. Nobody is just tough, nobody is just vulnerable"
Emily Blunt touches upon why she has gotten into roles with an action bent and why she thinks there aren't more action movies with female leads
http://www.dailyactor.com/actors-on-acting/emily-blunt-sicario-acting-layers/
http://www.dailyactor.com/wp-content/uploads/2015/09/Jorja-Fox-CSI.jpg
Jorja Fox on Life After 'CSI': "I've always enjoyed not knowing exactly where the road leads"
"I think you kind of have to embrace the unknown if you're an actor." - Jorja Fox
http://www.dailyactor.com/actors-on-acting/jorja-fox-life-after-csi/
http://www.dailyactor.com/wp-content/uploads/2015/09/John-Turturro-Mia-Madre.jpg
John Turturro on the Life of an Actor: "It's a rough business. I wouldn't want my kids to do it"
"I am usually very well prepared. If you're a surgeon, you've got to know what you're going to take out today." - John Turturro
http://www.dailyactor.com/actors-on-acting/john-turturro-life-of-an-actor/