Screenplay: 'Kill Your Darlings'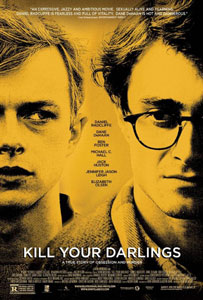 Kill Your Darlings: Daniel Radcliffe stars as Beat Generation icon Allen Ginsberg in this biopic set during the famed poet's early years at Columbia University, and centering on a murder investigation involving Ginsberg, his handsome classmate Lucien Carr, and fellow Beat author William Burroughs. The year is 1944. Ginsberg (Radcliffe) is a young student at Columbia University when he falls hopelessly under the spell of charismatic classmate Carr (Dane DeHaan). Alongside Carr, Ginsberg manages to strike up friendships with aspiring writers William Burroughs (Ben Foster) and Jack Kerouac (Jack Huston) that would cast conformity to the wind, and serve as the foundation of the Beat movement. Meanwhile, an older outsider named David Krammerer falls deeply and madly in love with the impossibly cool Carr. Later, when Krammerer dies under mysterious circumstances, police arrest Kerouac, Burroughs, and Carr as potential suspects, paving the way for an investigation that would have a major impact on the lives of the three emerging artists.
Cast
Daniel Radcliffe as Allen Ginsberg
Dane DeHaan as Lucien Carr
Jack Huston as Jack Kerouac
Ben Foster as William S. Burroughs
Michael C. Hall as David Kammerer
Elizabeth Olsen as Edie Parker
Jennifer Jason Leigh as Naomi Ginsberg
David Cross as Louis Ginsberg
Kyra Sedgwick as Marian Carr
David Rasche as Dean
John Cullum as Professor Steeves
Director: John Krokidas
Story by: Austin Bunn
http://www.dailyactor.com/wp-content/uploads/2016/06/jeff-bridges-hell-or-high-water.jpg
Jeff Bridges on Creating a Character, 'Hell or High Water' and Playing The Dude
"I use elements of myself—I see my parallels with a character—and find similar things in my own personality." - Jeff Bridges on Creating a Character
http://www.dailyactor.com/film/jeff-bridges-creating-a-character/
http://www.dailyactor.com/wp-content/uploads/2016/07/benjamin-bratt-actor.jpg
Benjamin Bratt: "For as limiting as the opportunities are for actors and actresses of color I've been very blessed"
"...it's dangerous to keep going down the same artistic path." - Benjamin Bratt
http://www.dailyactor.com/film/benjamin-bratt-ive-been-very-blessed/
http://www.dailyactor.com/wp-content/uploads/2016/07/watch-keegan-michael-key-explain.jpg
Watch: Keegan-Michael Key Explains Why "Improv actors are at war together"
Check out Key's points on why it's so important for improv actors to have each others' backs in the clip above.
http://www.dailyactor.com/videos/keegan-michael-key-improv-actors-at-war-together/
http://www.dailyactor.com/wp-content/uploads/2016/07/norman-reedus-actor.jpg
Norman Reedus on Acting: "If it's something you really want, you have to roll with the rejection"
Norman Reedus is a fan-favorite star on The Walking Dead and was in the cult favorite film The Boondock Saints. However, in the dozen years between those two gigs Reedus had experienced ups and downs in his career and in many cases he was cast in very small roles in big movies or lead roles […]
http://www.dailyactor.com/actors-on-acting/norman-reedus-acting-rejection/
http://www.dailyactor.com/wp-content/uploads/2016/07/frank-grillo.jpg
Frank Grillo on Being Typecast: "I welcome it"
"I hear actors pooh-pooh the idea... people might see them as a certain thing. I welcome it" - Frank Grillo on Typecasting
http://www.dailyactor.com/film/frank-grillo-on-typecasting/