Screenplay: 'Kill Your Darlings'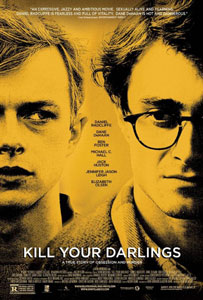 Kill Your Darlings: Daniel Radcliffe stars as Beat Generation icon Allen Ginsberg in this biopic set during the famed poet's early years at Columbia University, and centering on a murder investigation involving Ginsberg, his handsome classmate Lucien Carr, and fellow Beat author William Burroughs. The year is 1944. Ginsberg (Radcliffe) is a young student at Columbia University when he falls hopelessly under the spell of charismatic classmate Carr (Dane DeHaan). Alongside Carr, Ginsberg manages to strike up friendships with aspiring writers William Burroughs (Ben Foster) and Jack Kerouac (Jack Huston) that would cast conformity to the wind, and serve as the foundation of the Beat movement. Meanwhile, an older outsider named David Krammerer falls deeply and madly in love with the impossibly cool Carr. Later, when Krammerer dies under mysterious circumstances, police arrest Kerouac, Burroughs, and Carr as potential suspects, paving the way for an investigation that would have a major impact on the lives of the three emerging artists.
Cast
Daniel Radcliffe as Allen Ginsberg
Dane DeHaan as Lucien Carr
Jack Huston as Jack Kerouac
Ben Foster as William S. Burroughs
Michael C. Hall as David Kammerer
Elizabeth Olsen as Edie Parker
Jennifer Jason Leigh as Naomi Ginsberg
David Cross as Louis Ginsberg
Kyra Sedgwick as Marian Carr
David Rasche as Dean
John Cullum as Professor Steeves
Director: John Krokidas
Story by: Austin Bunn
http://www.dailyactor.com/wp-content/uploads/2016/01/Jeff-Daniels.jpg
Jeff Daniels Remembers a Terrible Audition for a Diane Keaton Movie
One actor that knows the ups and downs of the audition process is Jeff Daniels.
http://www.dailyactor.com/actors-on-acting/jeff-daniels-terrible-audition-diane-keaton-movie/
http://www.dailyactor.com/wp-content/uploads/2016/02/Jennifer-Jason-Leigh-The-Hateful-Eight.jpg
Jennifer Jason Leigh on Her First-Ever Oscar Nomination: "It's kind of phenomenal"
"He knew that I could, in his words, 'act the … out of it' and I'm not afraid to take a risk in terms of acting" Jennifer Jason Leigh on Quentin Tarantino
http://www.dailyactor.com/actors-on-acting/jennifer-jason-leigh-oscar-nomination/
http://www.dailyactor.com/wp-content/uploads/2016/02/Forest-Whitaker-Hughie-Broadway.jpg
Forest Whitaker on Making His Broadway Debut in 'Hughie': "His rhythms are starting to invade inside of me"
"I want to get better as an actor, to keep trying to work harder, trying to discover something different" - Forest Whitaker
http://www.dailyactor.com/actors-on-acting/forest-whitaker-broadway-debut-hughie/
http://www.dailyactor.com/wp-content/uploads/2016/02/alicia-Vikander-Ex-machina.jpg
Alicia Vikander on the Her First Trip to L.A. and the Acting Tip 'Ex-Machina' Director Alex Garland Gave Her
"You [get immersed in] a film and of course you think that that is it. And then you go away and you read a new script and you have a new crush" - Alicia Vikander
http://www.dailyactor.com/actors-on-acting/alicia-vikanderacting-tip-ex-machina-director-alex-garland-gave-her/
http://www.dailyactor.com/wp-content/uploads/2016/02/Channing-Tatum-Hail-Caesar.jpg
Channing Tatum Talks 'Hail, Caesar!': "I've been beating on the Coens' door for years, man"
"It's the most I've ever prepped for a six-minute section in a movie." - Channing Tatum
http://www.dailyactor.com/actors-on-acting/channing-tatum-hail-caesar-tap-dancing/