Secrets of 'HIMYM' Finale: Some Scenes Were Shot Nine Years Ago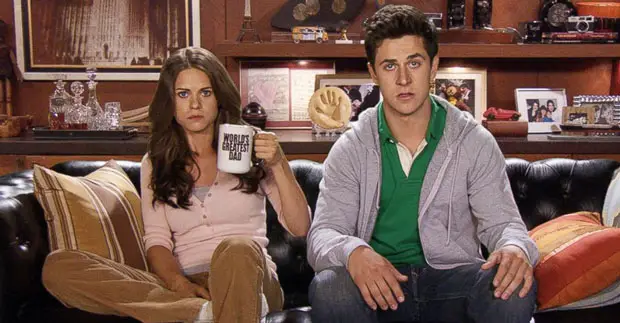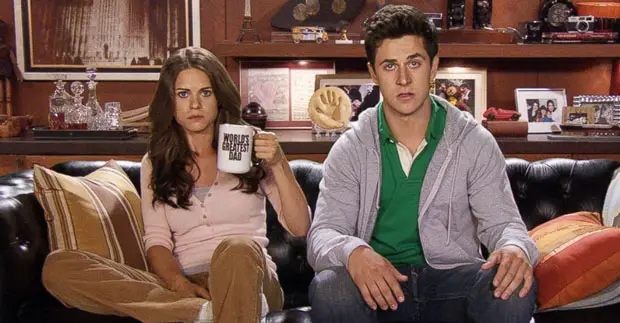 While many fans are complaining about the series finale of How I Met Your Mother on Monday, other should be marveling that certain finale scenes were shot in 2005. In this day of show spoilers, it's amazing that the actors and crew were able to keep a secret.
Some of the scenes were shot in one year out of necessity because producers wanted actors Lyndsy Fonseca and David Henrie to look the same age in all of their flash-forward scenes. It was particularly difficult because Henrie was going through puberty at the time.
Fonseca, now 27, told People, "David was growing so fast. He grew like four shoe sizes and his voice dropped, so it was very apparent."
So while the two actors stayed the same age onscreen, time obviously passed in real life.
Henrie shared, "I come home … and my cousins are watching the show. It is always a funny feeling. They always say, 'Baby David is on TV!'"
Both performers have gone on to work on other shows. Fonseca has been on Big Love, Desperate Housewives and then starred in Nikita on the CW. 24-year-old Henrie co-starred with Selena Gomez in Wizards of Waverly Place and is about to film Paul Blart: Mall Cop 2.
The duo are proud of their work on the CBS comedy. Fonseca said, "I still get recognized a lot from HIMYM. It is kind of funny because I don't feel like it is my show, but I'm really proud of to have been a part of it."
As for those secrets they kept for nine years? She explained, "We shot this last little section nine years ago. It was so long ago, I don't really remember what I said."
That's exactly the answer the producers wanted to hear — no spoilers!
http://www.dailyactor.com/wp-content/uploads/2016/02/alicia-Vikander-Ex-machina.jpg
Alicia Vikander on the Her First Trip to L.A. and the Acting Tip 'Ex-Machina' Director Alex Garland Gave Her
"You [get immersed in] a film and of course you think that that is it. And then you go away and you read a new script and you have a new crush" - Alicia Vikander
http://www.dailyactor.com/actors-on-acting/alicia-vikanderacting-tip-ex-machina-director-alex-garland-gave-her/
http://www.dailyactor.com/wp-content/uploads/2016/02/Channing-Tatum-Hail-Caesar.jpg
Channing Tatum Talks 'Hail, Caesar!': "I've been beating on the Coens' door for years, man"
"It's the most I've ever prepped for a six-minute section in a movie." - Channing Tatum
http://www.dailyactor.com/actors-on-acting/channing-tatum-hail-caesar-tap-dancing/
http://www.dailyactor.com/wp-content/uploads/2016/01/Isidora-Goreshter-Shameless-audition.jpg
Isidora Goreshter Remembers Her Audition for 'Shameless'
Goreshter recently recalled that her audition for the 'Shameless' was by far her worst ever.
http://www.dailyactor.com/actors-on-acting/isidora-goreshter-audition-for-shameless/
http://www.dailyactor.com/wp-content/uploads/2016/01/Sutton-Foster-Younger.jpg
Sutton Foster: "Sometimes I won't even find a character until I put on the costume"
"I never had grand aspirations to be a movie star, to be famous or to be on TV. The theater was what I wanted." - Sutton Foster
http://www.dailyactor.com/actors-on-acting/sutton-foster-younger-character-costume/
http://www.dailyactor.com/wp-content/uploads/2016/01/Paul-Giamatti-Billions.jpg
Paul Giamatti on Building His Career: "I was always willing to just go, 'OK, sure, I'll do that'"
"I've done everything an actor can do except porn and performing in an amusement park" - Paul Giamatti
http://www.dailyactor.com/actors-on-acting/paul-giamatti-billions-building-an-acting-career/