Secrets of 'HIMYM' Finale: Some Scenes Were Shot Nine Years Ago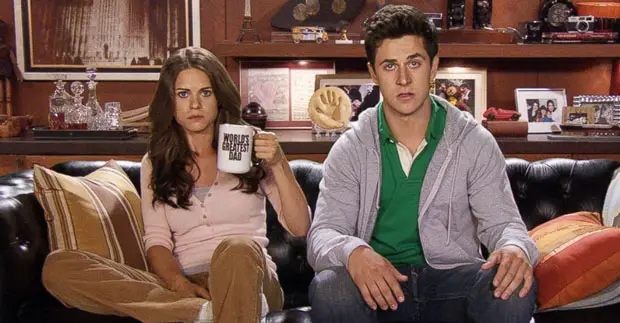 While many fans are complaining about the series finale of How I Met Your Mother on Monday, other should be marveling that certain finale scenes were shot in 2005. In this day of show spoilers, it's amazing that the actors and crew were able to keep a secret.
Some of the scenes were shot in one year out of necessity because producers wanted actors Lyndsy Fonseca and David Henrie to look the same age in all of their flash-forward scenes. It was particularly difficult because Henrie was going through puberty at the time.
Fonseca, now 27, told People, "David was growing so fast. He grew like four shoe sizes and his voice dropped, so it was very apparent."
So while the two actors stayed the same age onscreen, time obviously passed in real life.
Henrie shared, "I come home … and my cousins are watching the show. It is always a funny feeling. They always say, 'Baby David is on TV!'"
Both performers have gone on to work on other shows. Fonseca has been on Big Love, Desperate Housewives and then starred in Nikita on the CW. 24-year-old Henrie co-starred with Selena Gomez in Wizards of Waverly Place and is about to film Paul Blart: Mall Cop 2.
The duo are proud of their work on the CBS comedy. Fonseca said, "I still get recognized a lot from HIMYM. It is kind of funny because I don't feel like it is my show, but I'm really proud of to have been a part of it."
As for those secrets they kept for nine years? She explained, "We shot this last little section nine years ago. It was so long ago, I don't really remember what I said."
That's exactly the answer the producers wanted to hear — no spoilers!
http://www.dailyactor.com/wp-content/uploads/2016/08/imperium_daniele_radcliffe.jpg
Daniel Radcliffe on Playing a Neo-Nazi in 'Imperium': "It's still just horrible to say some of this stuff"
Radcliffe reveals how he played such a layered character and what it felt like to say his character's hate-filled dialogue.
http://www.dailyactor.com/actors-on-acting/daniel-radcliffe-playing-a-neo-nazi-imperium/
http://www.dailyactor.com/wp-content/uploads/2016/08/John-Cho-Star-Trek-Beyond.jpg
How John Cho Took A Stand for Diversity Early in His Career
"When one does speak one's mind, one might be surprised at how receptive people are." - Actor John Cho
http://www.dailyactor.com/actors-on-acting/john-cho-took-a-stand-for-diversity/
http://www.dailyactor.com/wp-content/uploads/2016/08/simon-helberg-florence-foster-jenkins.jpg
Simon Helberg on His 'Florence Foster Jenkins' Role: "I'm an actor and I want to stretch different muscles"
Helberg spoke about portraying his character in the film and whether or not he feels typecast by his Big Bang Theory role.
http://www.dailyactor.com/actors-on-acting/simon-helberg-florence-foster-jenkins-role/
http://www.dailyactor.com/wp-content/uploads/2016/08/Will-Chase-Something-Rotten.jpg
The Role That Got Away: Will Chase on Returning to 'Something Rotten!'
"I know that I am a poor man's fill-in-the-blank. And I know that there are poor man's Will Chases out there. That's just the nature of the business" - Will Chase
http://www.dailyactor.com/actors-on-acting/will-chase-something-rotten-role-that-got-away/
http://www.dailyactor.com/wp-content/uploads/2016/08/Julia-Stiles-Jason-Bourne.jpg
Julia Stiles on the Jason Bourne Series and Growing as an Actress: "There's always room for improvement"
"I like a director that encourages me to be playful. I don't really like being restricted or controlled by a director." - Julia Stiles
http://www.dailyactor.com/actors-on-acting/julia-stiles-growing-as-an-actress/