Secrets of 'HIMYM' Finale: Some Scenes Were Shot Nine Years Ago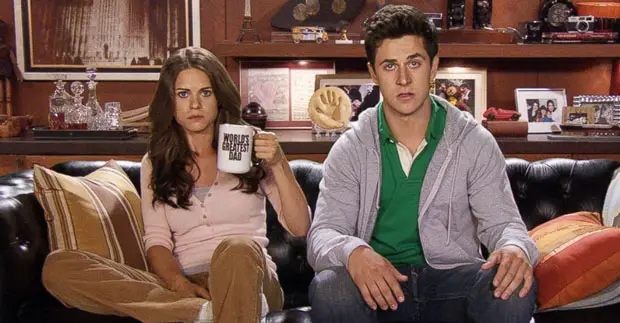 While many fans are complaining about the series finale of How I Met Your Mother on Monday, other should be marveling that certain finale scenes were shot in 2005. In this day of show spoilers, it's amazing that the actors and crew were able to keep a secret.
Some of the scenes were shot in one year out of necessity because producers wanted actors Lyndsy Fonseca and David Henrie to look the same age in all of their flash-forward scenes. It was particularly difficult because Henrie was going through puberty at the time.
Fonseca, now 27, told People, "David was growing so fast. He grew like four shoe sizes and his voice dropped, so it was very apparent."
So while the two actors stayed the same age onscreen, time obviously passed in real life.
Henrie shared, "I come home … and my cousins are watching the show. It is always a funny feeling. They always say, 'Baby David is on TV!'"
Both performers have gone on to work on other shows. Fonseca has been on Big Love, Desperate Housewives and then starred in Nikita on the CW. 24-year-old Henrie co-starred with Selena Gomez in Wizards of Waverly Place and is about to film Paul Blart: Mall Cop 2.
The duo are proud of their work on the CBS comedy. Fonseca said, "I still get recognized a lot from HIMYM. It is kind of funny because I don't feel like it is my show, but I'm really proud of to have been a part of it."
As for those secrets they kept for nine years? She explained, "We shot this last little section nine years ago. It was so long ago, I don't really remember what I said."
That's exactly the answer the producers wanted to hear — no spoilers!
http://www.dailyactor.com/wp-content/uploads/2016/06/jeff-bridges-hell-or-high-water.jpg
Jeff Bridges on Creating a Character, 'Hell or High Water' and Playing The Dude
"I use elements of myself—I see my parallels with a character—and find similar things in my own personality." - Jeff Bridges on Creating a Character
http://www.dailyactor.com/film/jeff-bridges-creating-a-character/
http://www.dailyactor.com/wp-content/uploads/2016/07/benjamin-bratt-actor.jpg
Benjamin Bratt: "For as limiting as the opportunities are for actors and actresses of color I've been very blessed"
"...it's dangerous to keep going down the same artistic path." - Benjamin Bratt
http://www.dailyactor.com/film/benjamin-bratt-ive-been-very-blessed/
http://www.dailyactor.com/wp-content/uploads/2016/07/watch-keegan-michael-key-explain.jpg
Watch: Keegan-Michael Key Explains Why "Improv actors are at war together"
Check out Key's points on why it's so important for improv actors to have each others' backs in the clip above.
http://www.dailyactor.com/videos/keegan-michael-key-improv-actors-at-war-together/
http://www.dailyactor.com/wp-content/uploads/2016/07/norman-reedus-actor.jpg
Norman Reedus on Acting: "If it's something you really want, you have to roll with the rejection"
Norman Reedus is a fan-favorite star on The Walking Dead and was in the cult favorite film The Boondock Saints. However, in the dozen years between those two gigs Reedus had experienced ups and downs in his career and in many cases he was cast in very small roles in big movies or lead roles […]
http://www.dailyactor.com/actors-on-acting/norman-reedus-acting-rejection/
http://www.dailyactor.com/wp-content/uploads/2016/07/frank-grillo.jpg
Frank Grillo on Being Typecast: "I welcome it"
"I hear actors pooh-pooh the idea... people might see them as a certain thing. I welcome it" - Frank Grillo on Typecasting
http://www.dailyactor.com/film/frank-grillo-on-typecasting/