Biography: Rhys Ifans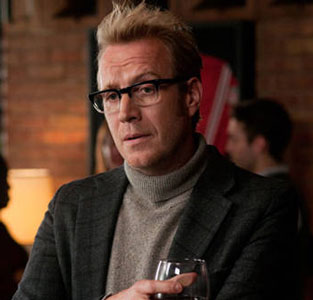 Rhys Ifans is a gifted actor known for his enduring presence, his distinctive approach to comedy, and his ability to elegantly disappear into compelling and complex roles that are always memorable.
Ifans stars as the villain Dr. Curt Connors/The Lizard in the highly anticipated upcoming reboot of the Spider-Man franchise, The Amazing Spider-Man. A far cry from his comedic castings, Ifans portrays a sickened character controlled by his alter ego personality. The film is slated for release July 3, 2012.
Ifans is currently in production on an independent film set during the Great Depression in North Carolina, Serena, directed by Susanne Bier. He stars opposite Jennifer Lawrence and Bradley Cooper as Galloway, Serena's (Lawrence) vicious Appalachian guide and bodyguard. The indie film is scheduled for release in 2013. Ifans can also be seen in HBO's upcoming miniseries The Corrections, directed by Noah Baumbach and produced by Scott Rudin, based on Jonathan Franzen's critically acclaimed book of the same name. Ifans stars alongside Ewan McGregor, Chris Cooper and Maggie Gyllenhaal in the 40-hour series.
Ifans is perhaps best known for his breakout performance in Roger Michell's Notting Hill (1999), in which he starred alongside a noteworthy cast including Julia Roberts and Hugh Grant. For his portrayal of a hygienically challenged roommate named Spike, Ifans received a BAFTA nomination for Best Actor in a Supporting Role. Spike's overtly unintentional wit coupled with his awkward communication skills won audiences over as the pits and peaks of falling in love played on in his co-stars' budding romance.
His additional credits include Anonymous, directed by Roland Emmerich; Passion Play, also starring Bill Murray, Mickey Rourke and Megan Fox; the penultimate chapter to the Harry Potter franchise, Harry Potter and the Deathly Hallows Part 1; Noah Baumbach's comedy-romance Greenberg, with Ben Stiller; Pirate Radio, starring Philip Seymour Hoffman; Shekhar Kapur's Elizabeth: The Golden Age; Peter Webber's Hannibal Rising; Once Upon a Time in the Midlands, directed by Shane Meadows; Michel Gondry's comedy drama Human Nature, in which he starred opposite Patricia Arquette; Mike Figgis' Hotel; Lasse Hallström's The Shipping News; and Howard Deutch's comedy The Replacements, in which he starred alongside Keanu Reeves and Gene Hackman.
On television, Ifans played the role of Peter Cook in Terry Johnson's Not Only but Always, for which he won a BAFTA for Best Actor. He also appeared in Shakespeare Shorts, Trial & Retribution, The Two Franks, Judas and the Gimp, Nightshift, Spatz, Burning Love and Review.
In theater, Ifans appeared at the Donmar Warehouse in Robert Delamere's Accidental Death of an Anarchist, Patrick Marber's Don Juan in Soho and Michael Sheen's Badfinger. He was seen at the National Theatre in Matthew Warchus' Volpone and Roger Michell's Under Milk Wood; at the Duke of York's Theatre in Hettie Macdonald's Beautiful Thing; at the Royal Court Theatre in James Macdonald's Thyestes; and at the Royal Exchange in Braham Murray's Smoke and Ronald Harwood's Poison Pen.
Beyond film and television, Ifans made a guest appearance for the rock band Oasis in the video for their single The Importance of Being Idle, for which he accepted their award for Video of the Year at the 2006 NME Awards.
Ifans was born and raised in Wales, where he attended youth acting schools at Theatr Clwyd in Flintshire and appeared in many Welsh-language television programs before embarking on his film career.
This biography/filmography of Rhys Ifans is courtesy of Universal Pictures, Relativity Media and The Five-Year Engagement
http://www.dailyactor.com/wp-content/uploads/2016/02/Owen-Wilson.jpg
Owen Wilson on How He Started Acting, Trying "To Be Real" On-Screen and Choosing His Roles
"It's not enough just to be real; you have to try to make it interesting or entertaining" - Owen Wilson on Acting
http://www.dailyactor.com/actors-on-acting/owen-wilson-started-acting-real-on-screen/
http://www.dailyactor.com/wp-content/uploads/2016/02/John-Krasinski.jpg
John Krasinski on His Directing Debut, 'The Hollars', and How He'll Always Be an "Actor at Heart"
"To me, it's not about comedy or drama or genre, it's about, where's the good story?" - John Krasinski
http://www.dailyactor.com/actors-on-acting/john-krasinski-directing-debut-the-hollars-actor-at-heart/
http://www.dailyactor.com/wp-content/uploads/2016/02/david-harewood-supergirl.jpg
David Harewood on 'Supergirl' and How He Was "Struggling to Get a Handle" on His Character
Harewood reveals how he relates to the character and how he eventually got comfortable playing him.
http://www.dailyactor.com/actors-on-acting/david-harewood-supergirlstruggling-to-get-a-handle-on-his-character/
http://www.dailyactor.com/wp-content/uploads/2016/01/Jeff-Daniels.jpg
Jeff Daniels Remembers a Terrible Audition for a Diane Keaton Movie
One actor that knows the ups and downs of the audition process is Jeff Daniels.
http://www.dailyactor.com/actors-on-acting/jeff-daniels-terrible-audition-diane-keaton-movie/
http://www.dailyactor.com/wp-content/uploads/2016/02/Jennifer-Jason-Leigh-The-Hateful-Eight.jpg
Jennifer Jason Leigh on Her First-Ever Oscar Nomination: "It's kind of phenomenal"
"He knew that I could, in his words, 'act the … out of it' and I'm not afraid to take a risk in terms of acting" Jennifer Jason Leigh on Quentin Tarantino
http://www.dailyactor.com/actors-on-acting/jennifer-jason-leigh-oscar-nomination/