Rob Corddry on His 'Warm Bodies' Character: "I went about it as if I was playing a brain-injured patient"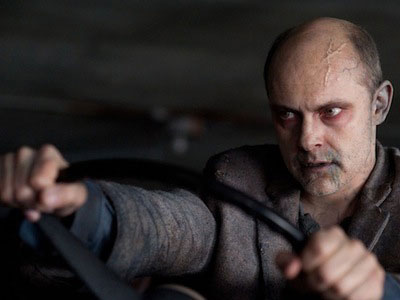 Rob Corddry actually had to do quite a lot of preparation for his role as a zombie in the new film, Warm Bodies.  In order to properly portray the walking dead, Corddry first got some advice from his wife, a speech therapist.
"I went about it as if I was playing a brain-injured patient," the actor said in an interview with Flicks and Bits.  "We talked about how brain-injured patients can sometimes see the word in their head, but they don't know what it is or what it means, and it's hard to get it out.  So, even when I'm grunting, I'm trying to make a word."
After that prepping, Corddry also went through some physical training.  "The hard part was that we did a workshop with a Cirque du Soleil guy for a couple of hours, for the movement—that was pretty embarrassing," he recalled.  "It was like theater class in college, the worst kind.  But we learned a lot from it and Nic [Hoult, the lead in the film] and I really bonded.  Other than that it was cool, if you're saying something or not you still have to have a light in your eyes or no one's going to believe you."
Aside from the fun of playing a zombie, Corddry was also attracted to the script for the project. 
"I was sent a script, and at first, I don't even know if I was on their radar to tell you the truth," he said.  "But I went in and done a big audition, a whole days worth of auditions, and I think the audition went really well.  I was really obsessed with the script and the book, so talking to Jonathan Levine [the writer and director] about it, I think we connected.  I felt very good about the audition after speaking with Jonathan."
Corddry was also pleased with the arc his character, M, goes through.  Cast as the best friend to R (Hoult's character), the actor could have feared he would simply be a forgotten piece of the story.  Instead, M is given his own journey to complete throughout the film.  "Those 'best friend' guys or girls are usually just straight plot devices," he said.  "I actually get to change.  I might be the only best friend in movie history that has his own trajectory."
Warm Bodies is in theaters now.
http://www.dailyactor.com/wp-content/uploads/2016/08/Will-Chase-Something-Rotten.jpg
The Role That Got Away: Will Chase on Returning to 'Something Rotten!'
"I know that I am a poor man's fill-in-the-blank. And I know that there are poor man's Will Chases out there. That's just the nature of the business" - Will Chase
http://www.dailyactor.com/broadway-theater/will-chase-something-rotten-role-that-got-away/
http://www.dailyactor.com/wp-content/uploads/2016/08/Julia-Stiles-Jason-Bourne.jpg
Julia Stiles on the Jason Bourne Series and Growing as an Actress: "There's always room for improvement"
"I like a director that encourages me to be playful. I don't really like being restricted or controlled by a director." - Julia Stiles
http://www.dailyactor.com/film/julia-stiles-growing-as-an-actress/
http://www.dailyactor.com/wp-content/uploads/2016/08/Michael-Kenneth-Williams-The-Night-Of.jpg
Michael Kenneth Williams on How His Roles Impact Him: "That energy's gotta go somewhere"
Since his days of playing Omar on 'The Wire', Williams has learned how to separate himself from his characters.
http://www.dailyactor.com/tv/michael-kenneth-williams-the-night-of/
http://www.dailyactor.com/wp-content/uploads/2016/08/margot-robbie-the-wolf-of-wall-street.jpg
Margot Robbie Believed 'The Wolf of Wall Street' Would Ruin Her Career
Many actors can point to a single role that was a career breakthrough -- but not all of them realize that it's a breakthrough as it's happening.
http://www.dailyactor.com/film/margot-robbie-the-wolf-of-wall-street-ruin-her-career/
http://www.dailyactor.com/wp-content/uploads/2016/08/Jonah-Hill-War-Dogs.jpg
Jonah Hill Talks 'War Dogs' and Getting into Character by Listening to Music
"When I started taking acting classes, it was the first time teachers were like, 'You're good and you should keep doing this.'" - Jonah Hill
http://www.dailyactor.com/film/jonah-hill-war-dogs/