Oliver Cooper's Advice on Keeping Busy in Hollywood: "You've gotta create it for yourself"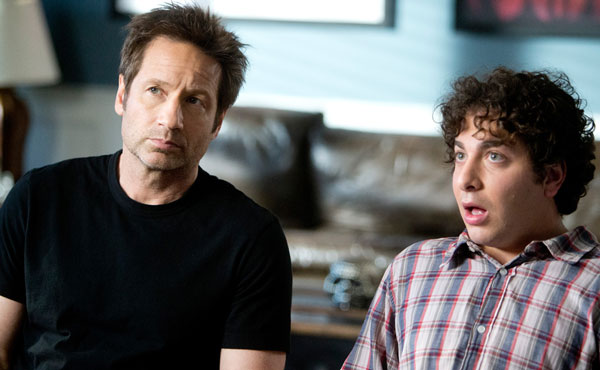 Oliver Cooper has starred in movies like Project X and Runner Runner, but his latest role might be his most intriguing. He's starring in Showtime's Californication as David Duchovny and Heather Graham's son.
When told by The Wrap that they were surprised he was cast in the role of Duchovny's son, he replied, "I probably wouldn't have guessed myself either."
Cooper got the role the old-fashioned way, he auditioned.
"It was a traditional audition. I went in there to meet with the casting director and there was a bunch of [kinda] fat kids that looked just like me. They didn't tell us we were auditioning to play Hank's son, they just said it was going to be a kid interviewing Hank for his newspaper and it'd be a possible eight-episode arc. That's all they said," he explained.
This was the 22-year-old actor's first TV role and he found the pace on the set to be rather enjoyable.
He said, "This was my first time and I almost enjoyed it more. It's hard to get substantial parts as a young actor and the cool thing about TV is you get to constantly build the character and find him over the course of 12 episodes. That's the fun part of doing TV. It definitely moves quicker and you don't spend as much time on scenes, but I kind of liked that."
Cooper has also worked on his own project, Four Dogs, which follows his personal story of moving out to Los Angeles, living with his aunt and taking care of her dogs.
He shared, "I'm always working on my own stuff for me to act in. It's hard to get good acting work, so you've gotta create it for yourself."
Cooper has continued to pursue his own work so he doesn't get typecast.
"Project X was the first audition I went on and I got it, but then everyone sees you as that guy and thinks you can only do that. I have other stuff I want to do and try. People don't even wanna give you a shot at it," he said.
Californication is currently airing its final season Sundays on Showtime.
http://www.dailyactor.com/wp-content/uploads/2016/08/imperium_daniele_radcliffe.jpg
Daniel Radcliffe on Playing a Neo-Nazi in 'Imperium': "It's still just horrible to say some of this stuff"
Radcliffe reveals how he played such a layered character and what it felt like to say his character's hate-filled dialogue.
http://www.dailyactor.com/actors-on-acting/daniel-radcliffe-playing-a-neo-nazi-imperium/
http://www.dailyactor.com/wp-content/uploads/2016/08/John-Cho-Star-Trek-Beyond.jpg
How John Cho Took A Stand for Diversity Early in His Career
"When one does speak one's mind, one might be surprised at how receptive people are." - Actor John Cho
http://www.dailyactor.com/actors-on-acting/john-cho-took-a-stand-for-diversity/
http://www.dailyactor.com/wp-content/uploads/2016/08/simon-helberg-florence-foster-jenkins.jpg
Simon Helberg on His 'Florence Foster Jenkins' Role: "I'm an actor and I want to stretch different muscles"
Helberg spoke about portraying his character in the film and whether or not he feels typecast by his Big Bang Theory role.
http://www.dailyactor.com/actors-on-acting/simon-helberg-florence-foster-jenkins-role/
http://www.dailyactor.com/wp-content/uploads/2016/08/Will-Chase-Something-Rotten.jpg
The Role That Got Away: Will Chase on Returning to 'Something Rotten!'
"I know that I am a poor man's fill-in-the-blank. And I know that there are poor man's Will Chases out there. That's just the nature of the business" - Will Chase
http://www.dailyactor.com/actors-on-acting/will-chase-something-rotten-role-that-got-away/
http://www.dailyactor.com/wp-content/uploads/2016/08/Julia-Stiles-Jason-Bourne.jpg
Julia Stiles on the Jason Bourne Series and Growing as an Actress: "There's always room for improvement"
"I like a director that encourages me to be playful. I don't really like being restricted or controlled by a director." - Julia Stiles
http://www.dailyactor.com/actors-on-acting/julia-stiles-growing-as-an-actress/