'Motown: The Musical' to Open on Broadway Next April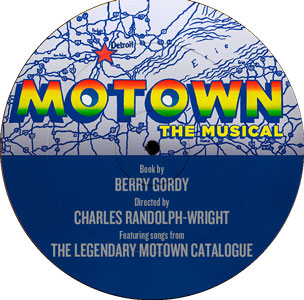 Motown is invading Broadway.
Producers Kevin McCollum, Doug Morris and Berry Gordy announced yesterday that Motown: The Musical, based on the life of Motown founder Gordy, will open on Broadway at The Lunt-Fontanne Theatre on April 14, 2013.  Preview performances will begin March 11, 2013.
As far as casting, Tony Award® nominee Brandon Victor Dixon and Valisia LeKae have been cast in the leading roles of Berry Gordy and Diana Ross. Additional casting will be announced shortly.
Brandon Victor Dixon received a Tony Award® nomination for his performance in The Color Purple on Broadway and received a Drama Desk Award nomination for The Scottsboro Boys Off-Broadway.
Valisia LeKae has appeared in the acclaimed Broadway musicals The Book of Mormon, Ragtime, 110 in the Shade and The Threepenny Opera.
The show tells the story behind the hits as Smokey finds his unique voice, Diana skyrockets to stardom and Berry fights against the odds to turn his improbable dream into a triumphant reality. The music that shattered barriers and shaped our lives finally comes to the Broadway stage in the season's most highly anticipated world-premiere event.
Directed by Charles Randolph-Wright, Motown: The Musical will feature a book by Berry Gordy and music and lyrics from the Motown legendary catalogue. 
For more info, check out the website: www.MotownTheMusical.com. Tickets will go on sale exclusively to Citibank® cardholders on Sunday, September 23. Tickets will be available to the general public beginning Monday, October 1.
http://www.dailyactor.com/wp-content/uploads/2016/02/david-harewood-supergirl.jpg
David Harewood on 'Supergirl' and How He Was "Struggling to Get a Handle" on His Character
Harewood reveals how he relates to the character and how he eventually got comfortable playing him.
http://www.dailyactor.com/actors-on-acting/david-harewood-supergirlstruggling-to-get-a-handle-on-his-character/
http://www.dailyactor.com/wp-content/uploads/2016/01/Jeff-Daniels.jpg
Jeff Daniels Remembers a Terrible Audition for a Diane Keaton Movie
One actor that knows the ups and downs of the audition process is Jeff Daniels.
http://www.dailyactor.com/actors-on-acting/jeff-daniels-terrible-audition-diane-keaton-movie/
http://www.dailyactor.com/wp-content/uploads/2016/02/Jennifer-Jason-Leigh-The-Hateful-Eight.jpg
Jennifer Jason Leigh on Her First-Ever Oscar Nomination: "It's kind of phenomenal"
"He knew that I could, in his words, 'act the … out of it' and I'm not afraid to take a risk in terms of acting" Jennifer Jason Leigh on Quentin Tarantino
http://www.dailyactor.com/actors-on-acting/jennifer-jason-leigh-oscar-nomination/
http://www.dailyactor.com/wp-content/uploads/2016/02/Forest-Whitaker-Hughie-Broadway.jpg
Forest Whitaker on Making His Broadway Debut in 'Hughie': "His rhythms are starting to invade inside of me"
"I want to get better as an actor, to keep trying to work harder, trying to discover something different" - Forest Whitaker
http://www.dailyactor.com/actors-on-acting/forest-whitaker-broadway-debut-hughie/
http://www.dailyactor.com/wp-content/uploads/2016/02/alicia-Vikander-Ex-machina.jpg
Alicia Vikander on the Her First Trip to L.A. and the Acting Tip 'Ex-Machina' Director Alex Garland Gave Her
"You [get immersed in] a film and of course you think that that is it. And then you go away and you read a new script and you have a new crush" - Alicia Vikander
http://www.dailyactor.com/actors-on-acting/alicia-vikanderacting-tip-ex-machina-director-alex-garland-gave-her/