Kristin Scott Thomas on Why She Keeps Acting: "I've discovered that if you stop, everything churns on without you. So you have to keep pedalling, really"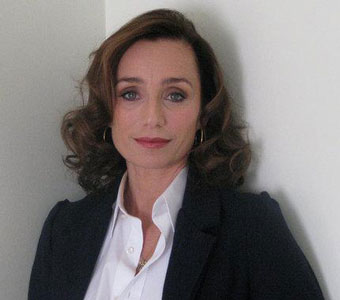 French-English actress Kristin Scott Thomas might be most familiar for her roles in 1990s hits The English Patient and Four Weddings and a Funeral, but Scott Thomas has consistently worked in American, English, and French film and theater.  Speaking to The Guardian, Scott Thomas talks about her long career.
When asked if she has ever had to suffer for her art, Scott Thomas responds, "Frequently – though I'm talking 'suffer' in inverted commas. You do get lonely; you're torn in every direction. And if you've had a long career, like me, you're constantly being compared to others. You're either adored or criticized."
Like many actors who are are passionate for their theater work, Scott Thomas believes that biggest threat to theatre are "star turns," i.e. casting a big star in a play for a short run.  Though Scott Thomas has starred in successful movies, she says, "I think I'm OK now – I'm counted as a theatre actor, rather than a cinema actor who just turns up for six weeks then buggers off. I was very nervous of that when I started. With Bérénice, I signed up for an eight-month tour to all sorts of godforsaken places in France. My American agents were going crazy."
As for any regrets she might have about her career so far, Scott Thomas points out that though she regrets "Lots of things — but it would be cruel to mention names," being a working actor means sometimes taking jobs one doesn't particularly want in order to keep up your profile.  She adds, "It's a job; sometimes I have to do things I don't want to do. But I've discovered that if you stop, everything churns on without you. So you have to keep pedalling, really."
http://www.dailyactor.com/wp-content/uploads/2015/09/Tom-Hardy-Legend.jpg
Tom Hardy on Playing Twins in 'Legend,' Being Seen as a Tough Guy, and Working with Philip Seymour Hoffman
Hardy speaks about why he challenged himself to play twins, what he thinks of his tough guy image, and working with the late Philip Seymour Hoffman, who directed him on stage.
http://www.dailyactor.com/actors-on-acting/tom-hardy-playing-twins-legend/
http://www.dailyactor.com/wp-content/uploads/2015/09/Emily-Blunt-Sicario.jpg
Emily Blunt on Action Movie Roles: "I think it's important to show different layers. Nobody is just tough, nobody is just vulnerable"
Emily Blunt touches upon why she has gotten into roles with an action bent and why she thinks there aren't more action movies with female leads
http://www.dailyactor.com/actors-on-acting/emily-blunt-sicario-acting-layers/
http://www.dailyactor.com/wp-content/uploads/2015/09/Jorja-Fox-CSI.jpg
Jorja Fox on Life After 'CSI': "I've always enjoyed not knowing exactly where the road leads"
"I think you kind of have to embrace the unknown if you're an actor." - Jorja Fox
http://www.dailyactor.com/actors-on-acting/jorja-fox-life-after-csi/
http://www.dailyactor.com/wp-content/uploads/2015/09/John-Turturro-Mia-Madre.jpg
John Turturro on the Life of an Actor: "It's a rough business. I wouldn't want my kids to do it"
"I am usually very well prepared. If you're a surgeon, you've got to know what you're going to take out today." - John Turturro
http://www.dailyactor.com/actors-on-acting/john-turturro-life-of-an-actor/
http://www.dailyactor.com/wp-content/uploads/2015/09/Matt-Damon-The-Martian.jpg
Matt Damon's Controversial Comments on Actors Keeping Their Real Lives a Mystery
"I think you're a better actor the less people know about you period. And sexuality is a huge part of that." - Matt Damon
http://www.dailyactor.com/actors-on-acting/matt-damon-actors-keeping-their-real-lives-a-mystery/