'Stella! Mother of Modern Acting' Book Excerpt: When Audience and Actors Were One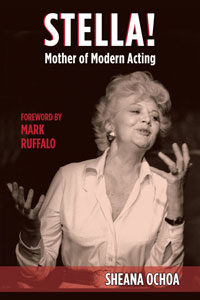 First of a three-part series with excerpts from Stella Adler's first biography Stella! Mother of Modern Acting (May 2014, Applause Theatre and Cinema Books)
Written by Sheana Ochoa
While writing Stella Adler's biography I discovered a strange phenomenon: many American actors are unaware of the history of acting. Some even boast they don't practice their craft, attend acting classes or work terribly hard on a role, which would be tantamount to me, an author, saying I don't revise my writing, study other writers or research and build my stories, settings and characters. If you're reading this now, you probably aren't one of those actors. You're probably aware that practice hones your talent. You're probably aware of the history and evolution of American acting—at least to the extent that that story has been told. Stella! Mother of Modern Acting, the first biography of Stella Adler, spirits you along that evolution through the eyes and life story of one of acting's most loyal guardians. During the next three weeks, Actors Daily will feature three handpicked excerpts from Stella's biography, beginning with the first performance of Clifford Odets' revolutionary play "Waiting for Lefty." – Sheana Ochoa

When Audience and Actors Were One: "Waiting For Lefty"
When Stella was a child, two world-renowned actors came to play at Jacob's Grand Theatre. One of the visitors gave Stella a hat with two rabbits on it that she was quite fond of and wore to watch the production. Normally Stella was either backstage or onstage. This night she sat in the audience. From her box seat Stella could feel the excitement of the playgoers shuffling in, the intangible anticipation of a night at the theater and the wonderful, although sometimes tragic, world the entire house would enter. Yiddish audiences didn't adhere to the concept of the fourth wall: they cried and laughed with each other and the players onstage. Being at the theater was like being in one's living room, absorbing one another and the characters in the play as a unit, a family. Stella marveled at how life and theater mingled into one undeniable happening night after night.
Being in the audience, however, was an exciting change for the girl. Before the play began, she couldn't take her eyes off the red plush stage curtain, which was embroidered in gold and green satin thread with a tableau of colorful scenes.[i] Stella studied the two-dimensional work of art spread out in front of her, promising to unveil a world that would spirit her away.
Some two decades, later on January 6, 1935, Stella found herself again sitting in an audience. Instead of her father's theater, she was at Eva Le Gallienne's Civic Repertory Theatre watching Odets's Waiting for Lefty. An announcement was tucked in on a throwaway leaflet of the program without the playwright's name on it. It simply said that the cast of Golden Eagle Guy, the latest Group Theatre production, would present the play.
Stella's mother and elder brother Jay accompanied her. After sitting through a short play by Paul Green and a dance performance, the audience relaxed to wait through the final act of a typical benefit show. Stella knew better. She had heard Odets's play the previous October with the rest of the Group. The show about to begin was no ordinary play.
Waiting for Lefty opens with six or seven cab drivers sitting in a semicircle, working-class men dressed the part. Morris Carnovsky, playing Harry Fatt, says: "You're so wrong I ain't laughing. Any guy with eyes to read knows it. Look at the textile strike—out like lions in like lambs."
The audience immediately identified the sound and demeanor of the common New Yorker off the street, and as the other actors chimed in about the question of a strike, the viewers leaned forward as if to jump from their seats and join the debate. Clurman watched from the side: "The first scene of Lefty had not played two minutes when a shock of delighted recognition struck the audience like a tidal wave. Deep laughter, hot assent, a kind of joyous fervor seemed to sweep the audience toward the stage. The actors no longer performed; they were being carried along as if by an exultancy of communication such as I had never witnessed in the theater before. Audience and actors had become one."[ii]
That winter was a particularly harsh one, the Atlantic Ocean packed with ice from Nantucket Island to the mainland, but the sincerity of Odets's characters warmed the spirits of an audience weather-worn and beleaguered by three long years of an economic depression. The previous year's passage of the National Recovery Act and its section giving employees the right to organize "and bargain collectively through representatives of their own choosing . . . free from the interference, restraint, or coercion of employers" prompted the formation of labor unions across the nation, demanding better work conditions and wages.[iii] Odets's prescient play voiced the anger and promise of the new year, a year in which 1,834 work stoppages and strikes stirred up industry across the country.[iv]
At the close of Lefty, the audience is directly addressed: "Well, what's the answer?" Odets and a couple other stagehands had rehearsed to reply, "Strike!" To the actors' astonishment, another cry of "Strike!" echoed across the auditorium, and then another, until an entire choir of "Strike! Strike!" erupted as hundreds of people rose from their seats, stomping their feet so relentlessly that Ruth Nelson later recalled her fear that "they're going to bring the balcony down!"[v] Applause and approval shook the house for forty-five minutes and a total of twenty-six curtain calls, at which point the audience stormed the stage. Cheryl Crawford later recalled how the audience "wouldn't leave. I was afraid they were going to tear the seats out and throw them on the stage."[vi]
The playwright watched, astonished by the audience's reaction: "There was such an at-oneness with audience and actors that the actors didn't know whether they were acting, and the audience got up and shouted 'Bravo! Bravo!' and . . . I found myself up on my feet shouting, 'Bravo, Luther!' In fact, I was part of the audience. I forgot I wrote the play. . . . The proscenium arch disappeared . . . when that happens . . . not by technical innovation, but when that happens emotionally and humanly, then you will have great theater."[vii]
Stella had experienced the disappearance of the proscenium all her life. She understood how adversity unites people who otherwise—during socioeconomic and cultural stability—tend to isolate from their fellow man. A theater that acknowledges the intimate undercurrent of the spectators' lives will stir that audience in ways even the greatest tragedies cannot. Once again the union of life and theater, a coupling that was the essence of her own existence, revealed itself to her.
With an audience reluctant to leave, the stage manager finally closed the curtain, clearing the audience out onto the street, where they remained discussing the play. Sara Adler was surprised that the playwright was the same man who, when visiting their home, scavenged the plentiful bread on the table. Odets had been used to eating "shredded wheat," recalling that, "when I saw all that Jewish bread on the table, I'd just die."[viii] Sara congratulated Odets while Jay ingratiatingly asked the young playwright for his first autograph.
Adrenalin and triumph took the cast and crew out into the night, embracing and laughing, raucously reliving what only a few hours earlier had enlarged their perception of the potential of theater. It was a vessel to empower the people, just as Clurman had preached in his Friday-evening talks. Wandering deliriously through the streets, some of the cast ended up in cafés and bars, unwilling to surrender the night. Odets finally settled into a cafeteria with his codirector, Sanford Meisner, who watched "Clifford at one of those long tables, very, very pale, tense, and absolutely quiet. He seemed like a person in shock."[ix] Twilight nudged everyone home. By the following year Waiting for Lefty would be more frequently produced and more frequently banned all over the world—from Union Square to Moscow, from Tokyo to Johannesburg—than any other play in theatrical history."[x]
Click here to purchase Stella! Mother of Modern Acting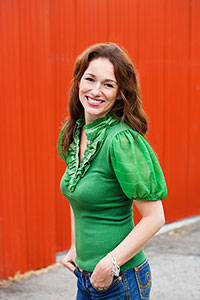 Sheana Ochoa received a Masters in Professional Writing at the University of Southern California. She has published widely in such outlets as Salon, CNN.com and the Los Angeles Review of Book's affiliate, The Levantine Review.Ms. Ochoa inaugurated the One-Act Play festival at the Stella Adler Academy where she directed her one-act play, The Masterpiece. In 2012, she became a founding member of Freedom Theater West, co-producing their premier production. Her revival of "Haorld & Stella: Love Letters" won Pick of Fringe at the 2014 Hollywood Fringe Festival. Stella! Mother of Modern Acting is Ochoa's first book.
Footnotes:
[i] Stella Adler, in discussion with friends, August 29, 1987, audiocassette, Irene Gilbert Collection.
[ii] Clurman, The Fervent Years, 147–48.
[iii] Watkins, The Great Depression, 168.
[iv] Ibid., 170.
[v] Smith, Real Life Drama, 198.
[vi] Ibid., 199.
[vii] Brenman-Gibson, Clifford Odets, 316.
[viii] Ibid., 317.
[ix] Ibid.
[x] Ibid., 316.
Latest Videos
http://www.dailyactor.com/wp-content/uploads/2014/08/bryan-cranston-emmy-award-speech.jpg
Watch: Bryan Cranston's Emmy Award Speech: "I love to act. It is a passion of mine and I will do it until my last breath."
The Emmy Awards weren't the most exciting awards show this year but with Bryan Cranston winning for Outstanding Actor in a Drama for Breaking Bad, we at least got to hear one heck of a fantastic acceptance speech. "I was a kid who always looked for the shortcut," he said. "I did happen to stumble […]
http://www.dailyactor.com/2014/08/watch-bryan-cranston-and-aaron-pauls-emmy-award-speeches/
http://www.dailyactor.com/wp-content/uploads/2014/08/audition-tapes-gerard-butler-aud.jpg
Audition Tapes: Gerard Butler Auditions for 'Dracula 2000′
Check out Gerard Butler auditioning for the role of Dracula in the movie, Dracula 2000. The film, about a group of thieves who break into a chamber expecting to find paintings, but instead find Dracula himself, also starred Christopher Plummer, Jonny Lee Miller and Nathan Fillion. Bulter has some sweet rock star hair, huh?
http://www.dailyactor.com/2014/08/audition-tapes-gerard-butler-dracula-2000/
http://www.dailyactor.com/wp-content/uploads/2014/08/interview-matt-dillon-and-carla.jpg
Interview: Matt Dillon and Carla Gugino Talk 'Wayward Pines'
FOX has a new limited-series that's got a terrific cast and interesting premise. It's called Wayward Pines and stars Matt Dillon, Carla Gugino, Melissa Leo, Toby Jones, Terrance Howard, Juliette Lewis, Tim Griffin and Shannyn Sossamon. The show, whose pilot was directed by M. Night Shyamalan, is about a Secret Service agent (Dillon) goes to […]
http://www.dailyactor.com/2014/08/interview-matt-dillon-carla-gugino-wayward-pines-comic-con/
http://www.dailyactor.com/wp-content/uploads/2014/08/interview-wayward-pines-stars-ti.jpg
Interview: 'Wayward Pines' Stars Tim Griffin and Shannyn Sossamon on the Show, Their Characters and More!
Griffin and Sossamonwere at Comic-Con where they sat in on some roundtable interviews to talk about the show.
http://www.dailyactor.com/2014/08/interview-wayward-pines-stars-tim-griffin-shannyn-sossamon-comic-con/
http://www.dailyactor.com/wp-content/uploads/2014/08/interview-m-night-shyamalan-talk.jpg
Interview: M. Night Shyamalan Talks 'Wayward Pines' and Why He Expanded a Young Actors Role on the Show
I talked to Shyamalan at Comic-Con in a roundtable interview where he talked about the cast, what he learned from working in TV and how young actor Charlie Tahan started out with a small part but as the story grew, so did his role.
http://www.dailyactor.com/2014/08/interview-m-night-shyamalan-wayward-pines-comic-con/