Daniel Radcliffe Loves Romantic Comedies, It's Action Films that He Rolls His Eyes At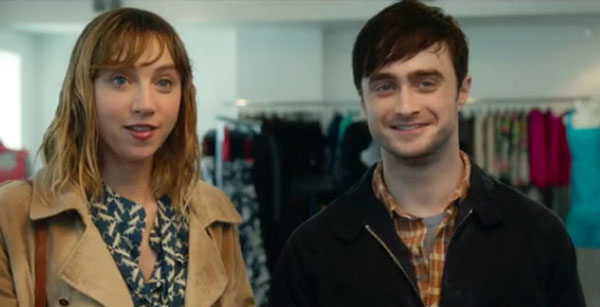 Daniel Radcliffe is headed to romantic-comedy territory this summer. His new film What If follows a med-school dropout who falls in love with a girl, played by Zoe Kazan, that he meets at a party.
The 24-year-old actor talked to Vulture about taking on a role that focuses on a regular guy in the contemporary world.
He said, "It was very different playing just a modern character…It was fantastic just to be in modern clothes. It sounds weird, but you do so much period stuff growing up in England that it's lovely. Also the dialogue is all stuff and situations I understand. When I'm 11 or 12 and having to be devoured by a gigantic plant called the Devil's Snare, I don't know what that would be like in real life! It's nice to do films now where I can draw on my own life."
As Radcliffe has grown up, his roles have also matured, making this the perfect time to explore the opportunity to play a romantic lead.
"I got two scripts around the same time; one was this and one was another film, which I have to say was a fantastic script, but very similar to this. I think this one had a more satisfying story arc, and the truth is, when you get a script like this, it's a very easy decision to become a part of it," explained the Broadway star. "There's an image people have of actors reading tons of scripts, and they do, but a lot of them are very average. So when you find something special, you jump on it, because there's going to be another ten people who want to play the same part."
While tackling a romantic comedy might seem cliché in an actor's career, the star finds another genre more tiresome.
He shared, "It's more the action films that I roll my eyes at. There's a real trend in screenwriting that if a movie comes to you from a studio, you can have a really smart movie with a great premise, but there's just a law where at some point it has to turn into an action movie when there's no need for it to. With the romantic-comedy stuff, I know what you're saying because there are so many out there and they're not very funny, but my agents are very good at sending me stuff they suspect I'll like."
What If opens on Aug. 8.
http://www.dailyactor.com/wp-content/uploads/2015/02/Larry-David.jpg
Larry David on Who he Wanted to Star in his Broadway Play 'Fish in the Dark': "Anybody but me"
"It's one of the reasons I didn't like acting. I don't like not being able to interject" – Larry David on acting with a script Who doesn't like Larry David? Well, to be honest, Larry David probably doesn't like Larry David. In fact, David didn't even want to cast himself in the lead of […]
http://www.dailyactor.com/2015/02/larry-david-on-who-he-wanted-to-star-broadway-play-fish-in-the-dark/
http://www.dailyactor.com/wp-content/uploads/2015/02/Helen-Mirren-The-Queen.jpg
Helen Mirren on Winning an Oscar: "It's an indescribable moment"
"It's hard to say, because you don't know what would have happened if you hadn't won" - Helen Mirren When Asked If Winning an Oscar Changed Her Career
http://www.dailyactor.com/2015/02/helen-mirren-on-winning-an-oscar/
http://www.dailyactor.com/wp-content/uploads/2015/02/anna-chlumsky-james-earl-jones.jpg
Anna Chlumsky on Her Broadway Debut: "For me, it was an opportunity to go in the direction that I hadn't played in a while"
"I think my personality lends itself to ensembles" - Anna Chlumsky
http://www.dailyactor.com/2015/02/anna-chlumsky-broadway-debut-ensemble/
http://www.dailyactor.com/wp-content/uploads/2015/02/joanne-froggatt-downton-abbey.jpg
'Downton Abbey' Star Joanne Froggatt on Creating Her Own Backstory and How She's "Not a Big-Budget Hollywood Type"
"They want the model type, classically beautiful, and I'm not" - Joanne Froggatt on Working in Hollywood
http://www.dailyactor.com/2015/02/downton-abbey-star-joanne-froggatt-character-backstory-hollywood/
http://www.dailyactor.com/wp-content/uploads/2015/01/al-pacino-the-humbling.jpg
Al Pacino on Acting: "It becomes such a part of your nature you rarely ever think about quitting"
After working infrequently in film over the last decade, Al Pacino appears in several films released in 2015, including The Humbling, an indie drama directed by Barry Levinson.
http://www.dailyactor.com/2015/02/al-pacino-on-acting-it-becomes-such-a-part-of-your-nature/