Robert Downey Jr. Named Most Powerful Actor by Forbes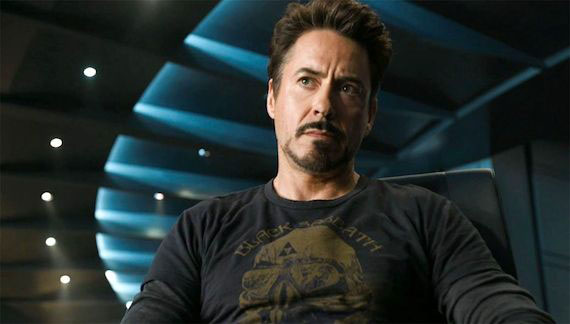 Few actors make Forbes' annual list of most powerful celebrities, but the ones who do have a lot of weight to throw around when it comes to making their movies. According to the magazine, the most powerful actor on the list is Robert Downey, Jr., who comes in at #10. Downey starred in the second highest-grossing movie worldwide in 2013, Iron Man 3, which earned $1.215 billion at the box office.
It's hard to believe that Downey's comeback breakthrough, Iron Man, was only released six years ago. Since then Downey has become a key part of both the Iron Man/Avengers franchise and the lead of Guy Ritchie's Sherlock Holmes franchise. Forbes estimates that Downey has made an astounding $75 million just from June 2013 to June 2014. Even more surprising is that Downey only appeared in 2 movies that were in release during that period (Iron Man 3 and a much smaller role in the indie movie Chef). In fact, it's arguable that Chef, which was directed by Iron Man and Iron Man 2 director Jon Favreau, is mainly a success because of Downey — despite having a small role in the film, Downey was involved in much of the publicity efforts to promote the movie.
Downey's generosity extends to his co-stars. It has been reported that as part of his deal to sign on for The Avengers 2 and 3 that he got his fellow Avengers stars pay raises from the notoriously tightfisted Marvel Studios. That probably also makes Downey the most well-liked actor, too! With The Avengers 2 expected to be just as successful as the original, it's like Downey will end up on this list again.
Also on the list are Jennifer Lawrence (#12), Dwayne Johnson (#23), Sandra Bullock (#36), Bradley Cooper (#48), Matthew McConaughey and Leonardo DiCaprio (tied at #52), Tyler Perry (#56), Mark Wahlberg (#60), Hugh Jackman  and Hugh Jackman (tied at #63), Vin Diesel (#66), Ben Affleck (#67), Neil Patrick Harris (#72), Angelina Jolie (#73),  Kevin Spacey (#74), Will Smith (#75), Scarlett Johansson (#76), Jennifer Aniston (#77), Amy Adams (#81), Bryan Cranston (#88), Jon Hamm and Gwyneth Paltrow (tied at #89), Meryl Streep (#92), Kerry Washington (#93), Zooey Deschanel (#96), Cameron Diaz and Lena Dunham (tied at #97), Kaley Cuoco (#99) and Natalie Portman (#100).
Latest Videos
http://www.dailyactor.com/wp-content/uploads/2014/08/bryan-cranston-emmy-award-speech.jpg
Watch: Bryan Cranston's Emmy Award Speech: "I love to act. It is a passion of mine and I will do it until my last breath."
The Emmy Awards weren't the most exciting awards show this year but with Bryan Cranston winning for Outstanding Actor in a Drama for Breaking Bad, we at least got to hear one heck of a fantastic acceptance speech. "I was a kid who always looked for the shortcut," he said. "I did happen to stumble […]
http://www.dailyactor.com/2014/08/watch-bryan-cranston-and-aaron-pauls-emmy-award-speeches/
http://www.dailyactor.com/wp-content/uploads/2014/08/audition-tapes-gerard-butler-aud.jpg
Audition Tapes: Gerard Butler Auditions for 'Dracula 2000′
Check out Gerard Butler auditioning for the role of Dracula in the movie, Dracula 2000. The film, about a group of thieves who break into a chamber expecting to find paintings, but instead find Dracula himself, also starred Christopher Plummer, Jonny Lee Miller and Nathan Fillion. Bulter has some sweet rock star hair, huh?
http://www.dailyactor.com/2014/08/audition-tapes-gerard-butler-dracula-2000/
http://www.dailyactor.com/wp-content/uploads/2014/08/interview-matt-dillon-and-carla.jpg
Interview: Matt Dillon and Carla Gugino Talk 'Wayward Pines'
FOX has a new limited-series that's got a terrific cast and interesting premise. It's called Wayward Pines and stars Matt Dillon, Carla Gugino, Melissa Leo, Toby Jones, Terrance Howard, Juliette Lewis, Tim Griffin and Shannyn Sossamon. The show, whose pilot was directed by M. Night Shyamalan, is about a Secret Service agent (Dillon) goes to […]
http://www.dailyactor.com/2014/08/interview-matt-dillon-carla-gugino-wayward-pines-comic-con/
http://www.dailyactor.com/wp-content/uploads/2014/08/interview-wayward-pines-stars-ti.jpg
Interview: 'Wayward Pines' Stars Tim Griffin and Shannyn Sossamon on the Show, Their Characters and More!
Griffin and Sossamonwere at Comic-Con where they sat in on some roundtable interviews to talk about the show.
http://www.dailyactor.com/2014/08/interview-wayward-pines-stars-tim-griffin-shannyn-sossamon-comic-con/
http://www.dailyactor.com/wp-content/uploads/2014/08/interview-m-night-shyamalan-talk.jpg
Interview: M. Night Shyamalan Talks 'Wayward Pines' and Why He Expanded a Young Actors Role on the Show
I talked to Shyamalan at Comic-Con in a roundtable interview where he talked about the cast, what he learned from working in TV and how young actor Charlie Tahan started out with a small part but as the story grew, so did his role.
http://www.dailyactor.com/2014/08/interview-m-night-shyamalan-wayward-pines-comic-con/