Q & A: Rhona Mitra Talks 'The Last Ship' and Working on a Naval Deystroyer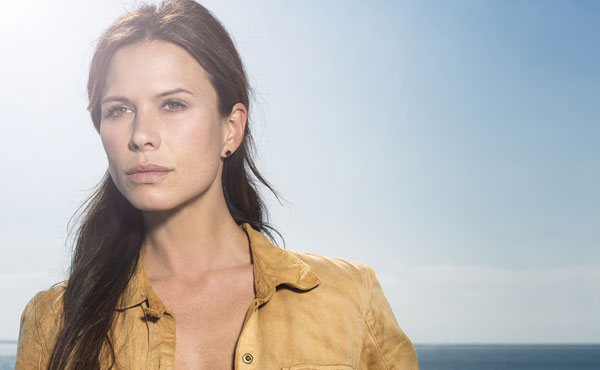 Michael Bay's The Last Ship is the story of what happens when a global pandemic wipes out eighty percent of the planet's population and the crew of a lone naval destroyer must find a way to pull humanity from the brink of extinction.
Starring Eric Dane and Adam Baldwin, the new TNT drama also stars Rhona Mitra as Dr. Rachel Scott, who has been on the ship searching for clues and a cure to the devastation.
I talked to Mitra in a conference call about her role on the show, working on a Naval Destroyer and the research she did to become a paleomicrobiologist (I totally had to cut and paste the word).
The Last Ship airs on Sundays at 9pm on TNT
What was it about the show that made you want to do it?
Rhona Mitra: I think the subject matter's incredibly poignant. And I think that it's something that needs to be discussed right now. And I very much wanted to work with Michael Bay and work with my old friend Eric Dane again.
Did you do any research before taking on the role?
Rhona Mitra: I did a tremendous amount of research. In fact I already know a lot about paleomicrobiology and virology because I'm somewhat of a geek. And this world and the subject matter is already of great interest to me, so it came at the perfect time.
Can you talk a little about what it's like to work on a show like this? Like what was the most – what's the unique challenge with working on a project like this?
Rhona Mitra: Well first of all working on a naval destroyer – hi there, hello. Yes, working on a naval destroyer on a physical level was incredibly taxing because none of us have worked on a ship like this. The Navy hasn't allowed anyone to work on a ship like this before.
So physically it was restricting, and also because time wise we had to work with its schedule. But as the only sort of zoologist or scientist in a very stark military, very full family if you will, being the orphaned child and the unwanted orphan child as it turns out for a moment. It was quite difficult because it's like being the child on the playground that no one wants to play with.
But at the end of day when you have a mission which is far greater and eclipses anything that anyone could possibly imagine, it becomes actually a very easy task because you're left with the solo understanding that you have the human race and its existence in your hands. So you run with that bone.
Is there room for you to develop like with working with the producers to kind of develop her and even maybe we'll learn some of her back story a little bit?
Rhona Mitra: That's coming in. It's already – I don't – that's already happened. You just haven't seen it. They're wonderfully on point with that. We have great writers and they've – I hope they have – I think they've done very well in bringing all of that stuff in and developing these characters. So the layers fall off and you do get to see all the back stories of all of our characters, which is the most important thing at the end of the day.
How did you first became involved in this project, and if you don't mind also about the audition process for the role of Rachel Scott.
Rhona Mitra: I didn't audition. And it came to me thankfully and wonderfully as an offer. So when it came my way I did everything I could to clear a space in front of me to make sure that I could be part of it. And it's such an extraordinary project with such extraordinary people across the board from Michael Bay to TNT and writers, and then beyond that just this incredible character – playing this extraordinary woman who has this incredible task in front of her.
And you just really don't see too many characters like this either on – in the television world or in film. And I feel that there's been so much in my life and my career that I have done that wonderfully led up to playing something as balanced as this and having this dichotomy of physical and cerebral strength.
And so that's why I wanted it and I've been working very hard since to make sure that I'm doing my best to do well by it.
Latest Videos
http://www.dailyactor.com/wp-content/uploads/2014/08/bryan-cranston-emmy-award-speech.jpg
Watch: Bryan Cranston's Emmy Award Speech: "I love to act. It is a passion of mine and I will do it until my last breath."
The Emmy Awards weren't the most exciting awards show this year but with Bryan Cranston winning for Outstanding Actor in a Drama for Breaking Bad, we at least got to hear one heck of a fantastic acceptance speech. "I was a kid who always looked for the shortcut," he said. "I did happen to stumble […]
http://www.dailyactor.com/2014/08/watch-bryan-cranston-and-aaron-pauls-emmy-award-speeches/
http://www.dailyactor.com/wp-content/uploads/2014/08/audition-tapes-gerard-butler-aud.jpg
Audition Tapes: Gerard Butler Auditions for 'Dracula 2000′
Check out Gerard Butler auditioning for the role of Dracula in the movie, Dracula 2000. The film, about a group of thieves who break into a chamber expecting to find paintings, but instead find Dracula himself, also starred Christopher Plummer, Jonny Lee Miller and Nathan Fillion. Bulter has some sweet rock star hair, huh?
http://www.dailyactor.com/2014/08/audition-tapes-gerard-butler-dracula-2000/
http://www.dailyactor.com/wp-content/uploads/2014/08/interview-matt-dillon-and-carla.jpg
Interview: Matt Dillon and Carla Gugino Talk 'Wayward Pines'
FOX has a new limited-series that's got a terrific cast and interesting premise. It's called Wayward Pines and stars Matt Dillon, Carla Gugino, Melissa Leo, Toby Jones, Terrance Howard, Juliette Lewis, Tim Griffin and Shannyn Sossamon. The show, whose pilot was directed by M. Night Shyamalan, is about a Secret Service agent (Dillon) goes to […]
http://www.dailyactor.com/2014/08/interview-matt-dillon-carla-gugino-wayward-pines-comic-con/
http://www.dailyactor.com/wp-content/uploads/2014/08/interview-wayward-pines-stars-ti.jpg
Interview: 'Wayward Pines' Stars Tim Griffin and Shannyn Sossamon on the Show, Their Characters and More!
Griffin and Sossamonwere at Comic-Con where they sat in on some roundtable interviews to talk about the show.
http://www.dailyactor.com/2014/08/interview-wayward-pines-stars-tim-griffin-shannyn-sossamon-comic-con/
http://www.dailyactor.com/wp-content/uploads/2014/08/interview-m-night-shyamalan-talk.jpg
Interview: M. Night Shyamalan Talks 'Wayward Pines' and Why He Expanded a Young Actors Role on the Show
I talked to Shyamalan at Comic-Con in a roundtable interview where he talked about the cast, what he learned from working in TV and how young actor Charlie Tahan started out with a small part but as the story grew, so did his role.
http://www.dailyactor.com/2014/08/interview-m-night-shyamalan-wayward-pines-comic-con/