Marion Cotillard Shares the Challenges of Acting in a Foreign Language: "You cannot act if you don't know exactly what you say"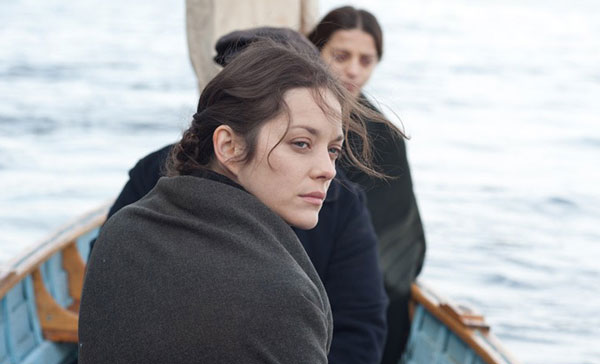 As the Cannes Film Festival heats up in France, an entry in last year's festival is finally seeing the light of day. The Immigrant, starring Marion Cotillard and Joaquin Phoenix, follows the story of a Polish woman who immigrates to New York only to be sucked into prostitution.
Much of the film is in Polish and it required Cotillard to study a new language. She addressed those challenges to Vulture.
"It was kind of stressful, because she is Polish, so I had to nail the accent. It's not like when I learn another language but can keep my French accent. I always want to find the authenticity of a character. And there were 20 pages of Polish in the script. I didn't even think about that when I first read it, because the script itself was in English; it just said 'in Polish' when there was dialogue that was supposed to be in Polish," the Oscar winner said. "So I didn't realize the amount of work I'd need to do. And I didn't really have that much time to prepare. I had two months, which is nothing, and Polish is a very, very complicated language, and it shares almost no words with English or French. Sometimes, I would ask my teacher if she was really teaching me Polish, or if it was actually Chinese or something! But when you know that you won't have enough time, you just have to jump into the work and not think about the result."
With such little preparation time, the 38-year-old actress "really just learned phonetics [of the language.] But I did need to know the meaning of every word. You cannot act if you don't know exactly what you say."
Her character goes to such a dark place and takes an emotional journey throughout the James Gray-directed film, so Cotillard had to map out a path for who she was playing.
The La Vie en Rose star shared, "I need to figure it out before we start shooting, so I can be free and let the character live inside of me — to let it create itself, in a way. I try to find this space inside myself for the character to live by itself. I don't want to control things, but I want to create a very strong base, so that I can let myself go. And if I know exactly who this person is, then I have a strong base. So that if, for example, there is a new scene, I will know exactly how she will react, without the need to sit down and think about it. I just want to let it go, and then sometimes you're surprised by what is coming. This kind of surprise is very inspiring, and that can happen only if you don't control everything."
Latest Videos
http://www.dailyactor.com/wp-content/uploads/2014/08/seth-rudetsky-reveals-the-5-wors.jpg
Seth Rudetsky Reveals the 5 Worst Musical Theater Audition Mistakes (video)
Seth Rudetsky, actor, musician and a host on SiriusXM's Broadway channel, has been teaching auditioning master classes this summer and he's seen his share of bad auditions lately. In this video, he reveals the 5 worst audition mistakes you can make in a musical theater audition and how to choose the perfect 16-bar audition song. [...]
http://www.dailyactor.com/2014/08/seth-rudetsky-5-worst-audition-mistakes/
http://www.dailyactor.com/wp-content/uploads/2014/07/sir-ben-kingsley-talks-about-the.jpg
Sir Ben Kingsley Talks about the Unique Way He Voiced His Character in the Animated Film, 'The Boxtrolls' (video)
I could listen to Sir Ben Kingsley talk about acting and.. well, I could listen to him talk about anything. He's starring in the new Laika stop-motion animated film, The Boxtrolls, and he and some of the cast (along with the director) joined in on a Comic-Con panel about the film. The Boxtrolls is about [...]
http://www.dailyactor.com/2014/07/sir-ben-kingsley-the-boxtrolls-comic-con/
http://www.dailyactor.com/wp-content/uploads/2014/07/bill-hader.jpg
Bill Hader: "I kind of fell into acting" (video)
Bill Hader, starring in the soon to be released The Skeleton Twins, talks about the film and how he fell into acting and then got "crazy lucky" in this quick video from USA Today.
http://www.dailyactor.com/2014/07/bill-hader-fell-into-acting-video/
http://www.dailyactor.com/wp-content/uploads/2014/07/director-john-carney-narrates-a.jpg
Director John Carney Narrates a Scene from 'Begin Again' Starring Kiera Knightley and Mark Ruffalo
Director John Carney (Once) narrates a scene from his new film, Begin Again. Starring Keira Knightley and Mark Ruffalo, the scene shows the first time the two characters meet. I haven't seen it yet but I've heard it's great.
http://www.dailyactor.com/2014/07/begin-again-scene-director-john-carney-keira-knightley-mark-ruffalo/
http://www.dailyactor.com/wp-content/uploads/2014/07/holler-if-you-hear-me-gma.jpg
Watch the Cast of Broadway's 'Holler If You Hear Me' Perform 'California Love' on GMA
The cast of Broadway's newest musical, Holler If You Hear Me with music from Tupac Shakur, performed on Good Morning America this morning. Singing 'California Love', the cast (including the teriffic Christopher Jackson – read our interview here), show why they're the most energetic and inspiring group of actors on Broadway. Holler If Ya Hear [...]
http://www.dailyactor.com/2014/07/watch-cast-broadways-holler-hear-perform-california-love-gma/