Kate Winslet Likes Things in Threes: New Baby, Hit Film and Star on Hollywood Walk of Fame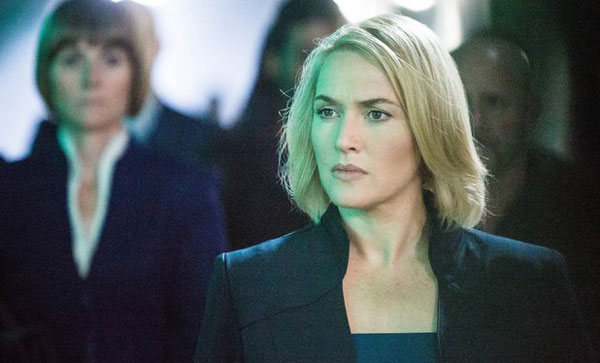 Kate Winslet is known for her critically acclaimed work in movies like The Reader, Labor Day and Little Children. This year, she is departing from typical Oscar fare to dive into a big budget box office hit — Divergent.
She spoke with Hero Complex about why she chose such radically different role for her latest movie.
Winslet shared, "I wanted to be in a film that was just completely different to everything that I've done."
The trilogy film is based on a series of books by author Veronica Roth where people are categorized into factions based on their personality from Candor to Erudite. Star Shailene Woodley has multiple factions which gives her the dangerous trait of divergence.
Winslet steps in as the villainous Jeanine Matthews who is looking to take over the world and hunt down the divergents.
Playing evil was something that was appealing to the 38-year-old star. She explained, "There was a lot for me to do in a short space of screen time, and I liked that challenge."
The mom-of-three also revealed what types of films normally draw her in. "I'm always making films about real things that happened to real people," said Winslet. "I'm interested in the human condition, and that's why I'm often so drawn to those types of pieces."
As someone who started her acting career as a teen, it was fun for her to arrive on the Divergent set after the cast already had a few months of filming under their belt.
"I walked on the set, and I did feel very experienced," she said. "They were shy and nervous at first, which was quite funny. I let them be shy and nervous for a couple of days. That was fun. It worked for the chotaracter."
Another challenge was her pregnancy. She was five months pregnant while filming the role. Some of her stunts from the original shoot had to be redone six weeks ago. It was a challenge she readily took on.
The Titanic star explained, "Hoofing that sort of soft, post-pregnancy body back into those costumes, I felt like I was squeezing a sausage into a thimble. But the feeling of playing the character not pregnant was so much nicer. I just felt like my brain was that little bit sharper."
Besides a new baby and a hit film, Winslet also received her star on the Hollywood Walk of Fame. It was quite an honor for the British actress.
"I mean this in the best way, but it's a little bit like a gravestone. It's something that you go and visit, so in years to come, when I'm a grandma, I can take my grandchildren and say, 'Oh, look, this is where Grandma got her star,' and show them to the picture of the day when I was given it. It was really, really lovely."
The second film in the series, Insurgent, begins filming later this year. Divergent is currently in theaters nationwide.
Latest Videos
http://www.dailyactor.com/wp-content/uploads/2014/09/audtion-tapes-robin-wright-and-h.jpg
Audition Tapes: Robin Wright and Haley Joel Osment Audition with Tom Hanks for 'Forrest Gump'
Check out Robin Wright auditioning for the role of Jenny from Forest Gump opposite Tom Hanks. Interestingly enough, Hanks doesn't quite have Gump's southern drawl down just yet while the other actors audition with him. In fact, Hanks would base Gump's voice on the voice of Michael Conner Humphreys, who played the young Forrest and […]
http://www.dailyactor.com/2014/09/audtion-tapes-robin-wright-haley-joel-osment-tom-hanks-forrest-gump/
http://www.dailyactor.com/wp-content/uploads/2014/08/bryan-cranston-emmy-award-speech.jpg
Watch: Bryan Cranston's Emmy Award Speech: "I love to act. It is a passion of mine and I will do it until my last breath."
The Emmy Awards weren't the most exciting awards show this year but with Bryan Cranston winning for Outstanding Actor in a Drama for Breaking Bad, we at least got to hear one heck of a fantastic acceptance speech. "I was a kid who always looked for the shortcut," he said. "I did happen to stumble […]
http://www.dailyactor.com/2014/08/watch-bryan-cranston-and-aaron-pauls-emmy-award-speeches/
http://www.dailyactor.com/wp-content/uploads/2014/08/audition-tapes-gerard-butler-aud.jpg
Audition Tapes: Gerard Butler Auditions for 'Dracula 2000′
Check out Gerard Butler auditioning for the role of Dracula in the movie, Dracula 2000. The film, about a group of thieves who break into a chamber expecting to find paintings, but instead find Dracula himself, also starred Christopher Plummer, Jonny Lee Miller and Nathan Fillion. Bulter has some sweet rock star hair, huh?
http://www.dailyactor.com/2014/08/audition-tapes-gerard-butler-dracula-2000/
http://www.dailyactor.com/wp-content/uploads/2014/08/interview-matt-dillon-and-carla.jpg
Interview: Matt Dillon and Carla Gugino Talk 'Wayward Pines'
FOX has a new limited-series that's got a terrific cast and interesting premise. It's called Wayward Pines and stars Matt Dillon, Carla Gugino, Melissa Leo, Toby Jones, Terrance Howard, Juliette Lewis, Tim Griffin and Shannyn Sossamon. The show, whose pilot was directed by M. Night Shyamalan, is about a Secret Service agent (Dillon) goes to […]
http://www.dailyactor.com/2014/08/interview-matt-dillon-carla-gugino-wayward-pines-comic-con/
http://www.dailyactor.com/wp-content/uploads/2014/08/interview-wayward-pines-stars-ti.jpg
Interview: 'Wayward Pines' Stars Tim Griffin and Shannyn Sossamon on the Show, Their Characters and More!
Griffin and Sossamonwere at Comic-Con where they sat in on some roundtable interviews to talk about the show.
http://www.dailyactor.com/2014/08/interview-wayward-pines-stars-tim-griffin-shannyn-sossamon-comic-con/