Kate Winslet Likes Things in Threes: New Baby, Hit Film and Star on Hollywood Walk of Fame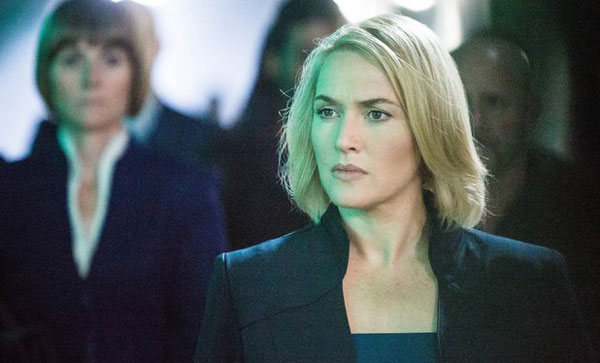 Kate Winslet is known for her critically acclaimed work in movies like The Reader, Labor Day and Little Children. This year, she is departing from typical Oscar fare to dive into a big budget box office hit — Divergent.
She spoke with Hero Complex about why she chose such radically different role for her latest movie.
Winslet shared, "I wanted to be in a film that was just completely different to everything that I've done."
The trilogy film is based on a series of books by author Veronica Roth where people are categorized into factions based on their personality from Candor to Erudite. Star Shailene Woodley has multiple factions which gives her the dangerous trait of divergence.
Winslet steps in as the villainous Jeanine Matthews who is looking to take over the world and hunt down the divergents.
Playing evil was something that was appealing to the 38-year-old star. She explained, "There was a lot for me to do in a short space of screen time, and I liked that challenge."
The mom-of-three also revealed what types of films normally draw her in. "I'm always making films about real things that happened to real people," said Winslet. "I'm interested in the human condition, and that's why I'm often so drawn to those types of pieces."
As someone who started her acting career as a teen, it was fun for her to arrive on the Divergent set after the cast already had a few months of filming under their belt.
"I walked on the set, and I did feel very experienced," she said. "They were shy and nervous at first, which was quite funny. I let them be shy and nervous for a couple of days. That was fun. It worked for the chotaracter."
Another challenge was her pregnancy. She was five months pregnant while filming the role. Some of her stunts from the original shoot had to be redone six weeks ago. It was a challenge she readily took on.
The Titanic star explained, "Hoofing that sort of soft, post-pregnancy body back into those costumes, I felt like I was squeezing a sausage into a thimble. But the feeling of playing the character not pregnant was so much nicer. I just felt like my brain was that little bit sharper."
Besides a new baby and a hit film, Winslet also received her star on the Hollywood Walk of Fame. It was quite an honor for the British actress.
"I mean this in the best way, but it's a little bit like a gravestone. It's something that you go and visit, so in years to come, when I'm a grandma, I can take my grandchildren and say, 'Oh, look, this is where Grandma got her star,' and show them to the picture of the day when I was given it. It was really, really lovely."
The second film in the series, Insurgent, begins filming later this year. Divergent is currently in theaters nationwide.
Latest Videos
http://www.dailyactor.com/wp-content/uploads/2014/10/alex-sharp-curious-incident-of-the-dog.jpg
Alex Sharp Talks About His Broadway Debut in 'The Curious Incident of the Dog in the Night-Time' (video)
Alex Sharp went from working in a call-center and renovating houses to going to Julliard. And now, he's starring in one of the most talked about shows of the season, The Curious Incident of the Dog in the Night-Time. Check out this great, inspiring video!
http://www.dailyactor.com/2014/10/alex-sharp-broadway-debut-the-curious-incident-of-the-dog-in-the-night-time-video/
http://www.dailyactor.com/wp-content/uploads/2014/10/Its-only-a-play.jpg
Watch a Scene From Terrance McNally's, 'It's Only a Play', Featuring Nathan Lane and Micah Stock
Here's a quick scene from Terrance McNally's It's Only a Play, currently on Broadway at the Schoenfeld Theater. In this scene, Nathan Lane and Micah Stock meet for the first time. The show, about the opening night of a new play, also stars Matthew Broderick, Stockard Channing, F. Murray Abraham, Rupert Grint and Megan Mullally.
http://www.dailyactor.com/2014/10/watch-a-scene-terrance-mcnally-its-only-a-play-nathan-lane-micah-stock/
http://www.dailyactor.com/wp-content/uploads/2014/10/birdman-director-alejandro-g-ina.jpg
'Birdman' Director Alejandro G. Iñárritu Narrates a Scene from the Film Featuring Michael Keaton and Edward Norton
Director Alejandro G. Iñárritu narrates a scene from Birdman or The Unexpected Virtue of Ignorance that features stars Michael Keaton and Edward Norton. The film is wonderful and if it's playing in your town, definitely check it out!
http://www.dailyactor.com/2014/10/birdman-director-alejandro-g-inarritu-michael-keaton-edward-norton/
http://www.dailyactor.com/wp-content/uploads/2014/10/the-cast-of-mad-men-on-the-final.jpg
The Cast of 'Mad Men' on the Final Season and More
Though the AMC television series Mad Men might not carry the same cultural weight that it did a few years ago (splitting your final season over two years might do that to you), the second half of the show's final season is expected to be full of powerful performances from its ensemble cast. With the […]
http://www.dailyactor.com/2014/10/cast-of-mad-men-final-season/
http://www.dailyactor.com/wp-content/uploads/2014/10/behind-the-scenes-of-a-sex-scene.jpg
Behind the Scenes of a Sex Scene with Patrick Wilson, Brooklyn Decker and Director Joe Carnahan
Director Joe Carnahan is giving viewers an inside look at what it is like to film a big screen Hollywood sex scene, as confirmed by Gawker. Carnahan released a brief video clip taken from the set of his latest film Stretch starring supermodel and actress Brooklyn Decker and Patrick Wilson. The video showcases the two […]
http://www.dailyactor.com/2014/10/behind-the-scenes-of-a-sex-scene-patrick-wilson-brooklyn-decker-director-joe-carnahan/