Mara Wilson on Being a Child Star and What Happens When "You Lose That Praise"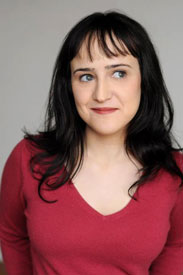 Mara Wilson is happy to prove that not all child stars end up like Amanda Bynes or Lindsay Lohan.  Wilson, who starred in Mrs. Doubtfire and Matilda back in the 90s, is actually a successful writer and playwright.  But she understands why most child stars have problems.
Wilson, who calls herself a 'recovering child actor,' remembers how hard it was to grow out of that cute phase.  "You lose that praise.  You lose what you had," she said in an interview with NPR.  "And you are so used to it; it's almost like a drug.  And all of a sudden it's like withdrawal.  You just go off of it, and you feel very rejected."
The 25-year-old started acting as more of a hobby than a career choice.  "I tried to take it seriously when I was on set and tried to be professional—as professional as a 6-year-old can be," she said.  "But I don't think I really wanted to be an actor.  When people asked me what I was going to do when I grow up, I always said, 'I'm going to be a writer.  I'm going to write screenplays.  I'm going to write books.  I'm going to write plays.  That's what I'm going to do.'"
Looking back on her child star days, Wilson acknowledges that the pressure of shooting movies was incredibly high.  "I had a moment when I was a child where I was filming a scene, and a soccer ball hit me in the chest, and I had to keep on going with the scene even though I was hurt, because I didn't know what else to do," she recalled.  "And as soon as they yelled cut, I started crying.  Everybody on the crew burst into applause, and that made me cry harder.  My mom said, 'No, don't worry, they just thought you were being professional.'  And that's the kind of thing you have to do."
"You're also in this environment where you realize that, 'Hey, I can't really make a mistake because making a mistake is going to cost time and money, and it's not going to help out the production.'  So you realize, or you think, rather, as a child that this is something that can't happen: I can't make a mistake.  I have to be perfect.  I have to get it right all the time.  And that's not a healthy mindset for a child."
http://www.dailyactor.com/wp-content/uploads/2015/03/alec-baldwin.jpg
Alec Baldwin On Keeping SNL Fresh, His Daily Routine and His Ideal Role
Alec Baldwin is an ordinary guy. Well, that's what he said in a recent Reddit AMA, anyway. The actor took the chance to open up about what his average day was like, holding the public's interest and why he chooses not to do many films any more. "My average day is pretty ordinary," he says. […]
http://www.dailyactor.com/2015/04/alec-baldwin-snl-daily-routine-his-ideal-role/
http://www.dailyactor.com/wp-content/uploads/2015/03/steve-buscemi-boardwalk-empire.jpg
Steve Buscemi's "Ask Me Anything" Chat on Reddit: "I don't think you can point to any one character and say that that's 'me'"
"With any role I play, I only have myself" - Steve Buscemi
http://www.dailyactor.com/2015/03/steve-buscemi-ask-me-anything-chat-on-reddit/
http://www.dailyactor.com/wp-content/uploads/2015/03/sally-field-hello-my-name-is-doris.jpg
Sally Field On Improvisation, How She Chooses Her Roles and 'Hello, My Name is Doris'
"There's a dearth of roles for women. I turn down a lot of stuff because there's just nothing in it for me to do." – Sally Field Actress Sally Field put in an appearance at SXSW last week to promote her new film, Hello My Name is Doris. Michael Showalter has directed the movie […]
http://www.dailyactor.com/2015/03/sally-field-improvisation-roles-hello-my-name-is-doris/
http://www.dailyactor.com/wp-content/uploads/2015/03/Will-Ferrell-Get-Hard.jpg
Will Ferrell on His Comedy Roots, 'Get Hard' and His Favorite Roles to Play
Ferrell was on hand to take part in a Q&A and spoke more about how working with Hart came about. When asked if he chooses his projects based on who he wants to work with, or the script itself, Ferrell explained that each project was different.
http://www.dailyactor.com/2015/03/will-ferrell-on-his-comedy-roots-get-hard-and-his-favorite-roles-to-play/
http://www.dailyactor.com/wp-content/uploads/2015/03/daniel-dae-kim.jpg
Hawaii Five-0's Daniel Dae Kim Talks Directorial Debut: "The first day I had to yell action, it was kind of odd"
Hawaii Five-0's Daniel Dae Kim, who fans know best as Chin Ho Kelly, recently made his directorial debut on the CBS series. Kim shared his experience with The Hollywood Reporter, saying that his experience was "weird at first," as he had to direct his co-stars. "The first day I had to yell action, it was […]
http://www.dailyactor.com/2015/03/hawaii-five-0-daniel-dae-kim-directorial-debut/