Amy Acker on 'Much Ado About Nothing' and Joss Whedon's Backyard Shakespeare Readings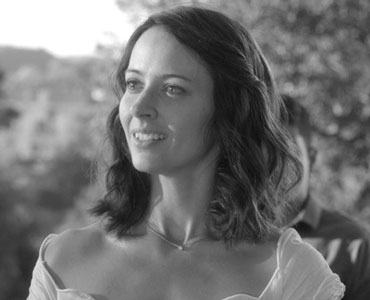 The latest adaptation of Shakespeare's Much Ado About Nothing actually came about years ago when Amy Acker auditioned for Angel.
"[Joss Whedon] wrote a scene that was in iambic pentameter, that Alexis [Denisof] and J. August Richards were basically cast under a spell that made them fall in love with whichever woman they were looking at, and I came up to them," she recalled in an interview with Vulture.  "I think Joss had seen on my resume that I had done Shakespeare before, and then he wrote that scene, and then in my first couple of weeks on Angel, he asked if I wanted to come do one of the Shakespeare readings at his house.  So we've kind of had a Shakespeare connection from the beginning."
Whedon admits that he got the inspiration for the film version from one of those backyard readings, but Acker wasn't aware of her role until he approached her to make the movie. "I'm glad he didn't tell me that, because I would have called him every day, and said, 'Are we making that movie today?'" she said.  "Luckily, I didn't know he had that in mind.  His house [where they shot the film] is giant, but it feels so welcome and comfortable…When I came back to do Dollhouse, season two, we were actually living in New York at the time, and I was like, 'I don't know if I can go to LA.  I don't know where I could stay,' and Kai [Cole, Whedon's wife] was like, 'Stay with us!' and I was like, 'Okay!'  And the house he lived in before, where we started the readings, had this English-garden feel in the backyard, so it was very appropriate for reading Shakespeare."
Much Ado About Nothing is in theaters now.
http://www.dailyactor.com/wp-content/uploads/2015/05/Caitriona-Balfe-Outlander.jpg
Outlander's Caitriona Balfe On The Emotional Toll of Filming Violent Scenes
"Having to put yourself in that place is tough. To sit in that emotional space, especially when you're doing it day after day." - Caitriona Balfe
http://www.dailyactor.com/2015/05/outlander-catriona-balfe-emotional-toll-of-filming-violent-scenes/
http://www.dailyactor.com/wp-content/uploads/2015/05/Chrissie-Fit.jpg
Chrissie Fit on How She Landed Her Role in 'Pitch Perfect 2′
"I remember getting the audition and being like, "This might not happen," just because it is such a massive movie." - Chrissie Fit
http://www.dailyactor.com/2015/05/chrissie-fit-on-how-she-landed-her-role-in-pitch-perfect-2/
http://www.dailyactor.com/wp-content/uploads/2015/05/Sam-Elliott.jpg
Sam Elliot on How he "F–ked" Himself Out of a Career as a Lead Actor
The rugged Sam Elliot has most often cast in character actor roles throughout his long career in film, though the 70 year-old Elliot thinks it wasn't always meant to be that way.
http://www.dailyactor.com/2015/05/sam-elliot-on-how-he-f-ked-himself-out-of-a-career-as-a-lead-actor/
http://www.dailyactor.com/wp-content/uploads/2015/05/Anna-Kendrick-Pitch-Perfect-2.jpg
Anna Kendrick Talks Hollywood and its Gender Bias
"As an actress you're perpetually about to be unemployed." - Anna Kendrick
http://www.dailyactor.com/2015/05/anna-kendrick-talks-hollywood-and-its-gender-bias/
http://www.dailyactor.com/wp-content/uploads/2015/05/tom-hardy-mad-max-fury-road.jpg
Tom Hardy on Fame, Acting School, and His 'Mad Respect' for Michael Fassbender
"Do what you love doing, do it well—everything should fit into place." - Tom Hardy
http://www.dailyactor.com/2015/05/tom-hardy-fame-acting-school-michael-fassbender/