Amy Acker on 'Much Ado About Nothing' and Joss Whedon's Backyard Shakespeare Readings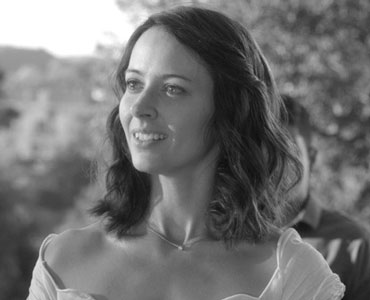 The latest adaptation of Shakespeare's Much Ado About Nothing actually came about years ago when Amy Acker auditioned for Angel.
"[Joss Whedon] wrote a scene that was in iambic pentameter, that Alexis [Denisof] and J. August Richards were basically cast under a spell that made them fall in love with whichever woman they were looking at, and I came up to them," she recalled in an interview with Vulture.  "I think Joss had seen on my resume that I had done Shakespeare before, and then he wrote that scene, and then in my first couple of weeks on Angel, he asked if I wanted to come do one of the Shakespeare readings at his house.  So we've kind of had a Shakespeare connection from the beginning."
Whedon admits that he got the inspiration for the film version from one of those backyard readings, but Acker wasn't aware of her role until he approached her to make the movie. "I'm glad he didn't tell me that, because I would have called him every day, and said, 'Are we making that movie today?'" she said.  "Luckily, I didn't know he had that in mind.  His house [where they shot the film] is giant, but it feels so welcome and comfortable…When I came back to do Dollhouse, season two, we were actually living in New York at the time, and I was like, 'I don't know if I can go to LA.  I don't know where I could stay,' and Kai [Cole, Whedon's wife] was like, 'Stay with us!' and I was like, 'Okay!'  And the house he lived in before, where we started the readings, had this English-garden feel in the backyard, so it was very appropriate for reading Shakespeare."
Much Ado About Nothing is in theaters now.
http://www.dailyactor.com/wp-content/uploads/2016/02/alicia-Vikander-Ex-machina.jpg
Alicia Vikander on the Her First Trip to L.A. and the Acting Tip 'Ex-Machina' Director Alex Garland Gave Her
"You [get immersed in] a film and of course you think that that is it. And then you go away and you read a new script and you have a new crush" - Alicia Vikander
http://www.dailyactor.com/actors-on-acting/alicia-vikanderacting-tip-ex-machina-director-alex-garland-gave-her/
http://www.dailyactor.com/wp-content/uploads/2016/02/Channing-Tatum-Hail-Caesar.jpg
Channing Tatum Talks 'Hail, Caesar!': "I've been beating on the Coens' door for years, man"
"It's the most I've ever prepped for a six-minute section in a movie." - Channing Tatum
http://www.dailyactor.com/actors-on-acting/channing-tatum-hail-caesar-tap-dancing/
http://www.dailyactor.com/wp-content/uploads/2016/01/Isidora-Goreshter-Shameless-audition.jpg
Isidora Goreshter Remembers Her Audition for 'Shameless'
Goreshter recently recalled that her audition for the 'Shameless' was by far her worst ever.
http://www.dailyactor.com/actors-on-acting/isidora-goreshter-audition-for-shameless/
http://www.dailyactor.com/wp-content/uploads/2016/01/Sutton-Foster-Younger.jpg
Sutton Foster: "Sometimes I won't even find a character until I put on the costume"
"I never had grand aspirations to be a movie star, to be famous or to be on TV. The theater was what I wanted." - Sutton Foster
http://www.dailyactor.com/actors-on-acting/sutton-foster-younger-character-costume/
http://www.dailyactor.com/wp-content/uploads/2016/01/Paul-Giamatti-Billions.jpg
Paul Giamatti on Building His Career: "I was always willing to just go, 'OK, sure, I'll do that'"
"I've done everything an actor can do except porn and performing in an amusement park" - Paul Giamatti
http://www.dailyactor.com/actors-on-acting/paul-giamatti-billions-building-an-acting-career/