Amy Acker on 'Much Ado About Nothing' and Joss Whedon's Backyard Shakespeare Readings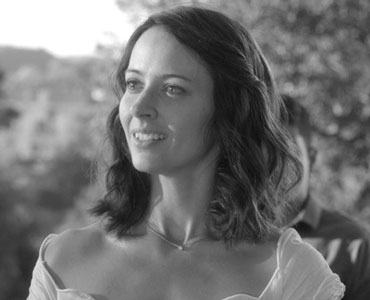 The latest adaptation of Shakespeare's Much Ado About Nothing actually came about years ago when Amy Acker auditioned for Angel.
"[Joss Whedon] wrote a scene that was in iambic pentameter, that Alexis [Denisof] and J. August Richards were basically cast under a spell that made them fall in love with whichever woman they were looking at, and I came up to them," she recalled in an interview with Vulture.  "I think Joss had seen on my resume that I had done Shakespeare before, and then he wrote that scene, and then in my first couple of weeks on Angel, he asked if I wanted to come do one of the Shakespeare readings at his house.  So we've kind of had a Shakespeare connection from the beginning."
Whedon admits that he got the inspiration for the film version from one of those backyard readings, but Acker wasn't aware of her role until he approached her to make the movie. "I'm glad he didn't tell me that, because I would have called him every day, and said, 'Are we making that movie today?'" she said.  "Luckily, I didn't know he had that in mind.  His house [where they shot the film] is giant, but it feels so welcome and comfortable…When I came back to do Dollhouse, season two, we were actually living in New York at the time, and I was like, 'I don't know if I can go to LA.  I don't know where I could stay,' and Kai [Cole, Whedon's wife] was like, 'Stay with us!' and I was like, 'Okay!'  And the house he lived in before, where we started the readings, had this English-garden feel in the backyard, so it was very appropriate for reading Shakespeare."
Much Ado About Nothing is in theaters now.
http://www.dailyactor.com/wp-content/uploads/2016/04/julia-louis-dreyfus-veep.jpg
Julia Louis-Dreyfus: "Opportunity for women in television has increased. It's because the landscape has widened"
"I did not come out of SNL as any kind of name. I didn't do anything particularly great when I was there. I didn't. It's fine. But I learned a tremendous amount."
http://www.dailyactor.com/actors-on-acting/julia-louis-dreyfus/
http://www.dailyactor.com/wp-content/uploads/2016/04/Tituss-Burgess-Unbreakable-Kimmy-Schmidt.jpg
Tituss Burgess on How He Landed His 'Unbreakable Kimmy Schmidt' Role
Burgess reveals how his role on 30 Rock led to 'Kimmy Schmidt' and whether or not he'd consider returning to Broadway.
http://www.dailyactor.com/actors-on-acting/tituss-burgess-unbreakable-kimmy-schmidt-role/
http://www.dailyactor.com/wp-content/uploads/2016/04/Christine-Baranski-The-Good-Wife.jpg
Christine Baranski on the End of 'The Good Wife' and Going Back to Theatre
The final episode of The Good Wife airs on May 8, and it's been several weeks since series star Christine Baranski shot the final episode with her co-stars. She spoke to The Hollywood Reporter about the end of the series she has spent the last seven years working on and what she plans to do […]
http://www.dailyactor.com/actors-on-acting/christine-baranski-the-good-wife-theatre/
http://www.dailyactor.com/wp-content/uploads/2016/04/jake-gyllenhaal-demolition.jpg
Jake Gyllenhaal on 'Demolition', Working with Chris Cooper and Directors Who Want Nothing to Do With Him
"I think storytelling is the most important part of movie-making over performance." - Jake Gyllenhaal
http://www.dailyactor.com/actors-on-acting/jake-gyllenhaal-demolition-chris-cooper/
http://www.dailyactor.com/wp-content/uploads/2016/04/don-cheadle-miles-davis.jpg
Don Cheadle: "Be scared. Be on the edge of your creativity"
"Be willing to fall flat on your face and be in an unknown place. If you're doing that, you're probably growing" - Don Cheadle
http://www.dailyactor.com/actors-on-acting/don-cheadle-scared-creativity/