Melissa Joan Hart's Attempt to Fund Her Next Movie on Kickstarter Falls Far Short of Goal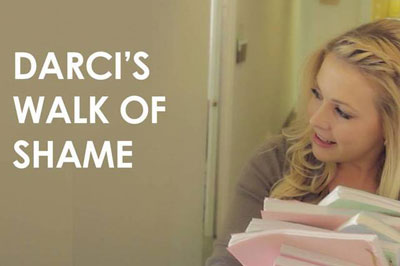 There has been some debate over whether or not Kickstarter should be used to fund projects by creators who probably have the means — or at least access to the means — to fund the project themselves.  This debate flared after fans ponied up the cash to fund a Veronica Mars movie and Zach Braff's next film in fractions of the allotted time.  Some claim this is a revolutionary way to finance movies, while others say it's akin to a celebrity exploiting his or her fanbase.
Regardless of which side of the debate you fall on, many filmmakers are getting in the Kickstarter act to raise money for their projects.  However, not all of them are as successful as Zach Braff.  Take Melissa Joan Hart, for instance. 
Hart was using Kickstarter to fund a new movie starring herself, Darci's Walk of Shame. The campaign's page describes the plot setup as, "a thirty-something schoolteacher who's really looking forward to traveling with her boyfriend to attend her sister's wedding in Thailand. Except for the fact that she's just been informed that budget cuts are likely to make her an ex-schoolteacher. And on her way to the airport, she happens to catch her boyfriend in bed with their travel agent, which instantly makes him her ex-boyfriend." 
However, she eventually canceled the campaign when she only raised $51,605 from 315 backers, far short of the same $2 million goal that Braff had.  So Hart won't be going to Thailand after all, I guess.
Apparently if you starred in a popular television show in the 2000s you have a shot at this Kickstarter thing… but the 1990s?  You're out of luck.  Sorry, Screech and Urkel!
http://www.dailyactor.com/wp-content/uploads/2015/01/watch-al-pacino-talks-the-humbli.jpg
Watch: Al Pacino Talks 'The Humbling' and His Extraordinary Career
In this conversation with Al Pacino talks about his role in The Humbling -- including working with Greta Gerwig -- and his historic acting career
http://www.dailyactor.com/2015/01/watch-al-pacino-extraordinary-career/
http://www.dailyactor.com/wp-content/uploads/2015/01/watch-oscar-nominee-steve-carell.jpg
Watch: Oscar Nominee Steve Carell Talks Improv, Auditioning for 'The Office' and 'Foxcatcher'
Carell talks about his entire career as an actor, including his background in improv, how he landed the Michael Scott role on The Office, and Foxcatcher
http://www.dailyactor.com/2015/01/oscar-nominee-steve-carell-improv-auditioning-for-the-office-foxcatcher/
http://www.dailyactor.com/wp-content/uploads/2015/01/ethan-hawke-ellar-coltrane-boyhood.jpg
Ethan Hawke Calls 'Boyhood' the "most special endeavor of my life"
Ethan Hawke is riding high with his fourth Oscar nomination for the Richard Linklater-directed Boyhood. In a recent "Ask Me Anything" on Reddit, the 44-year-old actor gave some thoughtful insight into his career and the 12-year creative endeavor that became the biggest film of the Oscar season. When asked what was the most difficult thing about […]
http://www.dailyactor.com/2015/01/ethan-hawke-boyhood-reddit-amaife/
http://www.dailyactor.com/wp-content/uploads/2015/01/martha-plimpton-a-delicate-balance.jpg
Martha Plimpton Takes a Refreshing Approach to a Long-Lasting Career
Martha Plimpton is an actress who enjoys the work, she's not in it for the fame. The proof is in her continually excellent work that she is doing on-screen and on the stage. She's currently starring in A Delicate Balance on Broadway. It's the audience who gives her the ultimate thrill. "I try to get […]
http://www.dailyactor.com/2015/01/martha-plimpton-long-lasting-career/
http://www.dailyactor.com/wp-content/uploads/2015/01/watch-michael-keaton-talks-candi.jpg
Watch: Michael Keaton Talks Candidly About His Career and His Approach to Acting in 'Birdman'
In this nearly 90 minute conversation, Michael Keaton is his usual affable self but is also remarkably candid about his career and his approach to acting.
http://www.dailyactor.com/2015/01/michael-keaton-career-approach-to-acting-birdman/