Keri Russell on Her New Risque Role in 'The Americans'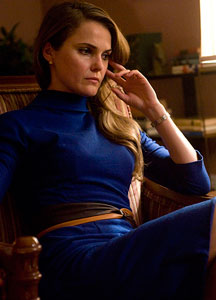 Keri Russell was ready to take on a more risqué role than Felicity.  In her new project, FX's The Americans, Russell portrays a KGB agent posing as part of a happy American couple.  Her character is first seen in a more compromising position than Felicity ever would have been caught in.
Russell's first scene in the pilot episode shows her performing oral sex on a person she needs information from.  After reading the script, Russell recalled, "I was like, Blow job in the hotel room: What?  And also, Who are they gonna get to have big boobs?  Because it's not gonna be me!  I'm like a boy!  Luckily, I was nursing a baby.  Sweet.  Sweeeeet.  No, I love that the character is incredibly sexual, but not in an emotional way.  She's devoted to the cause.  She'll do whatever it takes.  And when it has to be intimate, she's so shut off from it."
Russell also did plenty of research for the role of a Russian superspy.  "I was reading about all kinds of spy work," she said in an interview with Vulture.  "The CIA call sexual traps like the one you saw in the pilot 'honey traps,' which I love.  They're the most successful ploy.  They work every time.  Or almost every time."
This is indeed a very different part from the other roles Russell has taken on, including the risky comedy flop, Running Wilde, which aired in 2010.  After starring alongside Will Arnett in the sitcom, the actress decided to go in a different direction.  "It didn't scare me off of comedy but…I took a break from their kind of comedy," she said.  "They are fucking fast.  It's high stress.  It's just, like, rewrites, right there on set, five pages, go for it.  And you're like [pretends to gasp for air], but they just live in a constant state of that.  Will has an almost photographic memory, so it's easy for him.  Meanwhile, I'm like, 'I hate you right now.'  I was sweating 30 pounds off my body a day."
Looks like Russell will be doing a different type of sweating in this new role.
The Americans airs on FX, Wednesdays at 10 p.m.
Latest Videos
http://www.dailyactor.com/wp-content/uploads/2014/07/bill-hader.jpg
Bill Hader: "I kind of fell into acting" (video)
Bill Hader, starring in the soon to be released The Skeleton Twins, talks about the film and how he fell into acting and then got "crazy lucky" in this quick video from USA Today. Share on Tumblr
http://www.dailyactor.com/2014/07/bill-hader-fell-into-acting-video/
http://www.dailyactor.com/wp-content/uploads/2014/07/director-john-carney-narrates-a.jpg
Director John Carney Narrates a Scene from 'Begin Again' Starring Kiera Knightley and Mark Ruffalo
Director John Carney (Once) narrates a scene from his new film, Begin Again. Starring Keira Knightley and Mark Ruffalo, the scene shows the first time the two characters meet. I haven't seen it yet but I've heard it's great.
http://www.dailyactor.com/2014/07/begin-again-scene-director-john-carney-keira-knightley-mark-ruffalo/
http://www.dailyactor.com/wp-content/uploads/2014/07/holler-if-you-hear-me-gma.jpg
Watch the Cast of Broadway's 'Holler If You Hear Me' Perform 'California Love' on GMA
The cast of Broadway's newest musical, Holler If You Hear Me with music from Tupac Shakur, performed on Good Morning America this morning. Singing 'California Love', the cast (including the teriffic Christopher Jackson – read our interview here), show why they're the most energetic and inspiring group of actors on Broadway. Holler If Ya Hear [...]
http://www.dailyactor.com/2014/07/watch-cast-broadways-holler-hear-perform-california-love-gma/
http://www.dailyactor.com/wp-content/uploads/2014/07/behind-the-scenes-of-dawn-of-the.jpg
Behind the Scenes of 'Dawn of the Planet of the Apes' with Performance Capture Actor Terry Notary
Actor Terry Notary is 1 of 5 actors playing the apes in the new Dawn of the Planet of the Apes. "When you see armies of apes," he says, that's "five of us." Check out the video where you can watch his performance capture work.
http://www.dailyactor.com/2014/07/dawn-planet-apes-performance-capture-actor-terry-notary/
http://www.dailyactor.com/wp-content/uploads/2014/07/melissa-mccarthy-daily-show.jpg
Melissa McCarthy and John Stewart Talk About Terrible Commercial Auditions on 'The Daily Show'
Melissa McCarthy stopped by The Daily Show last week to plug about her new movie, Tammy. She talked about how she loved working with her husband, Ben Falcone (director of Tammy) and then segued into talking about some horrible working situations. The always hilarious McCarthy then started to tell host John Stewart about a particular [...]
http://www.dailyactor.com/2014/07/melissa-mccarthy-john-stewart-commercial-auditions-the-daily-show/