Review: 'Bullet to the Head' starring Sylvester Stallone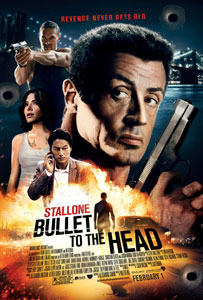 I have to admit, I wasn't expecting much from Bullet to the Head, the new Sylvester Stallone film about a New Orleans hitman who reluctantly teams up with a detective (Sung Kang) from Washington D.C. to rid the town of its big bad (Lost's Adewale Akinnuoye-Agbaje).
The film, based on Alexis Nolent's French graphic novel and directed by Walter Hill, is completely ridiculous. You know exactly what will happen and how the film will end. Co-star, Kang is a mediocre actor at best and Christian Slater is doing the best Christian Slater impression ever.
At one point, Stallone is running on a metal railing, high above a pack of men shooting at point blank range and they all miss him. He doesn't even get a scratch!
Like I said, this movie is ridiculous!
But, you know what? I really liked it.
It reminded me of the 80's action films I was so addicted to when I was a kid, a couple of which Hill directed. Though not as gritty and serious as Hill's 48 Hours, the look and feel did remind me of it. Stallone has his usual witty one-liners and even for a guy his age, he's in full on 'don't f with me' mode. The film is a totally enjoyable, leave-your-brain-at-the-door flick.
The film is also helped out tremendously by Jason Momoa (Conan the Barbarian, Game of Thrones). Momoa plays  Akinnuoye-Agbaje's right hand thug and he's great as usual. Why this guy isn't a huge action star, I have no idea. He goes toe-to-toe with Stallone not only in fighting but in funny quips and he kills – literally – them both.
You'll also see Sarah Shahi in a role totally different to what she's played on TV. It's a thankless part but with what she was given, she couldn't have done a better job.
Don't go to the film expecting to see the world's greatest action flick and I think you will be pleasantly surprised.
http://www.dailyactor.com/wp-content/uploads/2015/01/watch-al-pacino-talks-the-humbli.jpg
Watch: Al Pacino Talks 'The Humbling' and His Extraordinary Career
In this conversation with Al Pacino talks about his role in The Humbling -- including working with Greta Gerwig -- and his historic acting career
http://www.dailyactor.com/2015/01/watch-al-pacino-extraordinary-career/
http://www.dailyactor.com/wp-content/uploads/2015/01/watch-oscar-nominee-steve-carell.jpg
Watch: Oscar Nominee Steve Carell Talks Improv, Auditioning for 'The Office' and 'Foxcatcher'
Carell talks about his entire career as an actor, including his background in improv, how he landed the Michael Scott role on The Office, and Foxcatcher
http://www.dailyactor.com/2015/01/oscar-nominee-steve-carell-improv-auditioning-for-the-office-foxcatcher/
http://www.dailyactor.com/wp-content/uploads/2015/01/ethan-hawke-ellar-coltrane-boyhood.jpg
Ethan Hawke Calls 'Boyhood' the "most special endeavor of my life"
Ethan Hawke is riding high with his fourth Oscar nomination for the Richard Linklater-directed Boyhood. In a recent "Ask Me Anything" on Reddit, the 44-year-old actor gave some thoughtful insight into his career and the 12-year creative endeavor that became the biggest film of the Oscar season. When asked what was the most difficult thing about […]
http://www.dailyactor.com/2015/01/ethan-hawke-boyhood-reddit-amaife/
http://www.dailyactor.com/wp-content/uploads/2015/01/martha-plimpton-a-delicate-balance.jpg
Martha Plimpton Takes a Refreshing Approach to a Long-Lasting Career
Martha Plimpton is an actress who enjoys the work, she's not in it for the fame. The proof is in her continually excellent work that she is doing on-screen and on the stage. She's currently starring in A Delicate Balance on Broadway. It's the audience who gives her the ultimate thrill. "I try to get […]
http://www.dailyactor.com/2015/01/martha-plimpton-long-lasting-career/
http://www.dailyactor.com/wp-content/uploads/2015/01/watch-michael-keaton-talks-candi.jpg
Watch: Michael Keaton Talks Candidly About His Career and His Approach to Acting in 'Birdman'
In this nearly 90 minute conversation, Michael Keaton is his usual affable self but is also remarkably candid about his career and his approach to acting.
http://www.dailyactor.com/2015/01/michael-keaton-career-approach-to-acting-birdman/