Review: 'Bullet to the Head' starring Sylvester Stallone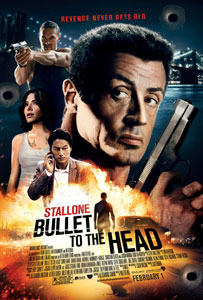 I have to admit, I wasn't expecting much from Bullet to the Head, the new Sylvester Stallone film about a New Orleans hitman who reluctantly teams up with a detective (Sung Kang) from Washington D.C. to rid the town of its big bad (Lost's Adewale Akinnuoye-Agbaje).
The film, based on Alexis Nolent's French graphic novel and directed by Walter Hill, is completely ridiculous. You know exactly what will happen and how the film will end. Co-star, Kang is a mediocre actor at best and Christian Slater is doing the best Christian Slater impression ever.
At one point, Stallone is running on a metal railing, high above a pack of men shooting at point blank range and they all miss him. He doesn't even get a scratch!
Like I said, this movie is ridiculous!
But, you know what? I really liked it.
It reminded me of the 80's action films I was so addicted to when I was a kid, a couple of which Hill directed. Though not as gritty and serious as Hill's 48 Hours, the look and feel did remind me of it. Stallone has his usual witty one-liners and even for a guy his age, he's in full on 'don't f with me' mode. The film is a totally enjoyable, leave-your-brain-at-the-door flick.
The film is also helped out tremendously by Jason Momoa (Conan the Barbarian, Game of Thrones). Momoa plays  Akinnuoye-Agbaje's right hand thug and he's great as usual. Why this guy isn't a huge action star, I have no idea. He goes toe-to-toe with Stallone not only in fighting but in funny quips and he kills – literally – them both.
You'll also see Sarah Shahi in a role totally different to what she's played on TV. It's a thankless part but with what she was given, she couldn't have done a better job.
Don't go to the film expecting to see the world's greatest action flick and I think you will be pleasantly surprised.
Latest Videos
http://www.dailyactor.com/wp-content/uploads/2014/07/bill-hader.jpg
Bill Hader: "I kind of fell into acting" (video)
Bill Hader, starring in the soon to be released The Skeleton Twins, talks about the film and how he fell into acting and then got "crazy lucky" in this quick video from USA Today. Share on Tumblr
http://www.dailyactor.com/2014/07/bill-hader-fell-into-acting-video/
http://www.dailyactor.com/wp-content/uploads/2014/07/director-john-carney-narrates-a.jpg
Director John Carney Narrates a Scene from 'Begin Again' Starring Kiera Knightley and Mark Ruffalo
Director John Carney (Once) narrates a scene from his new film, Begin Again. Starring Keira Knightley and Mark Ruffalo, the scene shows the first time the two characters meet. I haven't seen it yet but I've heard it's great.
http://www.dailyactor.com/2014/07/begin-again-scene-director-john-carney-keira-knightley-mark-ruffalo/
http://www.dailyactor.com/wp-content/uploads/2014/07/holler-if-you-hear-me-gma.jpg
Watch the Cast of Broadway's 'Holler If You Hear Me' Perform 'California Love' on GMA
The cast of Broadway's newest musical, Holler If You Hear Me with music from Tupac Shakur, performed on Good Morning America this morning. Singing 'California Love', the cast (including the teriffic Christopher Jackson – read our interview here), show why they're the most energetic and inspiring group of actors on Broadway. Holler If Ya Hear [...]
http://www.dailyactor.com/2014/07/watch-cast-broadways-holler-hear-perform-california-love-gma/
http://www.dailyactor.com/wp-content/uploads/2014/07/behind-the-scenes-of-dawn-of-the.jpg
Behind the Scenes of 'Dawn of the Planet of the Apes' with Performance Capture Actor Terry Notary
Actor Terry Notary is 1 of 5 actors playing the apes in the new Dawn of the Planet of the Apes. "When you see armies of apes," he says, that's "five of us." Check out the video where you can watch his performance capture work.
http://www.dailyactor.com/2014/07/dawn-planet-apes-performance-capture-actor-terry-notary/
http://www.dailyactor.com/wp-content/uploads/2014/07/melissa-mccarthy-daily-show.jpg
Melissa McCarthy and John Stewart Talk About Terrible Commercial Auditions on 'The Daily Show'
Melissa McCarthy stopped by The Daily Show last week to plug about her new movie, Tammy. She talked about how she loved working with her husband, Ben Falcone (director of Tammy) and then segued into talking about some horrible working situations. The always hilarious McCarthy then started to tell host John Stewart about a particular [...]
http://www.dailyactor.com/2014/07/melissa-mccarthy-john-stewart-commercial-auditions-the-daily-show/