Rebecca Hall on 'Parade's End', 'Iron Man 3′ and Finding Projects That Challenge Her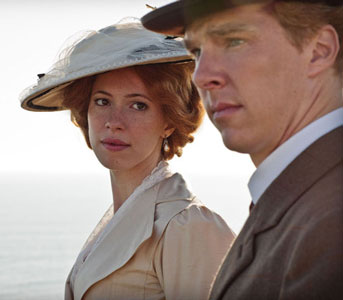 Rebecca Hall has tried to stay away from blockbuster movies, preferring smaller fare like The Town and Vicky Cristina Barcelona.  But, in a departure, she'll be appearing in Iron Man 3 in May.
"The question became, Why not?" she told The Wall Street Journal about starring in the franchise.  "I kept not doing them and got to a point where I was like, actually, instead of deciding that it's not going to be for me, I should find out if I might enjoy it."
It turns out, she does.  Hall loved working alongside the cast as scientist Maya Hansen.  "One of the great things about the Iron Man franchise is that they employ fascinating actors who don't necessarily do action movies," the 30-year-old said.  "Before Iron Man you didn't associate Robert Downey Jr. and Gwyneth Paltrow with those kinds of films.  There's an emphasis on repartee and wit."
But despite the high-profile part, Hall is still determined to take on projects where the characters mean something to her.  She appeared recently in the miniseries, Parade's End, alongside Benedict Cumberbatch (Sherlock), playing the promiscuous wife of an aristocrat.  "I don't think it's very often that you come across characters that are intensely unlikeable, borderline sadistic, complicated and yet redeeming at the same time," she said.  "She was fascinating to me and very out of my realm of experience.  She's a force."
Another goal of Hall's is to appear onstage at least once after shooting every three films.  "I'm not snobbish about it," the actress said.  "I don't think that theater is the higher medium, that it's better than film."  Hall maintains that she simply wants to choose projects that challenge her.  "I'd rather that people say, 'Do you think you could do this?'  And for my initial instinct to be, Oh God no…how could I?  And then to work it out.  That's when it gets interesting."
http://www.dailyactor.com/wp-content/uploads/2015/05/Caitriona-Balfe-Outlander.jpg
Outlander's Caitriona Balfe On The Emotional Toll of Filming Violent Scenes
"Having to put yourself in that place is tough. To sit in that emotional space, especially when you're doing it day after day." - Caitriona Balfe
http://www.dailyactor.com/2015/05/outlander-catriona-balfe-emotional-toll-of-filming-violent-scenes/
http://www.dailyactor.com/wp-content/uploads/2015/05/Chrissie-Fit.jpg
Chrissie Fit on How She Landed Her Role in 'Pitch Perfect 2′
"I remember getting the audition and being like, "This might not happen," just because it is such a massive movie." - Chrissie Fit
http://www.dailyactor.com/2015/05/chrissie-fit-on-how-she-landed-her-role-in-pitch-perfect-2/
http://www.dailyactor.com/wp-content/uploads/2015/05/Sam-Elliott.jpg
Sam Elliot on How he "F–ked" Himself Out of a Career as a Lead Actor
The rugged Sam Elliot has most often cast in character actor roles throughout his long career in film, though the 70 year-old Elliot thinks it wasn't always meant to be that way.
http://www.dailyactor.com/2015/05/sam-elliot-on-how-he-f-ked-himself-out-of-a-career-as-a-lead-actor/
http://www.dailyactor.com/wp-content/uploads/2015/05/Anna-Kendrick-Pitch-Perfect-2.jpg
Anna Kendrick Talks Hollywood and its Gender Bias
"As an actress you're perpetually about to be unemployed." - Anna Kendrick
http://www.dailyactor.com/2015/05/anna-kendrick-talks-hollywood-and-its-gender-bias/
http://www.dailyactor.com/wp-content/uploads/2015/05/tom-hardy-mad-max-fury-road.jpg
Tom Hardy on Fame, Acting School, and His 'Mad Respect' for Michael Fassbender
"Do what you love doing, do it well—everything should fit into place." - Tom Hardy
http://www.dailyactor.com/2015/05/tom-hardy-fame-acting-school-michael-fassbender/