Rebecca Hall on 'Parade's End', 'Iron Man 3' and Finding Projects That Challenge Her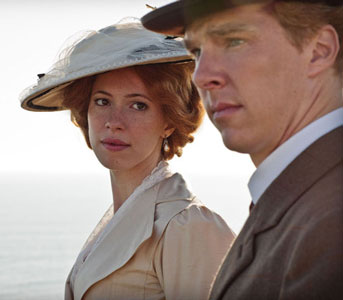 Rebecca Hall has tried to stay away from blockbuster movies, preferring smaller fare like The Town and Vicky Cristina Barcelona.  But, in a departure, she'll be appearing in Iron Man 3 in May.
"The question became, Why not?" she told The Wall Street Journal about starring in the franchise.  "I kept not doing them and got to a point where I was like, actually, instead of deciding that it's not going to be for me, I should find out if I might enjoy it."
It turns out, she does.  Hall loved working alongside the cast as scientist Maya Hansen.  "One of the great things about the Iron Man franchise is that they employ fascinating actors who don't necessarily do action movies," the 30-year-old said.  "Before Iron Man you didn't associate Robert Downey Jr. and Gwyneth Paltrow with those kinds of films.  There's an emphasis on repartee and wit."
But despite the high-profile part, Hall is still determined to take on projects where the characters mean something to her.  She appeared recently in the miniseries, Parade's End, alongside Benedict Cumberbatch (Sherlock), playing the promiscuous wife of an aristocrat.  "I don't think it's very often that you come across characters that are intensely unlikeable, borderline sadistic, complicated and yet redeeming at the same time," she said.  "She was fascinating to me and very out of my realm of experience.  She's a force."
Another goal of Hall's is to appear onstage at least once after shooting every three films.  "I'm not snobbish about it," the actress said.  "I don't think that theater is the higher medium, that it's better than film."  Hall maintains that she simply wants to choose projects that challenge her.  "I'd rather that people say, 'Do you think you could do this?'  And for my initial instinct to be, Oh God no…how could I?  And then to work it out.  That's when it gets interesting."
http://www.dailyactor.com/wp-content/uploads/2016/06/jeff-bridges-hell-or-high-water.jpg
Jeff Bridges on Creating a Character, 'Hell or High Water' and Playing The Dude
"I use elements of myself—I see my parallels with a character—and find similar things in my own personality." - Jeff Bridges on Creating a Character
http://www.dailyactor.com/film/jeff-bridges-creating-a-character/
http://www.dailyactor.com/wp-content/uploads/2016/07/benjamin-bratt-actor.jpg
Benjamin Bratt: "For as limiting as the opportunities are for actors and actresses of color I've been very blessed"
"...it's dangerous to keep going down the same artistic path." - Benjamin Bratt
http://www.dailyactor.com/film/benjamin-bratt-ive-been-very-blessed/
http://www.dailyactor.com/wp-content/uploads/2016/07/watch-keegan-michael-key-explain.jpg
Watch: Keegan-Michael Key Explains Why "Improv actors are at war together"
Check out Key's points on why it's so important for improv actors to have each others' backs in the clip above.
http://www.dailyactor.com/videos/keegan-michael-key-improv-actors-at-war-together/
http://www.dailyactor.com/wp-content/uploads/2016/07/norman-reedus-actor.jpg
Norman Reedus on Acting: "If it's something you really want, you have to roll with the rejection"
Norman Reedus is a fan-favorite star on The Walking Dead and was in the cult favorite film The Boondock Saints. However, in the dozen years between those two gigs Reedus had experienced ups and downs in his career and in many cases he was cast in very small roles in big movies or lead roles […]
http://www.dailyactor.com/actors-on-acting/norman-reedus-acting-rejection/
http://www.dailyactor.com/wp-content/uploads/2016/07/frank-grillo.jpg
Frank Grillo on Being Typecast: "I welcome it"
"I hear actors pooh-pooh the idea... people might see them as a certain thing. I welcome it" - Frank Grillo on Typecasting
http://www.dailyactor.com/film/frank-grillo-on-typecasting/