Christopher McDonald, Peter Gerety and Peter Scolari Join Tom Hanks in Broadway's 'Lucky Guy'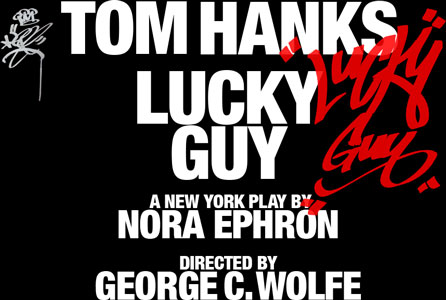 Bosom Buddies Reunion!
Ok, not exactly but if you're a fan of the sitcom that starred Tom Hanks and Peter Scolari, this is as close as we'll get.
Additional casting has been announced for the Lucky Guy, the show that will mark Hanks Broadway debut. The new play, by the late Nora Ephron, will be directed by two-time Tony Award®-winner George C. Wolfe and will also star Christopher McDonald as lawyer Eddie Hayes; Peter Gerety as editor John Cotter and Peter Scolari as columnist Michael Daly, with Michael Gaston as columnist Jim Dwyer; Dustyn Gulledge as Dino Tortoricci; Deirdre Lovejoy as reporter Louise Imerman and editor Debbie Krenek; Danny Mastrogiorgio as reporter Bob Drury; Richard Masur as editor Jerry Nachman and editor Stanley Joyce; and Stephen Tyrone Williams as Abner Louima. 
Additional casting will be announced soon.
Ephron's play marks a return to her journalistic roots in a new play about the scandal- and graffiti-ridden New York of the 1980s, as told through the story of the charismatic and controversial tabloid columnist Mike McAlary (Hanks).  
The show will play a limited engagement at the Broadhurst Theatre (235 West 44th Street), with an opening night on April 1, 2013.  Previews will begin March 1.
http://www.dailyactor.com/wp-content/uploads/2015/05/Caitriona-Balfe-Outlander.jpg
Outlander's Caitriona Balfe On The Emotional Toll of Filming Violent Scenes
"Having to put yourself in that place is tough. To sit in that emotional space, especially when you're doing it day after day." - Caitriona Balfe
http://www.dailyactor.com/2015/05/outlander-catriona-balfe-emotional-toll-of-filming-violent-scenes/
http://www.dailyactor.com/wp-content/uploads/2015/05/Chrissie-Fit.jpg
Chrissie Fit on How She Landed Her Role in 'Pitch Perfect 2′
"I remember getting the audition and being like, "This might not happen," just because it is such a massive movie." - Chrissie Fit
http://www.dailyactor.com/2015/05/chrissie-fit-on-how-she-landed-her-role-in-pitch-perfect-2/
http://www.dailyactor.com/wp-content/uploads/2015/05/Sam-Elliott.jpg
Sam Elliot on How he "F–ked" Himself Out of a Career as a Lead Actor
The rugged Sam Elliot has most often cast in character actor roles throughout his long career in film, though the 70 year-old Elliot thinks it wasn't always meant to be that way.
http://www.dailyactor.com/2015/05/sam-elliot-on-how-he-f-ked-himself-out-of-a-career-as-a-lead-actor/
http://www.dailyactor.com/wp-content/uploads/2015/05/Anna-Kendrick-Pitch-Perfect-2.jpg
Anna Kendrick Talks Hollywood and its Gender Bias
"As an actress you're perpetually about to be unemployed." - Anna Kendrick
http://www.dailyactor.com/2015/05/anna-kendrick-talks-hollywood-and-its-gender-bias/
http://www.dailyactor.com/wp-content/uploads/2015/05/tom-hardy-mad-max-fury-road.jpg
Tom Hardy on Fame, Acting School, and His 'Mad Respect' for Michael Fassbender
"Do what you love doing, do it well—everything should fit into place." - Tom Hardy
http://www.dailyactor.com/2015/05/tom-hardy-fame-acting-school-michael-fassbender/