John Michael Higgins on 'Happily Divorced' and Improving with Elizabeth Banks in 'Pitch Perfect'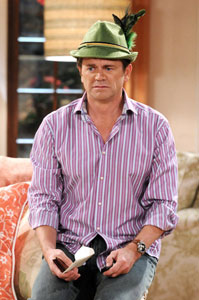 John Michael Higgins has appeared on dozens of televisions shows, from Frasier to Ally McBeal to Arrested Development, but now, he's finally in a series of his own, TV Land's Happily Divorced.
On the show, he stars alongside Fran Drescher as Drescher's character's gay ex-husband and he's thankful that the character he plays isn't a stereotype.  Though he has played gay characters before (perhaps most memorably as the shih tzu owner Scott in Best in Show), he points out that there's obviously no singular way to play a gay character.  He explains, "I don't believe there are a set of character traits to playing a gay character. It's like being asked to play a Catholic.  I've played gay characters that are over the top, but when you play a character that way those surface qualities wear thin, especially in a long haul.  With a character like this one, you have to go deeper and deeper. If you don't, the character will get flat for the audience and writers."
Portraying a multifaceted character that he can inhabit plays to Higgins' strengths, because even though it's been some years since Higgins worked with Christopher Guest for one of Guest's all-improvisation mockumentaries he seems to be at his best when he's working off-the-cuff.  Though he curiously says he dislikes improv, one recent opportunity he had to improvise was his role in Pitch Perfect alongside Elizabeth Banks.  The pair played unrestrained TV commentators, and as such they were encouraged to have a lot of fun.  He says, "We just sat in a booth and riffed. We may have worked one day. We just sat in a booth and they shot everything in one go through."
Happily Divorced airs on TV Land on Wednesday nights
via The Fresno Bee
http://www.dailyactor.com/wp-content/uploads/2015/01/watch-al-pacino-talks-the-humbli.jpg
Watch: Al Pacino Talks 'The Humbling' and His Extraordinary Career
In this conversation with Al Pacino talks about his role in The Humbling -- including working with Greta Gerwig -- and his historic acting career
http://www.dailyactor.com/2015/01/watch-al-pacino-extraordinary-career/
http://www.dailyactor.com/wp-content/uploads/2015/01/watch-oscar-nominee-steve-carell.jpg
Watch: Oscar Nominee Steve Carell Talks Improv, Auditioning for 'The Office' and 'Foxcatcher'
Carell talks about his entire career as an actor, including his background in improv, how he landed the Michael Scott role on The Office, and Foxcatcher
http://www.dailyactor.com/2015/01/oscar-nominee-steve-carell-improv-auditioning-for-the-office-foxcatcher/
http://www.dailyactor.com/wp-content/uploads/2015/01/ethan-hawke-ellar-coltrane-boyhood.jpg
Ethan Hawke Calls 'Boyhood' the "most special endeavor of my life"
Ethan Hawke is riding high with his fourth Oscar nomination for the Richard Linklater-directed Boyhood. In a recent "Ask Me Anything" on Reddit, the 44-year-old actor gave some thoughtful insight into his career and the 12-year creative endeavor that became the biggest film of the Oscar season. When asked what was the most difficult thing about […]
http://www.dailyactor.com/2015/01/ethan-hawke-boyhood-reddit-amaife/
http://www.dailyactor.com/wp-content/uploads/2015/01/martha-plimpton-a-delicate-balance.jpg
Martha Plimpton Takes a Refreshing Approach to a Long-Lasting Career
Martha Plimpton is an actress who enjoys the work, she's not in it for the fame. The proof is in her continually excellent work that she is doing on-screen and on the stage. She's currently starring in A Delicate Balance on Broadway. It's the audience who gives her the ultimate thrill. "I try to get […]
http://www.dailyactor.com/2015/01/martha-plimpton-long-lasting-career/
http://www.dailyactor.com/wp-content/uploads/2015/01/watch-michael-keaton-talks-candi.jpg
Watch: Michael Keaton Talks Candidly About His Career and His Approach to Acting in 'Birdman'
In this nearly 90 minute conversation, Michael Keaton is his usual affable self but is also remarkably candid about his career and his approach to acting.
http://www.dailyactor.com/2015/01/michael-keaton-career-approach-to-acting-birdman/