Christopher Walken on Learning Lines, "Walkenized" Roles and the Advice He Offers Young Actors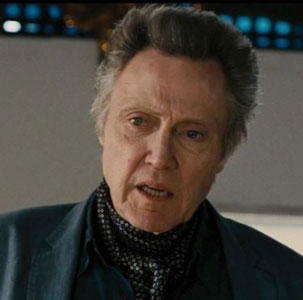 Christopher Walken is very excited about A Late Quartet and has been talking about the film to just about anyone who wants to listen about the project.  In his interview with The New York Times, Walken talks about how he learns his lines, why he is so excited about this film, why he hates it when filmmakers decide to make roles he takes more "Walkenized," and gives rather offbeat advice to young actors.
Walken compares the way musicians obsess over learning a piece of music to how he learns a script.  He points out, "I'm that way about learning a script. I like to stand in my kitchen with the script on a counter that's about chest high. Usually I do something else at the same time — make a chicken or slice vegetables — and all day long I just read it over and over and over."  When asked how he can possibly learn lines when chopping vegetables, he adds, "It's the power of distraction. My own way of thinking is very conservative, very linear and not particularly imaginative, but if I look for things in different places, sometimes things happen."
Walken might have found the lines easy to learn on this project because he was happy to play a character who was far less eccentric than his usual roles.  He explains, "Before we started, I said to Yaron Zilberman, the director, 'I think this part is a chance to be myself.' I have played a lot of villains, and there's a certain kind of tongue-in-cheek aspect to it, an absurd aspect. I was in Annie Hall, playing this suicidal guy who wanted to drive into cars. Very quickly afterward was The Deer Hunter, and I shot myself in the head. With movies, they're so expensive to make that if you do something that works, especially early on, it can stick. But there's a lot of me in this part."
While he might have been very excited to star in A Late Quartet, the prolific Walken admits he doesn't turn much work down even if he isn't  thrilled with the material.  He explains, "If I read a script and I think I'd be terrible in it, then of course I don't do that. And roles that are just way over the top in terms of strangeness."  In fact, Walken hates it when as soon as he signs up for a part the filmmakers decide to rewrite it to be more "Walken-like," and adds, "Sometimes I'll take a part, and they'll hire me and then they'll rewrite it. They Walkenize it — they make it more off the wall, more eccentric… Now I have it in my contract that if you give me the part and you change it, it's gotta be O.K. with me."
Despite his decades of success in film, Walken confesses that he still encourages people to be cautious — and urges young actors to remain cautious themselves.  He says, "I think it's sensible to be nervous and careful and to have backup plans. Somebody asked me, 'If you had to give advice to a young actor, what would it be?' I never even knew I was thinking this, but I said, 'Always, even in a limo, wear your seat belt.' To me, that's good advice. Avoid dangerous things. "
Latest Videos
http://www.dailyactor.com/wp-content/uploads/2014/10/alex-sharp-curious-incident-of-the-dog.jpg
Alex Sharp Talks About His Broadway Debut in 'The Curious Incident of the Dog in the Night-Time' (video)
Alex Sharp went from working in a call-center and renovating houses to going to Julliard. And now, he's starring in one of the most talked about shows of the season, The Curious Incident of the Dog in the Night-Time. Check out this great, inspiring video!
http://www.dailyactor.com/2014/10/alex-sharp-broadway-debut-the-curious-incident-of-the-dog-in-the-night-time-video/
http://www.dailyactor.com/wp-content/uploads/2014/10/Its-only-a-play.jpg
Watch a Scene From Terrance McNally's, 'It's Only a Play', Featuring Nathan Lane and Micah Stock
Here's a quick scene from Terrance McNally's It's Only a Play, currently on Broadway at the Schoenfeld Theater. In this scene, Nathan Lane and Micah Stock meet for the first time. The show, about the opening night of a new play, also stars Matthew Broderick, Stockard Channing, F. Murray Abraham, Rupert Grint and Megan Mullally.
http://www.dailyactor.com/2014/10/watch-a-scene-terrance-mcnally-its-only-a-play-nathan-lane-micah-stock/
http://www.dailyactor.com/wp-content/uploads/2014/10/birdman-director-alejandro-g-ina.jpg
'Birdman' Director Alejandro G. Iñárritu Narrates a Scene from the Film Featuring Michael Keaton and Edward Norton
Director Alejandro G. Iñárritu narrates a scene from Birdman or The Unexpected Virtue of Ignorance that features stars Michael Keaton and Edward Norton. The film is wonderful and if it's playing in your town, definitely check it out!
http://www.dailyactor.com/2014/10/birdman-director-alejandro-g-inarritu-michael-keaton-edward-norton/
http://www.dailyactor.com/wp-content/uploads/2014/10/the-cast-of-mad-men-on-the-final.jpg
The Cast of 'Mad Men' on the Final Season and More
Though the AMC television series Mad Men might not carry the same cultural weight that it did a few years ago (splitting your final season over two years might do that to you), the second half of the show's final season is expected to be full of powerful performances from its ensemble cast. With the […]
http://www.dailyactor.com/2014/10/cast-of-mad-men-final-season/
http://www.dailyactor.com/wp-content/uploads/2014/10/behind-the-scenes-of-a-sex-scene.jpg
Behind the Scenes of a Sex Scene with Patrick Wilson, Brooklyn Decker and Director Joe Carnahan
Director Joe Carnahan is giving viewers an inside look at what it is like to film a big screen Hollywood sex scene, as confirmed by Gawker. Carnahan released a brief video clip taken from the set of his latest film Stretch starring supermodel and actress Brooklyn Decker and Patrick Wilson. The video showcases the two […]
http://www.dailyactor.com/2014/10/behind-the-scenes-of-a-sex-scene-patrick-wilson-brooklyn-decker-director-joe-carnahan/