Christopher Walken on Learning Lines, "Walkenized" Roles and the Advice He Offers Young Actors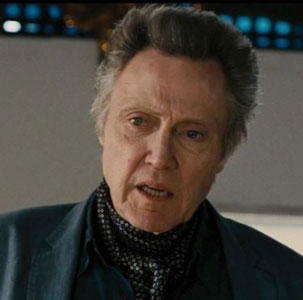 Christopher Walken is very excited about A Late Quartet and has been talking about the film to just about anyone who wants to listen about the project.  In his interview with The New York Times, Walken talks about how he learns his lines, why he is so excited about this film, why he hates it when filmmakers decide to make roles he takes more "Walkenized," and gives rather offbeat advice to young actors.
Walken compares the way musicians obsess over learning a piece of music to how he learns a script.  He points out, "I'm that way about learning a script. I like to stand in my kitchen with the script on a counter that's about chest high. Usually I do something else at the same time — make a chicken or slice vegetables — and all day long I just read it over and over and over."  When asked how he can possibly learn lines when chopping vegetables, he adds, "It's the power of distraction. My own way of thinking is very conservative, very linear and not particularly imaginative, but if I look for things in different places, sometimes things happen."
Walken might have found the lines easy to learn on this project because he was happy to play a character who was far less eccentric than his usual roles.  He explains, "Before we started, I said to Yaron Zilberman, the director, 'I think this part is a chance to be myself.' I have played a lot of villains, and there's a certain kind of tongue-in-cheek aspect to it, an absurd aspect. I was in Annie Hall, playing this suicidal guy who wanted to drive into cars. Very quickly afterward was The Deer Hunter, and I shot myself in the head. With movies, they're so expensive to make that if you do something that works, especially early on, it can stick. But there's a lot of me in this part."
While he might have been very excited to star in A Late Quartet, the prolific Walken admits he doesn't turn much work down even if he isn't  thrilled with the material.  He explains, "If I read a script and I think I'd be terrible in it, then of course I don't do that. And roles that are just way over the top in terms of strangeness."  In fact, Walken hates it when as soon as he signs up for a part the filmmakers decide to rewrite it to be more "Walken-like," and adds, "Sometimes I'll take a part, and they'll hire me and then they'll rewrite it. They Walkenize it — they make it more off the wall, more eccentric… Now I have it in my contract that if you give me the part and you change it, it's gotta be O.K. with me."
Despite his decades of success in film, Walken confesses that he still encourages people to be cautious — and urges young actors to remain cautious themselves.  He says, "I think it's sensible to be nervous and careful and to have backup plans. Somebody asked me, 'If you had to give advice to a young actor, what would it be?' I never even knew I was thinking this, but I said, 'Always, even in a limo, wear your seat belt.' To me, that's good advice. Avoid dangerous things. "
http://www.dailyactor.com/wp-content/uploads/2015/02/Helen-Mirren-The-Queen.jpg
Helen Mirren on Winning an Oscar: "It's an indescribable moment"
"It's hard to say, because you don't know what would have happened if you hadn't won" - Helen Mirren When Asked If Winning an Oscar Changed Her Career
http://www.dailyactor.com/2015/02/helen-mirren-on-winning-an-oscar/
http://www.dailyactor.com/wp-content/uploads/2015/02/anna-chlumsky-james-earl-jones.jpg
Anna Chlumsky on Her Broadway Debut: "For me, it was an opportunity to go in the direction that I hadn't played in a while"
"I think my personality lends itself to ensembles" - Anna Chlumsky
http://www.dailyactor.com/2015/02/anna-chlumsky-broadway-debut-ensemble/
http://www.dailyactor.com/wp-content/uploads/2015/02/joanne-froggatt-downton-abbey.jpg
'Downton Abbey' Star Joanne Froggatt on Creating Her Own Backstory and How She's "Not a Big-Budget Hollywood Type"
"They want the model type, classically beautiful, and I'm not" - Joanne Froggatt on Working in Hollywood
http://www.dailyactor.com/2015/02/downton-abbey-star-joanne-froggatt-character-backstory-hollywood/
http://www.dailyactor.com/wp-content/uploads/2015/01/al-pacino-the-humbling.jpg
Al Pacino on Acting: "It becomes such a part of your nature you rarely ever think about quitting"
After working infrequently in film over the last decade, Al Pacino appears in several films released in 2015, including The Humbling, an indie drama directed by Barry Levinson.
http://www.dailyactor.com/2015/02/al-pacino-on-acting-it-becomes-such-a-part-of-your-nature/
http://www.dailyactor.com/wp-content/uploads/2015/01/still-alice-julianne-moore.jpg
Julianne Moore Talks Her Research for 'Still Alice' and How the Movie Came Together
Moore talks about shooting Still Alice, research of Alzheimer's patients and how she didn't expect that the film would come together on such a small budget.
http://www.dailyactor.com/2015/02/julianne-moore-research-for-still-alice/