Christopher Walken on Learning Lines, "Walkenized" Roles and the Advice He Offers Young Actors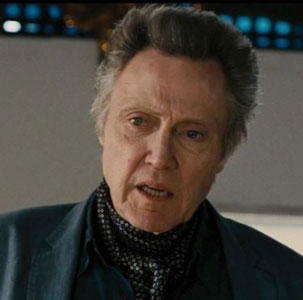 Christopher Walken is very excited about A Late Quartet and has been talking about the film to just about anyone who wants to listen about the project.  In his interview with The New York Times, Walken talks about how he learns his lines, why he is so excited about this film, why he hates it when filmmakers decide to make roles he takes more "Walkenized," and gives rather offbeat advice to young actors.
Walken compares the way musicians obsess over learning a piece of music to how he learns a script.  He points out, "I'm that way about learning a script. I like to stand in my kitchen with the script on a counter that's about chest high. Usually I do something else at the same time — make a chicken or slice vegetables — and all day long I just read it over and over and over."  When asked how he can possibly learn lines when chopping vegetables, he adds, "It's the power of distraction. My own way of thinking is very conservative, very linear and not particularly imaginative, but if I look for things in different places, sometimes things happen."
Walken might have found the lines easy to learn on this project because he was happy to play a character who was far less eccentric than his usual roles.  He explains, "Before we started, I said to Yaron Zilberman, the director, 'I think this part is a chance to be myself.' I have played a lot of villains, and there's a certain kind of tongue-in-cheek aspect to it, an absurd aspect. I was in Annie Hall, playing this suicidal guy who wanted to drive into cars. Very quickly afterward was The Deer Hunter, and I shot myself in the head. With movies, they're so expensive to make that if you do something that works, especially early on, it can stick. But there's a lot of me in this part."
While he might have been very excited to star in A Late Quartet, the prolific Walken admits he doesn't turn much work down even if he isn't  thrilled with the material.  He explains, "If I read a script and I think I'd be terrible in it, then of course I don't do that. And roles that are just way over the top in terms of strangeness."  In fact, Walken hates it when as soon as he signs up for a part the filmmakers decide to rewrite it to be more "Walken-like," and adds, "Sometimes I'll take a part, and they'll hire me and then they'll rewrite it. They Walkenize it — they make it more off the wall, more eccentric… Now I have it in my contract that if you give me the part and you change it, it's gotta be O.K. with me."
Despite his decades of success in film, Walken confesses that he still encourages people to be cautious — and urges young actors to remain cautious themselves.  He says, "I think it's sensible to be nervous and careful and to have backup plans. Somebody asked me, 'If you had to give advice to a young actor, what would it be?' I never even knew I was thinking this, but I said, 'Always, even in a limo, wear your seat belt.' To me, that's good advice. Avoid dangerous things. "
Latest Videos
http://www.dailyactor.com/wp-content/uploads/2014/08/seth-rudetsky-reveals-the-5-wors.jpg
Seth Rudetsky Reveals the 5 Worst Musical Theater Audition Mistakes (video)
Seth Rudetsky, actor, musician and a host on SiriusXM's Broadway channel, has been teaching auditioning master classes this summer and he's seen his share of bad auditions lately. In this video, he reveals the 5 worst audition mistakes you can make in a musical theater audition and how to choose the perfect 16-bar audition song. [...]
http://www.dailyactor.com/2014/08/seth-rudetsky-5-worst-audition-mistakes/
http://www.dailyactor.com/wp-content/uploads/2014/07/sir-ben-kingsley-talks-about-the.jpg
Sir Ben Kingsley Talks about the Unique Way He Voiced His Character in the Animated Film, 'The Boxtrolls' (video)
I could listen to Sir Ben Kingsley talk about acting and.. well, I could listen to him talk about anything. He's starring in the new Laika stop-motion animated film, The Boxtrolls, and he and some of the cast (along with the director) joined in on a Comic-Con panel about the film. The Boxtrolls is about [...]
http://www.dailyactor.com/2014/07/sir-ben-kingsley-the-boxtrolls-comic-con/
http://www.dailyactor.com/wp-content/uploads/2014/07/bill-hader.jpg
Bill Hader: "I kind of fell into acting" (video)
Bill Hader, starring in the soon to be released The Skeleton Twins, talks about the film and how he fell into acting and then got "crazy lucky" in this quick video from USA Today.
http://www.dailyactor.com/2014/07/bill-hader-fell-into-acting-video/
http://www.dailyactor.com/wp-content/uploads/2014/07/director-john-carney-narrates-a.jpg
Director John Carney Narrates a Scene from 'Begin Again' Starring Kiera Knightley and Mark Ruffalo
Director John Carney (Once) narrates a scene from his new film, Begin Again. Starring Keira Knightley and Mark Ruffalo, the scene shows the first time the two characters meet. I haven't seen it yet but I've heard it's great.
http://www.dailyactor.com/2014/07/begin-again-scene-director-john-carney-keira-knightley-mark-ruffalo/
http://www.dailyactor.com/wp-content/uploads/2014/07/holler-if-you-hear-me-gma.jpg
Watch the Cast of Broadway's 'Holler If You Hear Me' Perform 'California Love' on GMA
The cast of Broadway's newest musical, Holler If You Hear Me with music from Tupac Shakur, performed on Good Morning America this morning. Singing 'California Love', the cast (including the teriffic Christopher Jackson – read our interview here), show why they're the most energetic and inspiring group of actors on Broadway. Holler If Ya Hear [...]
http://www.dailyactor.com/2014/07/watch-cast-broadways-holler-hear-perform-california-love-gma/