Christopher Walken on Learning Lines, "Walkenized" Roles and the Advice He Offers Young Actors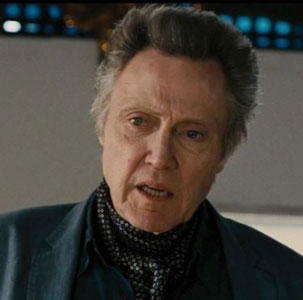 Christopher Walken is very excited about A Late Quartet and has been talking about the film to just about anyone who wants to listen about the project.  In his interview with The New York Times, Walken talks about how he learns his lines, why he is so excited about this film, why he hates it when filmmakers decide to make roles he takes more "Walkenized," and gives rather offbeat advice to young actors.
Walken compares the way musicians obsess over learning a piece of music to how he learns a script.  He points out, "I'm that way about learning a script. I like to stand in my kitchen with the script on a counter that's about chest high. Usually I do something else at the same time — make a chicken or slice vegetables — and all day long I just read it over and over and over."  When asked how he can possibly learn lines when chopping vegetables, he adds, "It's the power of distraction. My own way of thinking is very conservative, very linear and not particularly imaginative, but if I look for things in different places, sometimes things happen."
Walken might have found the lines easy to learn on this project because he was happy to play a character who was far less eccentric than his usual roles.  He explains, "Before we started, I said to Yaron Zilberman, the director, 'I think this part is a chance to be myself.' I have played a lot of villains, and there's a certain kind of tongue-in-cheek aspect to it, an absurd aspect. I was in Annie Hall, playing this suicidal guy who wanted to drive into cars. Very quickly afterward was The Deer Hunter, and I shot myself in the head. With movies, they're so expensive to make that if you do something that works, especially early on, it can stick. But there's a lot of me in this part."
While he might have been very excited to star in A Late Quartet, the prolific Walken admits he doesn't turn much work down even if he isn't  thrilled with the material.  He explains, "If I read a script and I think I'd be terrible in it, then of course I don't do that. And roles that are just way over the top in terms of strangeness."  In fact, Walken hates it when as soon as he signs up for a part the filmmakers decide to rewrite it to be more "Walken-like," and adds, "Sometimes I'll take a part, and they'll hire me and then they'll rewrite it. They Walkenize it — they make it more off the wall, more eccentric… Now I have it in my contract that if you give me the part and you change it, it's gotta be O.K. with me."
Despite his decades of success in film, Walken confesses that he still encourages people to be cautious — and urges young actors to remain cautious themselves.  He says, "I think it's sensible to be nervous and careful and to have backup plans. Somebody asked me, 'If you had to give advice to a young actor, what would it be?' I never even knew I was thinking this, but I said, 'Always, even in a limo, wear your seat belt.' To me, that's good advice. Avoid dangerous things. "
Latest Videos
http://www.dailyactor.com/wp-content/uploads/2014/09/watch-david-mamet-in-the-1976-sh.jpg
Watch: David Mamet in the 1976 Short Documentary 'The Playwright Directs'
Though David Mamet is best known for his distinctive writing style in his scripts for the stage and screen, he has also directed theater and film. The 1976 short documentary titled The Playwright Directs depicts Mamet directing actors through several scenes at an almost frantic pace, dispensing pearls of wisdom throughout, like his thoughts on […]
http://www.dailyactor.com/2014/09/watch-david-mamet-1976-documentary-the-playwright-directs/
http://www.dailyactor.com/wp-content/uploads/2014/09/watch-marvels-agents-of-s-h-i-e.jpg
Watch: Marvel's Agents of S.H.I.E.L.D. Season 1 Bloopers
Forgetting lines? Corpsing? Delivering lines in Spanish? Unruly props? All in a day's work on the set of Marvel's Agents of S.H.I.E.L.D, apparently. Clark Gregg, Ming-Na Wen, and the rest of the cast find plenty of humor while playing super-serious secret agents in the Marvel Universe. While you're waiting for season 2 of the series […]
http://www.dailyactor.com/2014/09/watch-marvels-agents-of-s-h-i-e-l-d-season-1-bloopers/
http://www.dailyactor.com/wp-content/uploads/2014/09/audtion-tapes-robin-wright-and-h.jpg
Audition Tapes: Robin Wright and Haley Joel Osment Audition with Tom Hanks for 'Forrest Gump'
Check out Robin Wright auditioning for the role of Jenny from Forest Gump opposite Tom Hanks. Interestingly enough, Hanks doesn't quite have Gump's southern drawl down just yet while the other actors audition with him. In fact, Hanks would base Gump's voice on the voice of Michael Conner Humphreys, who played the young Forrest and […]
http://www.dailyactor.com/2014/09/audtion-tapes-robin-wright-haley-joel-osment-tom-hanks-forrest-gump/
http://www.dailyactor.com/wp-content/uploads/2014/08/bryan-cranston-emmy-award-speech.jpg
Watch: Bryan Cranston's Emmy Award Speech: "I love to act. It is a passion of mine and I will do it until my last breath."
The Emmy Awards weren't the most exciting awards show this year but with Bryan Cranston winning for Outstanding Actor in a Drama for Breaking Bad, we at least got to hear one heck of a fantastic acceptance speech. "I was a kid who always looked for the shortcut," he said. "I did happen to stumble […]
http://www.dailyactor.com/2014/08/watch-bryan-cranston-and-aaron-pauls-emmy-award-speeches/
http://www.dailyactor.com/wp-content/uploads/2014/08/audition-tapes-gerard-butler-aud.jpg
Audition Tapes: Gerard Butler Auditions for 'Dracula 2000′
Check out Gerard Butler auditioning for the role of Dracula in the movie, Dracula 2000. The film, about a group of thieves who break into a chamber expecting to find paintings, but instead find Dracula himself, also starred Christopher Plummer, Jonny Lee Miller and Nathan Fillion. Bulter has some sweet rock star hair, huh?
http://www.dailyactor.com/2014/08/audition-tapes-gerard-butler-dracula-2000/