Anne Hathaway on Her 'Les Mis' Audition, Singing On-Set And Readjusting To Life After Filming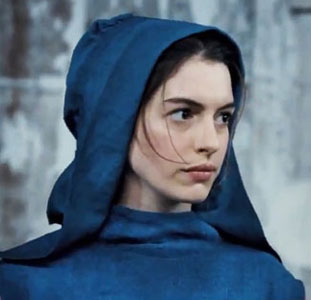 Anne Hathaway faced many challenges on her journey to play Fantine in Les Miserables—fighting for the role, proving her singing chops, and near starvation to slim down for the part.
Hathaway originally auditioned for the role by showing she could hit the high E-flat in her signature song, "I Dreamed a Dream."  Usually more humble, the actress stated, "I knew that someone was going to have to go in there and do something pretty special to unseat me," she said in an interview with Vogue.  "Sometimes you leave a room and you feel like maybe you've left the door open a crack.  This time, I knew that I had slammed it shut behind me."
She prepared for the role by working with a voice teacher and "singing all the time because I knew I'd be singing twelve hours a day on set, and I wanted to be ready—not that it takes much to get me singing."
Hathaway also knew that she was taking on a huge challenge by singing some of Broadway's most beloved songs.  "A few weeks before we filmed it, I realized how I was going to have to sing it, and that it wasn't going to be pretty," she said.  "First of all, it could never have compared with Patti LuPone or Lea Salonga [both of whom played Fantine onstage] or even my mom really [who also performed the role]: powerful singers with big, beautiful voices.  I knew I couldn't offer that, but I also knew it wouldn't be appropriate.  If I went for sounding beautiful while looking like this tragic wreck, it would be ridiculous.  And I saw an opportunity, because of the nature of the film, to just go for it and let it be alive and present and raw."
The obstacle Hathaway has gotten the most press for was the way she dangerously lost weight to appear like she was (realistically) dying of tuberculosis.  "I had to be obsessive about it—the idea was to look near death," she said.  "Looking back on the whole experience—and I don't judge it in any way—it was definitely a little nuts.  It was definitely a break with reality, but I think that's who Fantine is anyway."
There was an additional struggle even after shooting was over, when Hathaway faced readjusting to the real world.  "I was in such a state of deprivation—physical and emotional," she said.  "When I got home, I couldn't react to the chaos of the world without being overwhelmed.  It took me weeks till I felt like myself again.  The first time I really threw everything into a part, which was when I did Rachel Getting Married, there was no one waiting for me when I got back.  This time, Adam [her husband] was there.  He gets what I do and who I am and supports me in it, and that's pretty awesome."
The entire cast of Les Miserables was also supportive.  "Everybody was really pulling for each other on this," Hathaway noted.  "And I think that came from the fact that we were all doing something so different and so potentially disastrous."
Les Miserables opens on Christmas Day.
http://www.dailyactor.com/wp-content/uploads/2015/03/alec-baldwin.jpg
Alec Baldwin On Keeping SNL Fresh, His Daily Routine and His Ideal Role
Alec Baldwin is an ordinary guy. Well, that's what he said in a recent Reddit AMA, anyway. The actor took the chance to open up about what his average day was like, holding the public's interest and why he chooses not to do many films any more. "My average day is pretty ordinary," he says. […]
http://www.dailyactor.com/2015/04/alec-baldwin-snl-daily-routine-his-ideal-role/
http://www.dailyactor.com/wp-content/uploads/2015/03/steve-buscemi-boardwalk-empire.jpg
Steve Buscemi's "Ask Me Anything" Chat on Reddit: "I don't think you can point to any one character and say that that's 'me'"
"With any role I play, I only have myself" - Steve Buscemi
http://www.dailyactor.com/2015/03/steve-buscemi-ask-me-anything-chat-on-reddit/
http://www.dailyactor.com/wp-content/uploads/2015/03/sally-field-hello-my-name-is-doris.jpg
Sally Field On Improvisation, How She Chooses Her Roles and 'Hello, My Name is Doris'
"There's a dearth of roles for women. I turn down a lot of stuff because there's just nothing in it for me to do." – Sally Field Actress Sally Field put in an appearance at SXSW last week to promote her new film, Hello My Name is Doris. Michael Showalter has directed the movie […]
http://www.dailyactor.com/2015/03/sally-field-improvisation-roles-hello-my-name-is-doris/
http://www.dailyactor.com/wp-content/uploads/2015/03/Will-Ferrell-Get-Hard.jpg
Will Ferrell on His Comedy Roots, 'Get Hard' and His Favorite Roles to Play
Ferrell was on hand to take part in a Q&A and spoke more about how working with Hart came about. When asked if he chooses his projects based on who he wants to work with, or the script itself, Ferrell explained that each project was different.
http://www.dailyactor.com/2015/03/will-ferrell-on-his-comedy-roots-get-hard-and-his-favorite-roles-to-play/
http://www.dailyactor.com/wp-content/uploads/2015/03/daniel-dae-kim.jpg
Hawaii Five-0's Daniel Dae Kim Talks Directorial Debut: "The first day I had to yell action, it was kind of odd"
Hawaii Five-0's Daniel Dae Kim, who fans know best as Chin Ho Kelly, recently made his directorial debut on the CBS series. Kim shared his experience with The Hollywood Reporter, saying that his experience was "weird at first," as he had to direct his co-stars. "The first day I had to yell action, it was […]
http://www.dailyactor.com/2015/03/hawaii-five-0-daniel-dae-kim-directorial-debut/