Anne Hathaway on Her 'Les Mis' Audition, Singing On-Set And Readjusting To Life After Filming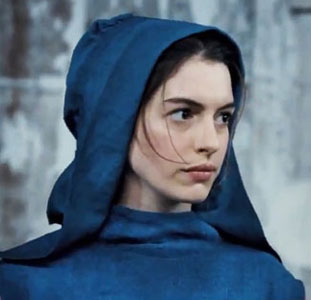 Anne Hathaway faced many challenges on her journey to play Fantine in Les Miserables—fighting for the role, proving her singing chops, and near starvation to slim down for the part.
Hathaway originally auditioned for the role by showing she could hit the high E-flat in her signature song, "I Dreamed a Dream."  Usually more humble, the actress stated, "I knew that someone was going to have to go in there and do something pretty special to unseat me," she said in an interview with Vogue.  "Sometimes you leave a room and you feel like maybe you've left the door open a crack.  This time, I knew that I had slammed it shut behind me."
She prepared for the role by working with a voice teacher and "singing all the time because I knew I'd be singing twelve hours a day on set, and I wanted to be ready—not that it takes much to get me singing."
Hathaway also knew that she was taking on a huge challenge by singing some of Broadway's most beloved songs.  "A few weeks before we filmed it, I realized how I was going to have to sing it, and that it wasn't going to be pretty," she said.  "First of all, it could never have compared with Patti LuPone or Lea Salonga [both of whom played Fantine onstage] or even my mom really [who also performed the role]: powerful singers with big, beautiful voices.  I knew I couldn't offer that, but I also knew it wouldn't be appropriate.  If I went for sounding beautiful while looking like this tragic wreck, it would be ridiculous.  And I saw an opportunity, because of the nature of the film, to just go for it and let it be alive and present and raw."
The obstacle Hathaway has gotten the most press for was the way she dangerously lost weight to appear like she was (realistically) dying of tuberculosis.  "I had to be obsessive about it—the idea was to look near death," she said.  "Looking back on the whole experience—and I don't judge it in any way—it was definitely a little nuts.  It was definitely a break with reality, but I think that's who Fantine is anyway."
There was an additional struggle even after shooting was over, when Hathaway faced readjusting to the real world.  "I was in such a state of deprivation—physical and emotional," she said.  "When I got home, I couldn't react to the chaos of the world without being overwhelmed.  It took me weeks till I felt like myself again.  The first time I really threw everything into a part, which was when I did Rachel Getting Married, there was no one waiting for me when I got back.  This time, Adam [her husband] was there.  He gets what I do and who I am and supports me in it, and that's pretty awesome."
The entire cast of Les Miserables was also supportive.  "Everybody was really pulling for each other on this," Hathaway noted.  "And I think that came from the fact that we were all doing something so different and so potentially disastrous."
Les Miserables opens on Christmas Day.
Latest Videos
http://www.dailyactor.com/wp-content/uploads/2014/08/bryan-cranston-emmy-award-speech.jpg
Watch: Bryan Cranston's Emmy Award Speech: "I love to act. It is a passion of mine and I will do it until my last breath."
The Emmy Awards weren't the most exciting awards show this year but with Bryan Cranston winning for Outstanding Actor in a Drama for Breaking Bad, we at least got to hear one heck of a fantastic acceptance speech. "I was a kid who always looked for the shortcut," he said. "I did happen to stumble […]
http://www.dailyactor.com/2014/08/watch-bryan-cranston-and-aaron-pauls-emmy-award-speeches/
http://www.dailyactor.com/wp-content/uploads/2014/08/audition-tapes-gerard-butler-aud.jpg
Audition Tapes: Gerard Butler Auditions for 'Dracula 2000′
Check out Gerard Butler auditioning for the role of Dracula in the movie, Dracula 2000. The film, about a group of thieves who break into a chamber expecting to find paintings, but instead find Dracula himself, also starred Christopher Plummer, Jonny Lee Miller and Nathan Fillion. Bulter has some sweet rock star hair, huh?
http://www.dailyactor.com/2014/08/audition-tapes-gerard-butler-dracula-2000/
http://www.dailyactor.com/wp-content/uploads/2014/08/interview-matt-dillon-and-carla.jpg
Interview: Matt Dillon and Carla Gugino Talk 'Wayward Pines'
FOX has a new limited-series that's got a terrific cast and interesting premise. It's called Wayward Pines and stars Matt Dillon, Carla Gugino, Melissa Leo, Toby Jones, Terrance Howard, Juliette Lewis, Tim Griffin and Shannyn Sossamon. The show, whose pilot was directed by M. Night Shyamalan, is about a Secret Service agent (Dillon) goes to […]
http://www.dailyactor.com/2014/08/interview-matt-dillon-carla-gugino-wayward-pines-comic-con/
http://www.dailyactor.com/wp-content/uploads/2014/08/interview-wayward-pines-stars-ti.jpg
Interview: 'Wayward Pines' Stars Tim Griffin and Shannyn Sossamon on the Show, Their Characters and More!
Griffin and Sossamonwere at Comic-Con where they sat in on some roundtable interviews to talk about the show.
http://www.dailyactor.com/2014/08/interview-wayward-pines-stars-tim-griffin-shannyn-sossamon-comic-con/
http://www.dailyactor.com/wp-content/uploads/2014/08/interview-m-night-shyamalan-talk.jpg
Interview: M. Night Shyamalan Talks 'Wayward Pines' and Why He Expanded a Young Actors Role on the Show
I talked to Shyamalan at Comic-Con in a roundtable interview where he talked about the cast, what he learned from working in TV and how young actor Charlie Tahan started out with a small part but as the story grew, so did his role.
http://www.dailyactor.com/2014/08/interview-m-night-shyamalan-wayward-pines-comic-con/