Anne Hathaway on Her 'Les Mis' Audition, Singing On-Set And Readjusting To Life After Filming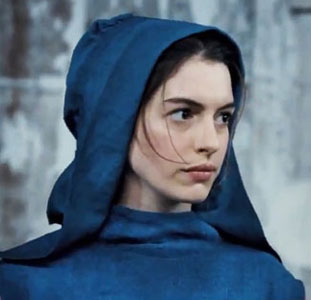 Anne Hathaway faced many challenges on her journey to play Fantine in Les Miserables—fighting for the role, proving her singing chops, and near starvation to slim down for the part.
Hathaway originally auditioned for the role by showing she could hit the high E-flat in her signature song, "I Dreamed a Dream."  Usually more humble, the actress stated, "I knew that someone was going to have to go in there and do something pretty special to unseat me," she said in an interview with Vogue.  "Sometimes you leave a room and you feel like maybe you've left the door open a crack.  This time, I knew that I had slammed it shut behind me."
She prepared for the role by working with a voice teacher and "singing all the time because I knew I'd be singing twelve hours a day on set, and I wanted to be ready—not that it takes much to get me singing."
Hathaway also knew that she was taking on a huge challenge by singing some of Broadway's most beloved songs.  "A few weeks before we filmed it, I realized how I was going to have to sing it, and that it wasn't going to be pretty," she said.  "First of all, it could never have compared with Patti LuPone or Lea Salonga [both of whom played Fantine onstage] or even my mom really [who also performed the role]: powerful singers with big, beautiful voices.  I knew I couldn't offer that, but I also knew it wouldn't be appropriate.  If I went for sounding beautiful while looking like this tragic wreck, it would be ridiculous.  And I saw an opportunity, because of the nature of the film, to just go for it and let it be alive and present and raw."
The obstacle Hathaway has gotten the most press for was the way she dangerously lost weight to appear like she was (realistically) dying of tuberculosis.  "I had to be obsessive about it—the idea was to look near death," she said.  "Looking back on the whole experience—and I don't judge it in any way—it was definitely a little nuts.  It was definitely a break with reality, but I think that's who Fantine is anyway."
There was an additional struggle even after shooting was over, when Hathaway faced readjusting to the real world.  "I was in such a state of deprivation—physical and emotional," she said.  "When I got home, I couldn't react to the chaos of the world without being overwhelmed.  It took me weeks till I felt like myself again.  The first time I really threw everything into a part, which was when I did Rachel Getting Married, there was no one waiting for me when I got back.  This time, Adam [her husband] was there.  He gets what I do and who I am and supports me in it, and that's pretty awesome."
The entire cast of Les Miserables was also supportive.  "Everybody was really pulling for each other on this," Hathaway noted.  "And I think that came from the fact that we were all doing something so different and so potentially disastrous."
Les Miserables opens on Christmas Day.
http://www.dailyactor.com/wp-content/uploads/2015/01/watch-al-pacino-talks-the-humbli.jpg
Watch: Al Pacino Talks 'The Humbling' and His Extraordinary Career
In this conversation with Al Pacino talks about his role in The Humbling -- including working with Greta Gerwig -- and his historic acting career
http://www.dailyactor.com/2015/01/watch-al-pacino-extraordinary-career/
http://www.dailyactor.com/wp-content/uploads/2015/01/watch-oscar-nominee-steve-carell.jpg
Watch: Oscar Nominee Steve Carell Talks Improv, Auditioning for 'The Office' and 'Foxcatcher'
Carell talks about his entire career as an actor, including his background in improv, how he landed the Michael Scott role on The Office, and Foxcatcher
http://www.dailyactor.com/2015/01/oscar-nominee-steve-carell-improv-auditioning-for-the-office-foxcatcher/
http://www.dailyactor.com/wp-content/uploads/2015/01/ethan-hawke-ellar-coltrane-boyhood.jpg
Ethan Hawke Calls 'Boyhood' the "most special endeavor of my life"
Ethan Hawke is riding high with his fourth Oscar nomination for the Richard Linklater-directed Boyhood. In a recent "Ask Me Anything" on Reddit, the 44-year-old actor gave some thoughtful insight into his career and the 12-year creative endeavor that became the biggest film of the Oscar season. When asked what was the most difficult thing about […]
http://www.dailyactor.com/2015/01/ethan-hawke-boyhood-reddit-amaife/
http://www.dailyactor.com/wp-content/uploads/2015/01/martha-plimpton-a-delicate-balance.jpg
Martha Plimpton Takes a Refreshing Approach to a Long-Lasting Career
Martha Plimpton is an actress who enjoys the work, she's not in it for the fame. The proof is in her continually excellent work that she is doing on-screen and on the stage. She's currently starring in A Delicate Balance on Broadway. It's the audience who gives her the ultimate thrill. "I try to get […]
http://www.dailyactor.com/2015/01/martha-plimpton-long-lasting-career/
http://www.dailyactor.com/wp-content/uploads/2015/01/watch-michael-keaton-talks-candi.jpg
Watch: Michael Keaton Talks Candidly About His Career and His Approach to Acting in 'Birdman'
In this nearly 90 minute conversation, Michael Keaton is his usual affable self but is also remarkably candid about his career and his approach to acting.
http://www.dailyactor.com/2015/01/michael-keaton-career-approach-to-acting-birdman/