Taye Diggs Going Back to His Roots in a Series of Cabaret-Style Concerts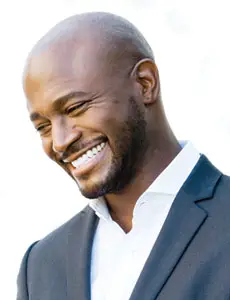 Taye Diggs is going back to where it all started, singing in a series of concerts while he's not shooting Private Practice. 
Diggs started out on the Broadway stage in productions of Carousel and Rent—where he met his wife, Idina Menzel and recently told TheaterMania that "after watching Idina on stage and seeing how amazing she is and how much fun she's having, I wanted to kind of go back to my roots and challenge myself. I'm one of those performers who loves being onstage, but at the same time, when it's just me, I get petrified."
"So my first challenge was to do a concert by myself, kind of cabaret style, and I got through that.  Now I'm adding the element of movement, because I haven't seen many people do that kind of thing on their own with the band behind them and then also move. So I'm mixing a little bit of Sammy Davis Jr. with a little bit of Usher and a little bit of I don't know.  I'm hoping that I will enjoy the idea of being on stage alone a little bit more once I move."
There doesn't seem to be an area of entertainment that he doesn't have his hands in.  Diggs also recently released a book, Chocolate Me!, that was based on a poem he wrote while in college.
http://www.dailyactor.com/wp-content/uploads/2015/05/Caitriona-Balfe-Outlander.jpg
Outlander's Caitriona Balfe On The Emotional Toll of Filming Violent Scenes
"Having to put yourself in that place is tough. To sit in that emotional space, especially when you're doing it day after day." - Caitriona Balfe
http://www.dailyactor.com/2015/05/outlander-catriona-balfe-emotional-toll-of-filming-violent-scenes/
http://www.dailyactor.com/wp-content/uploads/2015/05/Chrissie-Fit.jpg
Chrissie Fit on How She Landed Her Role in 'Pitch Perfect 2′
"I remember getting the audition and being like, "This might not happen," just because it is such a massive movie." - Chrissie Fit
http://www.dailyactor.com/2015/05/chrissie-fit-on-how-she-landed-her-role-in-pitch-perfect-2/
http://www.dailyactor.com/wp-content/uploads/2015/05/Sam-Elliott.jpg
Sam Elliot on How he "F–ked" Himself Out of a Career as a Lead Actor
The rugged Sam Elliot has most often cast in character actor roles throughout his long career in film, though the 70 year-old Elliot thinks it wasn't always meant to be that way.
http://www.dailyactor.com/2015/05/sam-elliot-on-how-he-f-ked-himself-out-of-a-career-as-a-lead-actor/
http://www.dailyactor.com/wp-content/uploads/2015/05/Anna-Kendrick-Pitch-Perfect-2.jpg
Anna Kendrick Talks Hollywood and its Gender Bias
"As an actress you're perpetually about to be unemployed." - Anna Kendrick
http://www.dailyactor.com/2015/05/anna-kendrick-talks-hollywood-and-its-gender-bias/
http://www.dailyactor.com/wp-content/uploads/2015/05/tom-hardy-mad-max-fury-road.jpg
Tom Hardy on Fame, Acting School, and His 'Mad Respect' for Michael Fassbender
"Do what you love doing, do it well—everything should fit into place." - Tom Hardy
http://www.dailyactor.com/2015/05/tom-hardy-fame-acting-school-michael-fassbender/