'Peter and the Starcatcher' Sets a Closing Date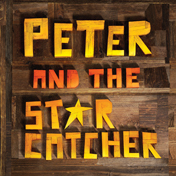 Peter and the Starcatcher, the five-time Tony® Award-winning play by Tony Award-nominee Rick Elice, has announced that it will play its final Broadway performance on January 20, 2013, ending its nearly year-long run.
Directed by Tony® Award-winner Roger Rees and Tony® Award-nominee Alex Timbers, Peter and the Starcatcher began performances on March 28, 2012 and opened April 15, 2012, and is playing at Broadway's Brooks Atkinson Theatre (256 West 47th Street).
"All of us involved with this show are extremely proud of its remarkable run on Broadway,'" said Nancy Gibbs, a lead producer. "When this journey began nearly ten years ago, the path to Broadway seemed all but impossible to traverse.  Well, not only did we make it, but we've enjoyed every unlikely and wonderful step along the way." 
But, there is good news for those of you living outside of NYC. Next August, the show will start its national tour in Denver. The play's Tony Award-nominated directors, Roger Rees and Alex Timbers, will direct the touring production.
http://www.dailyactor.com/wp-content/uploads/2015/05/Caitriona-Balfe-Outlander.jpg
Outlander's Caitriona Balfe On The Emotional Toll of Filming Violent Scenes
"Having to put yourself in that place is tough. To sit in that emotional space, especially when you're doing it day after day." - Caitriona Balfe
http://www.dailyactor.com/2015/05/outlander-catriona-balfe-emotional-toll-of-filming-violent-scenes/
http://www.dailyactor.com/wp-content/uploads/2015/05/Chrissie-Fit.jpg
Chrissie Fit on How She Landed Her Role in 'Pitch Perfect 2′
"I remember getting the audition and being like, "This might not happen," just because it is such a massive movie." - Chrissie Fit
http://www.dailyactor.com/2015/05/chrissie-fit-on-how-she-landed-her-role-in-pitch-perfect-2/
http://www.dailyactor.com/wp-content/uploads/2015/05/Sam-Elliott.jpg
Sam Elliot on How he "F–ked" Himself Out of a Career as a Lead Actor
The rugged Sam Elliot has most often cast in character actor roles throughout his long career in film, though the 70 year-old Elliot thinks it wasn't always meant to be that way.
http://www.dailyactor.com/2015/05/sam-elliot-on-how-he-f-ked-himself-out-of-a-career-as-a-lead-actor/
http://www.dailyactor.com/wp-content/uploads/2015/05/Anna-Kendrick-Pitch-Perfect-2.jpg
Anna Kendrick Talks Hollywood and its Gender Bias
"As an actress you're perpetually about to be unemployed." - Anna Kendrick
http://www.dailyactor.com/2015/05/anna-kendrick-talks-hollywood-and-its-gender-bias/
http://www.dailyactor.com/wp-content/uploads/2015/05/tom-hardy-mad-max-fury-road.jpg
Tom Hardy on Fame, Acting School, and His 'Mad Respect' for Michael Fassbender
"Do what you love doing, do it well—everything should fit into place." - Tom Hardy
http://www.dailyactor.com/2015/05/tom-hardy-fame-acting-school-michael-fassbender/