'Vampire Diaries' Robert Ri'chard Tells a Story He Learned as a Kid That He Applies to His Acting Career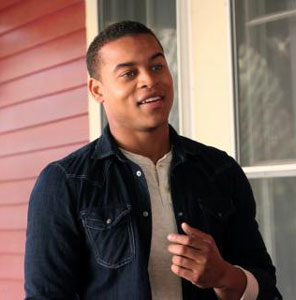 Acting might have saved Robert Ri'chard's life. 
The Vampire Diaries actor noted, "When I was a kid there was a local acting studio down from my house.  I grew up in a rough neighborhood, and the studio was a place where kids could go and get out of the gang-type stuff.  I went there and it was the only thing I wanted to do.  I shook hands with an acting coach there, Ms. D., and that was the start of my new life.  She was a mentor and a powerful person in my life."
Although he's appeared in projects like Coach Carter and The Feast of All Saints, Ri'chard is still committed to reaching his full potential.  "The number one thing is training," he told The Washington Times.  "I trained six or seven days a week for five years.  There is also a difference in wanting to be an actor and wanting to be famous; that's different in pursuing a career in theater.  You have to know what you want to do.  You can look at Kim Kardashian; she's a notable personality, but that's different than being an actor."
At this point, Ri'chard is completely focused on obtaining the goals he's set for his career.  "Here's an old story I learned when I was younger," he said.  "A man goes to a guru and says 'I want to be successful.'  The guru replies, 'Tomorrow meet me at the beach dressed for success.'  The next day they meet up and the guru tells him, 'Come out to the ocean with me.'  When they get to where they are waist deep in the ocean, the guru starts drowning the man.  He holds him under until he is about to die then lets him up to catch his breath.  After the man has gasped for air and catches his breath, the guru asks 'What were you thinking when you were under the water drowning?'  The man replied, 'Breathing.'  The guru tells him, 'When you want success as badly as you wanted to breathe, then you will be successful.'"
"I heard that story and I have adopted that into my life," he said. "I am focused on what I wanted to do and what I want to accomplish and I'm not letting anything stop me.  I will penetrate any obstacle in front of me to be where I want to be."
Latest Videos
Watch: Benedict Cumberbatch Film the Smaug Motion Capture for 'The Hobbit: The Desolation of Smaug'
Though Peter Jackson's movie adaptations of The Hobbit haven't received the same critical acclaim as his films based on the book's sequel, The Lord of the Rings (turning a 300 page book into 9+ hours of film tends to do that), fans are still eagerly anticipating the release of the final part of The Hobbit […]
http://www.dailyactor.com/2014/11/watch-benedict-cumberbatch-film-smaug-motion-capture-the-hobbit/
Watch: Daniel Radcliffe on the Differences Between American and British Theater Audiences
Though moviegoers can see Daniel Radcliffe in the fantasy film Horns, which opens today, Broadway fans will have to wait a bit longer. Radcliffe is an unapologetic fan of Broadway — he has starred in Equus, How to Succeed in Business Without Really Trying, and The Cripple of Inishmaan — but he hasn't yet made […]
http://www.dailyactor.com/2014/10/daniel-radcliffe-differences-between-american-british-theater-audiences/
Watch: Anna Gunn, Jacki Weaver and Virginia Kull on 'Gracepoint' and Strong Female Roles on TV
The actresses also speak candidly about how they feel about their characters in the series and why its important for TV to feature series with strong female leads.Check out the conversation above!
http://www.dailyactor.com/2014/10/watch-anna-gunn-jacki-weaver-virginia-kull-gracepoint-strong-female-roles-on-tv/
Watch: Cristin Milioti Talks 'A to Z', 'Once' and 'How I Met Your Mother'
Few actresses have the kind of rise as Cristin Milioti has had in the last few years. A virtual unknown in 2011, she became a bona fide Broadway star in the 2012 hit Once, appeared in a supporting role in the 2013 film The Wolf of Wall Street, and was featured as the titular mother […]
http://www.dailyactor.com/2014/10/watch-cristin-milioti-a-to-z-once-how-i-met-your-mother/
http://www.dailyactor.com/wp-content/uploads/2014/10/watch-bryan-cranstons-acting-adv.jpg
Watch: Bryan Cranston's Acting Advice
With Breaking Bad: The Complete Series Barrel being released on Blu-ray with all kinds of goodies today, it gives us yet another opportunity to reflect on the series' star Bryan Cranston and all of the incredible advice he has offered actors in the wake of his success. In a video he filmed in 2013 for […]
http://www.dailyactor.com/2014/10/bryan-cranston-acting-advice-video/