'Vampire Diaries' Robert Ri'chard Tells a Story He Learned as a Kid That He Applies to His Acting Career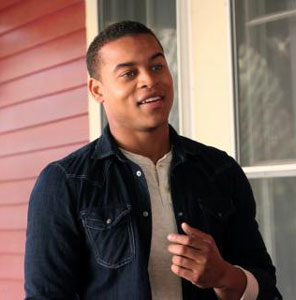 Acting might have saved Robert Ri'chard's life. 
The Vampire Diaries actor noted, "When I was a kid there was a local acting studio down from my house.  I grew up in a rough neighborhood, and the studio was a place where kids could go and get out of the gang-type stuff.  I went there and it was the only thing I wanted to do.  I shook hands with an acting coach there, Ms. D., and that was the start of my new life.  She was a mentor and a powerful person in my life."
Although he's appeared in projects like Coach Carter and The Feast of All Saints, Ri'chard is still committed to reaching his full potential.  "The number one thing is training," he told The Washington Times.  "I trained six or seven days a week for five years.  There is also a difference in wanting to be an actor and wanting to be famous; that's different in pursuing a career in theater.  You have to know what you want to do.  You can look at Kim Kardashian; she's a notable personality, but that's different than being an actor."
At this point, Ri'chard is completely focused on obtaining the goals he's set for his career.  "Here's an old story I learned when I was younger," he said.  "A man goes to a guru and says 'I want to be successful.'  The guru replies, 'Tomorrow meet me at the beach dressed for success.'  The next day they meet up and the guru tells him, 'Come out to the ocean with me.'  When they get to where they are waist deep in the ocean, the guru starts drowning the man.  He holds him under until he is about to die then lets him up to catch his breath.  After the man has gasped for air and catches his breath, the guru asks 'What were you thinking when you were under the water drowning?'  The man replied, 'Breathing.'  The guru tells him, 'When you want success as badly as you wanted to breathe, then you will be successful.'"
"I heard that story and I have adopted that into my life," he said. "I am focused on what I wanted to do and what I want to accomplish and I'm not letting anything stop me.  I will penetrate any obstacle in front of me to be where I want to be."
http://www.dailyactor.com/wp-content/uploads/2016/08/imperium_daniele_radcliffe.jpg
Daniel Radcliffe on Playing a Neo-Nazi in 'Imperium': "It's still just horrible to say some of this stuff"
Radcliffe reveals how he played such a layered character and what it felt like to say his character's hate-filled dialogue.
http://www.dailyactor.com/film/daniel-radcliffe-playing-a-neo-nazi-imperium/
http://www.dailyactor.com/wp-content/uploads/2016/08/John-Cho-Star-Trek-Beyond.jpg
How John Cho Took A Stand for Diversity Early in His Career
"When one does speak one's mind, one might be surprised at how receptive people are." - Actor John Cho
http://www.dailyactor.com/film/john-cho-took-a-stand-for-diversity/
http://www.dailyactor.com/wp-content/uploads/2016/08/simon-helberg-florence-foster-jenkins.jpg
Simon Helberg on His 'Florence Foster Jenkins' Role: "I'm an actor and I want to stretch different muscles"
Helberg spoke about portraying his character in the film and whether or not he feels typecast by his Big Bang Theory role.
http://www.dailyactor.com/film/simon-helberg-florence-foster-jenkins-role/
http://www.dailyactor.com/wp-content/uploads/2016/08/Will-Chase-Something-Rotten.jpg
The Role That Got Away: Will Chase on Returning to 'Something Rotten!'
"I know that I am a poor man's fill-in-the-blank. And I know that there are poor man's Will Chases out there. That's just the nature of the business" - Will Chase
http://www.dailyactor.com/broadway-theater/will-chase-something-rotten-role-that-got-away/
http://www.dailyactor.com/wp-content/uploads/2016/08/Julia-Stiles-Jason-Bourne.jpg
Julia Stiles on the Jason Bourne Series and Growing as an Actress: "There's always room for improvement"
"I like a director that encourages me to be playful. I don't really like being restricted or controlled by a director." - Julia Stiles
http://www.dailyactor.com/film/julia-stiles-growing-as-an-actress/