Harrison Ford on Playing the Real-Life Branch Rickey in Jackie Robinson Biopic '42'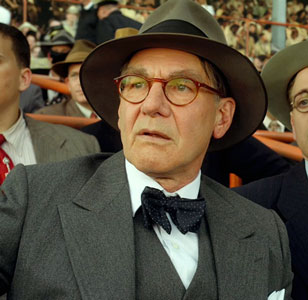 It's almost impossible to believe that Harrison Ford is now seventy and is now a regular in "older men" roles.  But the seemingly ageless Ford has put Indiana Jones behind him (well, most hope) in order to appear in more dramatic roles, such as the Jackie Robinson biopic 42. 
Ford stars as Branch Rickey, the general manager who initially signed Robinson to a minor league contract and later called him to the major leagues, making Robinson the first professional African-American baseball player in the modern era.  Ford speaks to USA Today about playing Rickey and the challenge of playing a historical figure.
To begin with, Ford understands the magnitude of the historical importance of the man he is portraying.  On Branch Rickey and the decision that changed professional sports in America forever, Ford notes, "The more research I did, the more impressed I was… This isn't a history lesson or a Sunday school sermon. What interested me was their relationship. They had these indomitable spirits, but very disparate personalities."
Because Ford usually stars as fictional characters, to play Rickey he approached the role differently than usual.  First, he conducted extensive research.  He explains, "Anything I could find, I used.  I discovered he did things too numerous to count." 
He also consulted with Ben Kingsley, who plays real-life figures more often (and won an Oscar for his acting in the title role of 1982's Gandhi).  As a result, Ford believes there are two ways to approach acting as a historical figure, pointing out, "One way is to confine yourself to represent a real person in a narrow vein. The other is to use it as an opportunity."  He admits that Kingsley directed him to the second way, adding, "He said it's an opportunity to use the (real) man as a mask that tells the truth. That's what I wanted to do."
http://www.dailyactor.com/wp-content/uploads/2015/02/Larry-David.jpg
Larry David on Who he Wanted to Star in his Broadway Play 'Fish in the Dark': "Anybody but me"
"It's one of the reasons I didn't like acting. I don't like not being able to interject" – Larry David on acting with a script Who doesn't like Larry David? Well, to be honest, Larry David probably doesn't like Larry David. In fact, David didn't even want to cast himself in the lead of […]
http://www.dailyactor.com/2015/02/larry-david-on-who-he-wanted-to-star-broadway-play-fish-in-the-dark/
http://www.dailyactor.com/wp-content/uploads/2015/02/Helen-Mirren-The-Queen.jpg
Helen Mirren on Winning an Oscar: "It's an indescribable moment"
"It's hard to say, because you don't know what would have happened if you hadn't won" - Helen Mirren When Asked If Winning an Oscar Changed Her Career
http://www.dailyactor.com/2015/02/helen-mirren-on-winning-an-oscar/
http://www.dailyactor.com/wp-content/uploads/2015/02/anna-chlumsky-james-earl-jones.jpg
Anna Chlumsky on Her Broadway Debut: "For me, it was an opportunity to go in the direction that I hadn't played in a while"
"I think my personality lends itself to ensembles" - Anna Chlumsky
http://www.dailyactor.com/2015/02/anna-chlumsky-broadway-debut-ensemble/
http://www.dailyactor.com/wp-content/uploads/2015/02/joanne-froggatt-downton-abbey.jpg
'Downton Abbey' Star Joanne Froggatt on Creating Her Own Backstory and How She's "Not a Big-Budget Hollywood Type"
"They want the model type, classically beautiful, and I'm not" - Joanne Froggatt on Working in Hollywood
http://www.dailyactor.com/2015/02/downton-abbey-star-joanne-froggatt-character-backstory-hollywood/
http://www.dailyactor.com/wp-content/uploads/2015/01/al-pacino-the-humbling.jpg
Al Pacino on Acting: "It becomes such a part of your nature you rarely ever think about quitting"
After working infrequently in film over the last decade, Al Pacino appears in several films released in 2015, including The Humbling, an indie drama directed by Barry Levinson.
http://www.dailyactor.com/2015/02/al-pacino-on-acting-it-becomes-such-a-part-of-your-nature/