Bank of America Sued by Child Actors for Depleting Trust Funds with Bank Fees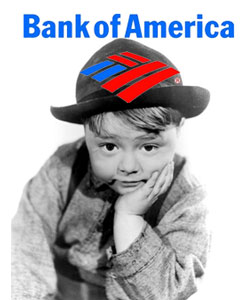 In the last several years Bank of America, one of the largest banks in the United States, has come under fire for a number of its business practices.  The latest complaint aimed at Bank of America involves child actors, with the banking giant facing a class action lawsuit for charging child actors' trust accounts with monthly service fees.
According to the lawsuit filed by the law firm Markun Zusman & Compton, Bank of America is illegally withdrawing money from child actors' so-called "Coogan Accounts," a special type of trust fund created by the California legislature with the Coogan Act.   The Coogan Act was named after Jackie Coogan (a child actor who starred alongside Charlie Chaplin as the titular scamp in The Kid), who sued his mother in 1938 after discovering that the millions of dollars he had earned as a child actor had been spent by his mother and stepfather on luxuries (even after the lawsuit, Coogan only ended up with a fraction of earnings).  The California Child Actor's Bill, known as "The Coogan Act", was passed the following year and ensures that 15% of a child actor's earnings are placed in a trust fund that can only be accessed when the child actor turns 18 or is legally emancipated from his or her parents. 
But Bank of America is accused of taking monthly service charges out of the accounts for perhaps as many as 15,000 child actors.  In fact, the bank is even accused of depleting many of the accounts with fees, leading to some child actors actually owing the bank money once they can legally access the accounts.
Bank of America has yet to respond to the lawsuit.
via ABC News
Latest Videos
http://www.dailyactor.com/wp-content/uploads/2014/07/bill-hader.jpg
Bill Hader: "I kind of fell into acting" (video)
Bill Hader, starring in the soon to be released The Skeleton Twins, talks about the film and how he fell into acting and then got "crazy lucky" in this quick video from USA Today. Share on Tumblr
http://www.dailyactor.com/2014/07/bill-hader-fell-into-acting-video/
http://www.dailyactor.com/wp-content/uploads/2014/07/director-john-carney-narrates-a.jpg
Director John Carney Narrates a Scene from 'Begin Again' Starring Kiera Knightley and Mark Ruffalo
Director John Carney (Once) narrates a scene from his new film, Begin Again. Starring Keira Knightley and Mark Ruffalo, the scene shows the first time the two characters meet. I haven't seen it yet but I've heard it's great.
http://www.dailyactor.com/2014/07/begin-again-scene-director-john-carney-keira-knightley-mark-ruffalo/
http://www.dailyactor.com/wp-content/uploads/2014/07/holler-if-you-hear-me-gma.jpg
Watch the Cast of Broadway's 'Holler If You Hear Me' Perform 'California Love' on GMA
The cast of Broadway's newest musical, Holler If You Hear Me with music from Tupac Shakur, performed on Good Morning America this morning. Singing 'California Love', the cast (including the teriffic Christopher Jackson – read our interview here), show why they're the most energetic and inspiring group of actors on Broadway. Holler If Ya Hear [...]
http://www.dailyactor.com/2014/07/watch-cast-broadways-holler-hear-perform-california-love-gma/
http://www.dailyactor.com/wp-content/uploads/2014/07/behind-the-scenes-of-dawn-of-the.jpg
Behind the Scenes of 'Dawn of the Planet of the Apes' with Performance Capture Actor Terry Notary
Actor Terry Notary is 1 of 5 actors playing the apes in the new Dawn of the Planet of the Apes. "When you see armies of apes," he says, that's "five of us." Check out the video where you can watch his performance capture work.
http://www.dailyactor.com/2014/07/dawn-planet-apes-performance-capture-actor-terry-notary/
http://www.dailyactor.com/wp-content/uploads/2014/07/melissa-mccarthy-daily-show.jpg
Melissa McCarthy and John Stewart Talk About Terrible Commercial Auditions on 'The Daily Show'
Melissa McCarthy stopped by The Daily Show last week to plug about her new movie, Tammy. She talked about how she loved working with her husband, Ben Falcone (director of Tammy) and then segued into talking about some horrible working situations. The always hilarious McCarthy then started to tell host John Stewart about a particular [...]
http://www.dailyactor.com/2014/07/melissa-mccarthy-john-stewart-commercial-auditions-the-daily-show/