Bank of America Sued by Child Actors for Depleting Trust Funds with Bank Fees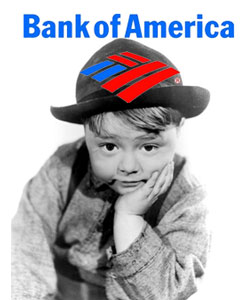 In the last several years Bank of America, one of the largest banks in the United States, has come under fire for a number of its business practices.  The latest complaint aimed at Bank of America involves child actors, with the banking giant facing a class action lawsuit for charging child actors' trust accounts with monthly service fees.
According to the lawsuit filed by the law firm Markun Zusman & Compton, Bank of America is illegally withdrawing money from child actors' so-called "Coogan Accounts," a special type of trust fund created by the California legislature with the Coogan Act.   The Coogan Act was named after Jackie Coogan (a child actor who starred alongside Charlie Chaplin as the titular scamp in The Kid), who sued his mother in 1938 after discovering that the millions of dollars he had earned as a child actor had been spent by his mother and stepfather on luxuries (even after the lawsuit, Coogan only ended up with a fraction of earnings).  The California Child Actor's Bill, known as "The Coogan Act", was passed the following year and ensures that 15% of a child actor's earnings are placed in a trust fund that can only be accessed when the child actor turns 18 or is legally emancipated from his or her parents. 
But Bank of America is accused of taking monthly service charges out of the accounts for perhaps as many as 15,000 child actors.  In fact, the bank is even accused of depleting many of the accounts with fees, leading to some child actors actually owing the bank money once they can legally access the accounts.
Bank of America has yet to respond to the lawsuit.
via ABC News
http://www.dailyactor.com/wp-content/uploads/2016/08/imperium_daniele_radcliffe.jpg
Daniel Radcliffe on Playing a Neo-Nazi in 'Imperium': "It's still just horrible to say some of this stuff"
Radcliffe reveals how he played such a layered character and what it felt like to say his character's hate-filled dialogue.
http://www.dailyactor.com/actors-on-acting/daniel-radcliffe-playing-a-neo-nazi-imperium/
http://www.dailyactor.com/wp-content/uploads/2016/08/John-Cho-Star-Trek-Beyond.jpg
How John Cho Took A Stand for Diversity Early in His Career
"When one does speak one's mind, one might be surprised at how receptive people are." - Actor John Cho
http://www.dailyactor.com/actors-on-acting/john-cho-took-a-stand-for-diversity/
http://www.dailyactor.com/wp-content/uploads/2016/08/simon-helberg-florence-foster-jenkins.jpg
Simon Helberg on His 'Florence Foster Jenkins' Role: "I'm an actor and I want to stretch different muscles"
Helberg spoke about portraying his character in the film and whether or not he feels typecast by his Big Bang Theory role.
http://www.dailyactor.com/actors-on-acting/simon-helberg-florence-foster-jenkins-role/
http://www.dailyactor.com/wp-content/uploads/2016/08/Will-Chase-Something-Rotten.jpg
The Role That Got Away: Will Chase on Returning to 'Something Rotten!'
"I know that I am a poor man's fill-in-the-blank. And I know that there are poor man's Will Chases out there. That's just the nature of the business" - Will Chase
http://www.dailyactor.com/actors-on-acting/will-chase-something-rotten-role-that-got-away/
http://www.dailyactor.com/wp-content/uploads/2016/08/Julia-Stiles-Jason-Bourne.jpg
Julia Stiles on the Jason Bourne Series and Growing as an Actress: "There's always room for improvement"
"I like a director that encourages me to be playful. I don't really like being restricted or controlled by a director." - Julia Stiles
http://www.dailyactor.com/actors-on-acting/julia-stiles-growing-as-an-actress/