Chris Rock on '2 Days in New York' and Going Back to Broadway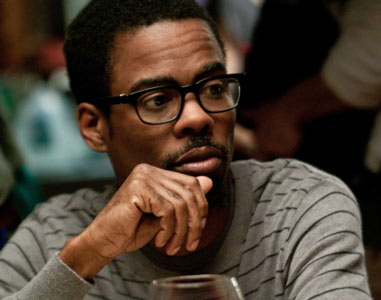 Chris Rock might have seemed like an odd choice to star in Julie Delpy's indie romantic comedy 2 Days in New York, but that's only if you haven't been paying attention to Rock's recent career.  Sure, he might have starred in Pootie Tang years ago, but in the last several years Rock has manged to branch out not only as a writer, director, and producer, but also as an actor. 
In a conversation with the New York Times, Rock talks about his role in 2 Days in New York and the reason why he starred in a Broadway show last year.
On what interested him to take the part in 2 Days in New York, Rock takes a shot at modern movies.  He says, "It was good to get a part where someone didn't want me to just do what I do as a stand-up. To just be a man, essentially. Most parts in comedy, they're not really written for men. They're written for, like, these boy-men. So it's cool to play a man-man. They don't make adult movies anymore. Go to a multiplex. If Sydney Pollack was around today, he'd be directing episodes of True Blood."
As for one of his other recent out-of-the-box career moves, Rock appeared in the Broadway play The Motherfucker in the Hat last year.  Rock says part of the reason he decide to star in the show was to prove something.  He explains, "I wanted to be in a play. I didn't want to be a play. When I do stand-up, I'm basically doing a one-man show. I wanted to show people I can act. I realize you've got to remind people you do this stuff. Sometimes a girl has to let people know she's available. Go to a party with someone you didn't want to go with, just to let people know you're dating. 'What's Halle Berry doing with that loser?'" 
With that in mind, he doesn't rule out a return to Broadway, saying, "Oh, I would love to. I realized with Broadway everything written for black people is usually written in the past, and I'm kind of a contemporary guy. I don't think you want to see me in Raisin in the Sun. The other thing — everything on Broadway with black people, at some point, becomes [stereotype voice] 'Is it ever gonna get any better?' I don't feel like saying that. What's the play they wanted me to do? A Behanding in Spokane. I almost did that one. But I didn't feel like leaving my nice house, my palatial estate to drive into Manhattan and get called nigger every night. [He laughs.] It's like, really?"
Before that though Rock will be returning to familiar territory with Grown-Ups 2, which is currently filming, after which he'll probably have to do another project to remind people he can act (kidding, kidding!)
Latest Videos
http://www.dailyactor.com/wp-content/uploads/2014/08/bryan-cranston-emmy-award-speech.jpg
Watch: Bryan Cranston's Emmy Award Speech: "I love to act. It is a passion of mine and I will do it until my last breath."
The Emmy Awards weren't the most exciting awards show this year but with Bryan Cranston winning for Outstanding Actor in a Drama for Breaking Bad, we at least got to hear one heck of a fantastic acceptance speech. "I was a kid who always looked for the shortcut," he said. "I did happen to stumble […]
http://www.dailyactor.com/2014/08/watch-bryan-cranston-and-aaron-pauls-emmy-award-speeches/
http://www.dailyactor.com/wp-content/uploads/2014/08/audition-tapes-gerard-butler-aud.jpg
Audition Tapes: Gerard Butler Auditions for 'Dracula 2000′
Check out Gerard Butler auditioning for the role of Dracula in the movie, Dracula 2000. The film, about a group of thieves who break into a chamber expecting to find paintings, but instead find Dracula himself, also starred Christopher Plummer, Jonny Lee Miller and Nathan Fillion. Bulter has some sweet rock star hair, huh?
http://www.dailyactor.com/2014/08/audition-tapes-gerard-butler-dracula-2000/
http://www.dailyactor.com/wp-content/uploads/2014/08/interview-matt-dillon-and-carla.jpg
Interview: Matt Dillon and Carla Gugino Talk 'Wayward Pines'
FOX has a new limited-series that's got a terrific cast and interesting premise. It's called Wayward Pines and stars Matt Dillon, Carla Gugino, Melissa Leo, Toby Jones, Terrance Howard, Juliette Lewis, Tim Griffin and Shannyn Sossamon. The show, whose pilot was directed by M. Night Shyamalan, is about a Secret Service agent (Dillon) goes to […]
http://www.dailyactor.com/2014/08/interview-matt-dillon-carla-gugino-wayward-pines-comic-con/
http://www.dailyactor.com/wp-content/uploads/2014/08/interview-wayward-pines-stars-ti.jpg
Interview: 'Wayward Pines' Stars Tim Griffin and Shannyn Sossamon on the Show, Their Characters and More!
Griffin and Sossamonwere at Comic-Con where they sat in on some roundtable interviews to talk about the show.
http://www.dailyactor.com/2014/08/interview-wayward-pines-stars-tim-griffin-shannyn-sossamon-comic-con/
http://www.dailyactor.com/wp-content/uploads/2014/08/interview-m-night-shyamalan-talk.jpg
Interview: M. Night Shyamalan Talks 'Wayward Pines' and Why He Expanded a Young Actors Role on the Show
I talked to Shyamalan at Comic-Con in a roundtable interview where he talked about the cast, what he learned from working in TV and how young actor Charlie Tahan started out with a small part but as the story grew, so did his role.
http://www.dailyactor.com/2014/08/interview-m-night-shyamalan-wayward-pines-comic-con/