Christopher Nolan talks 'The Dark Knight' and Working with Bale, Hardy and Hathaway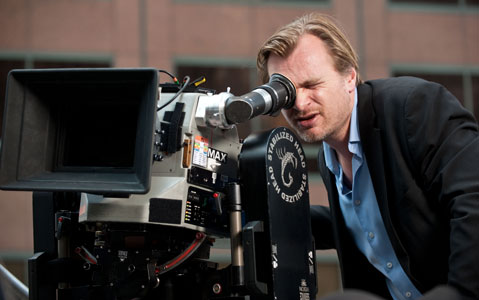 At last, it's here: the long-awaited follow-up to 2008′s The Dark Knight, generally considered the best comic book superhero movie ever made (and until this year's The Avengers, the highest-grossing).  The Dark Knight Rises is also director Christopher Nolan's farewell to the Batman franchise, and the nearly three-hour film was perhaps the most challenging of his career.  He discusses some of those challenges, including working with stars Christian Bale, Anne Hathaway, and Tom Hardy, and figuring out how those characters fit into his interpretation of Batman's world.
Nolan points to observing Bale's approach to the Batman character as one of the highlights of making the three films.  He explains, "It's been very rewarding to watch Christian chart the progression of his role through the three films.  He always had a strong commitment to finding the truth of the character, and I think you especially see that in this film, where he really embraced  that  Bruce  is  older,  but  not  necessarily  wiser.  It's  a  very  thoughtful performance, and that's what you consistently get from a talent like Christian."
One of the many iconic elements of the Batman comics that Nolan fit into his third film is Selina Kyle/Catwoman, the thief who is Batman's primary love interest.  Nolan put a lot of thought into who he should cast as Batman's iconic femme fatale, and points to Anne Hathaway as an ideal choice.  He says, "We needed to find the balance between the classic image of the character and a believable person you care about.  Casting Anne Hathaway in the role was the key to that.  She was able to combine those facets seamlessly so they aren't in conflict, but one is amplifying the other."  One challenge with finding that more realistic portrayal of Catwoman was figuring out how to make her costume practical.  He says, "It was crucial that there be a reason for the appearance of the character, not just as Selina but as Catwoman.  For me, the jumping off point was figuring out how to derive a cat ear shape for her without it literally being a pair of ears.  I eventually fixed on an idea of a pair of night vision goggles that would flip up onto her head and almost accidentally form that silhouette.  Once I had that concept, Lindy [Hemming, costume designer] and her team were able to realize it beautifully.  The idea was that everything that contributes to the iconography of the character has a sense of logic."
As for the film's primary villain, the physically imposing yet brilliant tactician Bane, Nolan turned to Tom Hardy, who also appeared in the director's previous film, Inception.  Nolan reveals, "When you're creating a monstrous presence like Bane in a movie, you could concentrate just on the physical or you could focus on the more psychological aspects.  With Tom, I knew I would get the whole package.  He is such an incredible actor; he was able to depict this beast of a man who has exceptional fighting skills, but also able to convey the soul of someone who is damaged inside as well as out.  Tom is the kind of actor who relished the challenge of having to generate an entire performance with most of his face covered up. What he is able to do with just his eyes is truly amazing."
Hardy's physical presence was essential in the film's climatic battle between Batman and Bane.  On that scene, Nolan says, "This was very much a toe-to-toe, blow-to-blow physical clash, and Christian and Tom put an incredible amount of work into it.  Just the demands of the costumes—one character has the lower half of his face obscured, the other the upper half—posed problems.  They had trouble hearing each other because they were wearing those masks and working in very noisy environments while performing these feats.  It required very intense preparation, and when it came time to shoot, Christian and Tom worked extremely well together.  It was frighteningly real, and quite intimidating to see these larger-than-life characters really go at it.  There are  plenty  of  other  large-scale  action  scenes  in  the  film,  but  that  face-to-face confrontation between these two adversaries was something I really felt was the centerpiece of the film."
With the trilogy finished, Nolan takes a moment to reflect on the experience bringing the iconic superhero's story to the screen.  "Bruce Wayne's story has fascinated people for more  than 70  years  because  it's  a  great  story.   We  were  thrilled  to  bring  our interpretation of this legend to the screen with these three films.  It has been an extremely gratifying experience.  We are very proud of this ending, and we hope the audience shares our excitement."
Latest Videos
http://www.dailyactor.com/wp-content/uploads/2014/08/bryan-cranston-emmy-award-speech.jpg
Watch: Bryan Cranston's Emmy Award Speech: "I love to act. It is a passion of mine and I will do it until my last breath."
The Emmy Awards weren't the most exciting awards show this year but with Bryan Cranston winning for Outstanding Actor in a Drama for Breaking Bad, we at least got to hear one heck of a fantastic acceptance speech. "I was a kid who always looked for the shortcut," he said. "I did happen to stumble […]
http://www.dailyactor.com/2014/08/watch-bryan-cranston-and-aaron-pauls-emmy-award-speeches/
http://www.dailyactor.com/wp-content/uploads/2014/08/audition-tapes-gerard-butler-aud.jpg
Audition Tapes: Gerard Butler Auditions for 'Dracula 2000′
Check out Gerard Butler auditioning for the role of Dracula in the movie, Dracula 2000. The film, about a group of thieves who break into a chamber expecting to find paintings, but instead find Dracula himself, also starred Christopher Plummer, Jonny Lee Miller and Nathan Fillion. Bulter has some sweet rock star hair, huh?
http://www.dailyactor.com/2014/08/audition-tapes-gerard-butler-dracula-2000/
http://www.dailyactor.com/wp-content/uploads/2014/08/interview-matt-dillon-and-carla.jpg
Interview: Matt Dillon and Carla Gugino Talk 'Wayward Pines'
FOX has a new limited-series that's got a terrific cast and interesting premise. It's called Wayward Pines and stars Matt Dillon, Carla Gugino, Melissa Leo, Toby Jones, Terrance Howard, Juliette Lewis, Tim Griffin and Shannyn Sossamon. The show, whose pilot was directed by M. Night Shyamalan, is about a Secret Service agent (Dillon) goes to […]
http://www.dailyactor.com/2014/08/interview-matt-dillon-carla-gugino-wayward-pines-comic-con/
http://www.dailyactor.com/wp-content/uploads/2014/08/interview-wayward-pines-stars-ti.jpg
Interview: 'Wayward Pines' Stars Tim Griffin and Shannyn Sossamon on the Show, Their Characters and More!
Griffin and Sossamonwere at Comic-Con where they sat in on some roundtable interviews to talk about the show.
http://www.dailyactor.com/2014/08/interview-wayward-pines-stars-tim-griffin-shannyn-sossamon-comic-con/
http://www.dailyactor.com/wp-content/uploads/2014/08/interview-m-night-shyamalan-talk.jpg
Interview: M. Night Shyamalan Talks 'Wayward Pines' and Why He Expanded a Young Actors Role on the Show
I talked to Shyamalan at Comic-Con in a roundtable interview where he talked about the cast, what he learned from working in TV and how young actor Charlie Tahan started out with a small part but as the story grew, so did his role.
http://www.dailyactor.com/2014/08/interview-m-night-shyamalan-wayward-pines-comic-con/