Christopher Nolan: Anne Hathaway 'Deserves' a Catwoman Spinoff Movie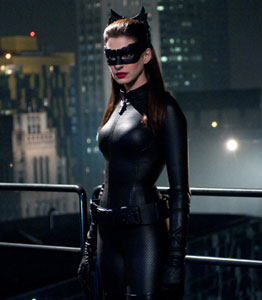 At first I wasn't completely sold on Anne Hathaway being cast as Catwoman in The Dark Knight Rises, but she certainly looks great in the catsuit and I'm looking forward to seeing what she brings to Christopher Nolan's vision of Gotham City.  In fact, Nolan admits that he was so impressed by Hathaway's performance that he feels she ought to have her own Catwoman spinoff.
During The Dark Knight Rises press junket, Nolan said, "Anne is incredibly precise and articulate about the psychology of the character. She's really built it from the ground up, it's just a delight to watch her perform.  The things she does in those heels is not to be taken lightly.  She's an incredible character and we're very excited to see her and hopefully we'll leave people wanting more."
Wanting more?  Though Nolan has sworn off directing another Batman movie — something he reiterated several times during the press junket — he does think that Hathaway deserves another go in the catsuit.  He explained, "I certainly think she deserves it, she's incredible."
Well, at the very least an Anne Hathaway Catwoman film would certainly go a long way to erasing the memories of the putrid Halle Berry 2004 version, and audiences are obviously clamoring for more Nolan-style Batman films.  It also doesn't rule out Hathaway appearing as Catwoman in a future Batman film directed by someone other than Nolan.
via Yahoo!
http://www.dailyactor.com/wp-content/uploads/2015/05/Caitriona-Balfe-Outlander.jpg
Outlander's Caitriona Balfe On The Emotional Toll of Filming Violent Scenes
"Having to put yourself in that place is tough. To sit in that emotional space, especially when you're doing it day after day." - Caitriona Balfe
http://www.dailyactor.com/2015/05/outlander-catriona-balfe-emotional-toll-of-filming-violent-scenes/
http://www.dailyactor.com/wp-content/uploads/2015/05/Chrissie-Fit.jpg
Chrissie Fit on How She Landed Her Role in 'Pitch Perfect 2′
"I remember getting the audition and being like, "This might not happen," just because it is such a massive movie." - Chrissie Fit
http://www.dailyactor.com/2015/05/chrissie-fit-on-how-she-landed-her-role-in-pitch-perfect-2/
http://www.dailyactor.com/wp-content/uploads/2015/05/Sam-Elliott.jpg
Sam Elliot on How he "F–ked" Himself Out of a Career as a Lead Actor
The rugged Sam Elliot has most often cast in character actor roles throughout his long career in film, though the 70 year-old Elliot thinks it wasn't always meant to be that way.
http://www.dailyactor.com/2015/05/sam-elliot-on-how-he-f-ked-himself-out-of-a-career-as-a-lead-actor/
http://www.dailyactor.com/wp-content/uploads/2015/05/Anna-Kendrick-Pitch-Perfect-2.jpg
Anna Kendrick Talks Hollywood and its Gender Bias
"As an actress you're perpetually about to be unemployed." - Anna Kendrick
http://www.dailyactor.com/2015/05/anna-kendrick-talks-hollywood-and-its-gender-bias/
http://www.dailyactor.com/wp-content/uploads/2015/05/tom-hardy-mad-max-fury-road.jpg
Tom Hardy on Fame, Acting School, and His 'Mad Respect' for Michael Fassbender
"Do what you love doing, do it well—everything should fit into place." - Tom Hardy
http://www.dailyactor.com/2015/05/tom-hardy-fame-acting-school-michael-fassbender/