Christopher Nolan: Anne Hathaway 'Deserves' a Catwoman Spinoff Movie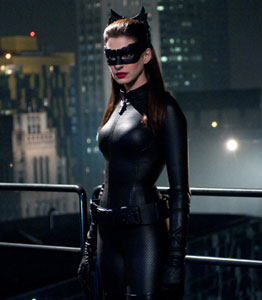 At first I wasn't completely sold on Anne Hathaway being cast as Catwoman in The Dark Knight Rises, but she certainly looks great in the catsuit and I'm looking forward to seeing what she brings to Christopher Nolan's vision of Gotham City.  In fact, Nolan admits that he was so impressed by Hathaway's performance that he feels she ought to have her own Catwoman spinoff.
During The Dark Knight Rises press junket, Nolan said, "Anne is incredibly precise and articulate about the psychology of the character. She's really built it from the ground up, it's just a delight to watch her perform.  The things she does in those heels is not to be taken lightly.  She's an incredible character and we're very excited to see her and hopefully we'll leave people wanting more."
Wanting more?  Though Nolan has sworn off directing another Batman movie — something he reiterated several times during the press junket — he does think that Hathaway deserves another go in the catsuit.  He explained, "I certainly think she deserves it, she's incredible."
Well, at the very least an Anne Hathaway Catwoman film would certainly go a long way to erasing the memories of the putrid Halle Berry 2004 version, and audiences are obviously clamoring for more Nolan-style Batman films.  It also doesn't rule out Hathaway appearing as Catwoman in a future Batman film directed by someone other than Nolan.
via Yahoo!
Latest Videos
http://www.dailyactor.com/wp-content/uploads/2014/08/seth-rudetsky-reveals-the-5-wors.jpg
Seth Rudetsky Reveals the 5 Worst Musical Theater Audition Mistakes (video)
Seth Rudetsky, actor, musician and a host on SiriusXM's Broadway channel, has been teaching auditioning master classes this summer and he's seen his share of bad auditions lately. In this video, he reveals the 5 worst audition mistakes you can make in a musical theater audition and how to choose the perfect 16-bar audition song. [...]
http://www.dailyactor.com/2014/08/seth-rudetsky-5-worst-audition-mistakes/
http://www.dailyactor.com/wp-content/uploads/2014/07/sir-ben-kingsley-talks-about-the.jpg
Sir Ben Kingsley Talks about the Unique Way He Voiced His Character in the Animated Film, 'The Boxtrolls' (video)
I could listen to Sir Ben Kingsley talk about acting and.. well, I could listen to him talk about anything. He's starring in the new Laika stop-motion animated film, The Boxtrolls, and he and some of the cast (along with the director) joined in on a Comic-Con panel about the film. The Boxtrolls is about [...]
http://www.dailyactor.com/2014/07/sir-ben-kingsley-the-boxtrolls-comic-con/
http://www.dailyactor.com/wp-content/uploads/2014/07/bill-hader.jpg
Bill Hader: "I kind of fell into acting" (video)
Bill Hader, starring in the soon to be released The Skeleton Twins, talks about the film and how he fell into acting and then got "crazy lucky" in this quick video from USA Today.
http://www.dailyactor.com/2014/07/bill-hader-fell-into-acting-video/
http://www.dailyactor.com/wp-content/uploads/2014/07/director-john-carney-narrates-a.jpg
Director John Carney Narrates a Scene from 'Begin Again' Starring Kiera Knightley and Mark Ruffalo
Director John Carney (Once) narrates a scene from his new film, Begin Again. Starring Keira Knightley and Mark Ruffalo, the scene shows the first time the two characters meet. I haven't seen it yet but I've heard it's great.
http://www.dailyactor.com/2014/07/begin-again-scene-director-john-carney-keira-knightley-mark-ruffalo/
http://www.dailyactor.com/wp-content/uploads/2014/07/holler-if-you-hear-me-gma.jpg
Watch the Cast of Broadway's 'Holler If You Hear Me' Perform 'California Love' on GMA
The cast of Broadway's newest musical, Holler If You Hear Me with music from Tupac Shakur, performed on Good Morning America this morning. Singing 'California Love', the cast (including the teriffic Christopher Jackson – read our interview here), show why they're the most energetic and inspiring group of actors on Broadway. Holler If Ya Hear [...]
http://www.dailyactor.com/2014/07/watch-cast-broadways-holler-hear-perform-california-love-gma/