Biography: Luke Kirby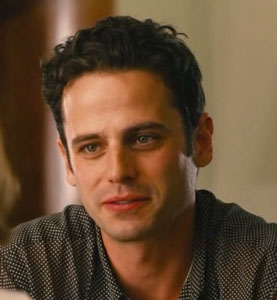 Luke Kirby has been performing since his teen years after he was accepted at this country's most respected conservatory, the National Theatre School of Canada. He graduated in May 2000 and after two auditions found himself working on two separate projects in major roles; the CBS/Alliance miniseries Haven and Director Lea Pool's feature, Lost and Delirious.
Soon after, Luke performed the role of "Morgan" in the Factory Theatre's production of Geometry in Venice in Toronto, a performance that garnered him a Best Actor nomination at the Dora Mavor Moore Awards. This was quickly followed by the role of "Patroclus" in Theatre for a New Audience's production of Triolus and Cressida directed by Sir Peter Hall in New York City. In 2006, he gave a critically acclaimed performance in The Women's Project's production of Jump/Cut. Other theatre credits include Judith Thompson's premiere of Habitat at Canadian Stage followed by Daniel Brook's premiere of The Good Life at the Tarragon Theatre (both in Toronto). His latest theatre venture was in NYC where he performed the lead role in Defender of the Faith (Irish Repertory Company).
Luke's first feature film lead was the role of Jim in Halloween 8: Resurrection. Other film credits include lead roles in Peter Wellington's feature, Luck and Mambo Italiano directed by Emile Gaudreault. Mambo Italiano received a gala presentation at the 2003 Toronto International Film Festival to a standing ovation and earned Luke a Canadian Comedy Award Nomination.
Following on the success of Luck and Mambo Italiano, Luke ended up with a part that was written for him in the feature film Shattered Glass produced by Cruise/Wagner. In 2007, Luke played the lead role of Ray Dokes opposite Rachel Leigh Cooke and Keith Carradine in the Canadian feature All Hat and followed with a lead role opposite Lindsay Lohan in a feature titled Labor Pains. Luke was cast as the lead opposite Samuel Jackson in The Samaritan, David Weaver's latest feature also set to premiere in 2011.
In television, one of Luke's favourite roles was in the critically acclaimed TMN/Showcase mini‐ series, Slings & Arrows, featuring some of Canada's top actors and directed by his friend Peter Wellington. Sex Traffic, a miniseries for Channel 4 and CBC that aired in the fall of 2004, had him working with one of Britain's top directors, David Yates and earned him a Gemini nomination. That same year he received a second Gemini nomination for his guest‐starring role in the dramatic series The Eleventh Hour. In the fall of 2005, Luke landed a role as a series regular for HBO's Tell Me That You Love Me, directed by Patricia Rozema. The first season aired on HBO in September of 2007. Luke also had the lead as Jimmy Burns in the critically acclaimed Canwest Global television series Cra$h & Burn.
Latest Videos
http://www.dailyactor.com/wp-content/uploads/2014/04/director-david-gordon-greene-nar.jpg
Director David Gordon Green Narrates a Scene From 'Joe'
Director David Gordon Green narrates a sequence from his new film, Joe, featuring Nicolas Cage and Tye Sheridan. In the video, he mentions his reasons why he likes to hire non-traditional actors. He likes people who have real skill-sets and not actors who have the skills on their resume. He also talked about this in […]
http://www.dailyactor.com/2014/04/director-david-gordon-green-narrates-a-scene-from-joe/
http://www.dailyactor.com/wp-content/uploads/2014/04/david-gordon-green-joe.jpg
Director David Gordon Green: "I find actors in unusual places"
I keep missing screenings of director David Gordon Greene's new film, Joe. I hear it's really good so I'm looking forward to catching it at some point. Joe stars Nicholas Cage as ex-con Joe Ransom, who isn't the greatest of role models until he meets a 15-year-old boy (Mud's Tye Sheridan). In this featurette, Green […]
http://www.dailyactor.com/2014/04/director-david-gordon-green-i-find-actors-in-unusual-places/
http://www.dailyactor.com/wp-content/uploads/2014/04/judy-greer-i-dont-know-why-you-know-me-from.jpg
Please Don't Say These Things To Judy Greer (video)
Judy Greer - who we love here at Daily Actor – has a new book called, I Don't Know What You Know Me From (Confessions of a Co-Star), a series of essays about her life as an actress, friend and someone who everyone thinks they might know. Here's a blurb about the book: "Want to […]
http://www.dailyactor.com/2014/04/please-dont-say-these-things-to-judy-greer-video/
http://www.dailyactor.com/wp-content/uploads/2014/04/Captain-America-SamuelNick-Fury.jpg
How Samuel L. Jackson Learns His Lines for the Marvel Movies (video)
Samuel L. Jackson stopped by Good Morning America earlier this week to talk about Captain America: The Winter Soldier – which is terrific, by the way – and he told Robin Roberts that for the first Cap film, he had trouble learning his lines. "I sat at home and I did all my studying, and […]
http://www.dailyactor.com/2014/04/how-samuel-l-jackson-learns-his-lines-for-the-marvel-movies-video/
http://www.dailyactor.com/wp-content/uploads/2014/04/andy-karl-margot-seibert-rocky.jpg
Andy Karl and Margo Seibert Talk 'Rocky: The Musical' on 'Today'
Andy Karl and Margo Seibert, the stars of Rocky: The Musical, talked to Today's Matt Lauer about the new Broadway musical. Karl talks about the final fight and taking on the iconic role. This is Seibert's Broadway debut and she's asked about her callbacks (9 in all!) and more. Check it out!
http://www.dailyactor.com/2014/04/andy-karl-and-margo-seibert-talk-rocky-the-musical-on-today/