Biography: Luke Kirby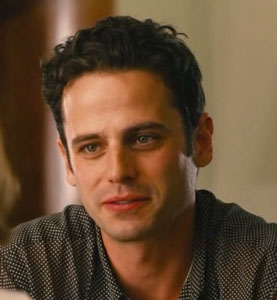 Luke Kirby has been performing since his teen years after he was accepted at this country's most respected conservatory, the National Theatre School of Canada. He graduated in May 2000 and after two auditions found himself working on two separate projects in major roles; the CBS/Alliance miniseries Haven and Director Lea Pool's feature, Lost and Delirious.
Soon after, Luke performed the role of "Morgan" in the Factory Theatre's production of Geometry in Venice in Toronto, a performance that garnered him a Best Actor nomination at the Dora Mavor Moore Awards. This was quickly followed by the role of "Patroclus" in Theatre for a New Audience's production of Triolus and Cressida directed by Sir Peter Hall in New York City. In 2006, he gave a critically acclaimed performance in The Women's Project's production of Jump/Cut. Other theatre credits include Judith Thompson's premiere of Habitat at Canadian Stage followed by Daniel Brook's premiere of The Good Life at the Tarragon Theatre (both in Toronto). His latest theatre venture was in NYC where he performed the lead role in Defender of the Faith (Irish Repertory Company).
Luke's first feature film lead was the role of Jim in Halloween 8: Resurrection. Other film credits include lead roles in Peter Wellington's feature, Luck and Mambo Italiano directed by Emile Gaudreault. Mambo Italiano received a gala presentation at the 2003 Toronto International Film Festival to a standing ovation and earned Luke a Canadian Comedy Award Nomination.
Following on the success of Luck and Mambo Italiano, Luke ended up with a part that was written for him in the feature film Shattered Glass produced by Cruise/Wagner. In 2007, Luke played the lead role of Ray Dokes opposite Rachel Leigh Cooke and Keith Carradine in the Canadian feature All Hat and followed with a lead role opposite Lindsay Lohan in a feature titled Labor Pains. Luke was cast as the lead opposite Samuel Jackson in The Samaritan, David Weaver's latest feature also set to premiere in 2011.
In television, one of Luke's favourite roles was in the critically acclaimed TMN/Showcase mini‐ series, Slings & Arrows, featuring some of Canada's top actors and directed by his friend Peter Wellington. Sex Traffic, a miniseries for Channel 4 and CBC that aired in the fall of 2004, had him working with one of Britain's top directors, David Yates and earned him a Gemini nomination. That same year he received a second Gemini nomination for his guest‐starring role in the dramatic series The Eleventh Hour. In the fall of 2005, Luke landed a role as a series regular for HBO's Tell Me That You Love Me, directed by Patricia Rozema. The first season aired on HBO in September of 2007. Luke also had the lead as Jimmy Burns in the critically acclaimed Canwest Global television series Cra$h & Burn.
Latest Videos
http://www.dailyactor.com/wp-content/uploads/2014/07/sir-ben-kingsley-talks-about-the.jpg
Sir Ben Kingsley Talks about the Unique Way He Voiced His Character in the Animated Film, 'The Boxtrolls' (video)
I could listen to Sir Ben Kingsley talk about acting and.. well, I could listen to him talk about anything. He's starring in the new Laika stop-motion animated film, The Boxtrolls, and he and some of the cast (along with the director) joined in on a Comic-Con panel about the film. The Boxtrolls is about [...]
http://www.dailyactor.com/2014/07/sir-ben-kingsley-the-boxtrolls-comic-con/
http://www.dailyactor.com/wp-content/uploads/2014/07/bill-hader.jpg
Bill Hader: "I kind of fell into acting" (video)
Bill Hader, starring in the soon to be released The Skeleton Twins, talks about the film and how he fell into acting and then got "crazy lucky" in this quick video from USA Today.
http://www.dailyactor.com/2014/07/bill-hader-fell-into-acting-video/
http://www.dailyactor.com/wp-content/uploads/2014/07/director-john-carney-narrates-a.jpg
Director John Carney Narrates a Scene from 'Begin Again' Starring Kiera Knightley and Mark Ruffalo
Director John Carney (Once) narrates a scene from his new film, Begin Again. Starring Keira Knightley and Mark Ruffalo, the scene shows the first time the two characters meet. I haven't seen it yet but I've heard it's great.
http://www.dailyactor.com/2014/07/begin-again-scene-director-john-carney-keira-knightley-mark-ruffalo/
http://www.dailyactor.com/wp-content/uploads/2014/07/holler-if-you-hear-me-gma.jpg
Watch the Cast of Broadway's 'Holler If You Hear Me' Perform 'California Love' on GMA
The cast of Broadway's newest musical, Holler If You Hear Me with music from Tupac Shakur, performed on Good Morning America this morning. Singing 'California Love', the cast (including the teriffic Christopher Jackson – read our interview here), show why they're the most energetic and inspiring group of actors on Broadway. Holler If Ya Hear [...]
http://www.dailyactor.com/2014/07/watch-cast-broadways-holler-hear-perform-california-love-gma/
http://www.dailyactor.com/wp-content/uploads/2014/07/behind-the-scenes-of-dawn-of-the.jpg
Behind the Scenes of 'Dawn of the Planet of the Apes' with Performance Capture Actor Terry Notary
Actor Terry Notary is 1 of 5 actors playing the apes in the new Dawn of the Planet of the Apes. "When you see armies of apes," he says, that's "five of us." Check out the video where you can watch his performance capture work.
http://www.dailyactor.com/2014/07/dawn-planet-apes-performance-capture-actor-terry-notary/