Biography: Keira Knightley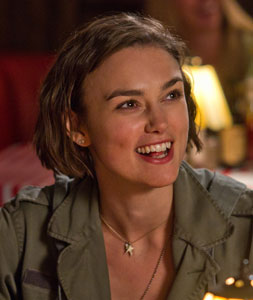 Keira Knightley earned Academy Award and Golden Globe Award nominations for her portrayal of Elizabeth Bennet in Joe Wright's version of Pride & Prejudice, based on Jane Austen's novel, also for Focus Features. Two years later, she was a Golden Globe and BAFTA Award nominee for her performance as Cecilia Tallis in Atonement, again directed by Joe Wright and for Focus Features, based on the novel by Ian McEwan. In the fall of 2012, she stars in the title role of Anna Karenina, reuniting with Mr. Wright and Focus, based on the novel by Leo Tolstoy and adapted by Academy Award winner Tom Stoppard.
The U.K. native made her television debut at the age of 6 in the telefilm Royal Celebration, directed by Ferdinand Fairfax. Her subsequent television credits included such telefilms and miniseries as The Treasure Seekers, directed by Juliet May; Coming Home, directed by Giles Foster; Oliver Twist; Doctor Zhivago, directed by Giacomo Campiotti; and Princess of Thieves, directed by Peter Hewitt, starring as Robin Hood's daughter. Ms. Knightley landed her first feature film role at the age of 10, in Patrick Dewolf's Innocent Lies. She then starred in Nick Hamm's The Hole, with Thora Birch, and Gillies MacKinnon's Pure; and appeared alongside Natalie Portman in George Lucas' Star Wars: Episode I – The Phantom Menace.
Her breakout movie role was in Gurinder Chadha's Bend It Like Beckham, for which she won the London Critics Circle Film Awards' British Newcomer of the Year prize. Audiences worldwide then took notice of her as the heroine Elizabeth Swann in Pirates of the Caribbean: The Curse of the Black Pearl, directed by Gore Verbinski, in which she starred with Johnny Depp, Orlando Bloom, and Geoffrey Rush. She then reteamed with the film's producer Jerry Bruckheimer on Antoine Fuqua's King Arthur; and was part of the ensemble cast of Richard Curtis' Love Actually.
Ms. Knightley next starred opposite Adrien Brody in The Jacket, directed by John Maybury, and as real-life bounty hunter Domino Harvey in Tony Scott's Domino, before reuniting with the Pirates of the Caribbean team on two sequels; the respective movies, Dead Man's Chest and At World's End, were again directed by Gore Verbinski. Her subsequent movies have included The Edge of Love, which reteamed her with director John Maybury and which was scripted by Ms. Knightley's mother Sharman Macdonald; François Girard's Silk; Saul Dibb's The Duchess, for which she earned a British Independent Film Award (BIFA) nomination for Best Actress; Mark Romanek's Never Let Me Go, for which she was again a BIFA Award nominee; Massy Tadjedin's Last Night; William Monahan's London Boulevard; and David Cronenberg's A Dangerous Method, in which she starred as real-life psychoanalyst Sabina Spielrein.
She made her West End theatrical debut in Martin Crimp's translation of Molière's comedy The Misanthrope, staged by Thea Sharrock at the Comedy Theatre in London, in December 2009. She received an Olivier Award nomination as well as an Evening Standard Award nomination for the Natasha Richardson Award. In January 2011, Ms. Knightley returned to the Comedy Theatre and starred in Lillian Hellman's The Children's Hour, staged by Ian Rickson.
She supports – among other charitable and humanitarian causes – Amnesty International, Comic Relief, and Women's Aid; and is a patron of the SMA Trust, which funds medical research into the children's disease Spinal Muscular Atrophy.
Latest Videos
http://www.dailyactor.com/wp-content/uploads/2014/04/director-david-gordon-greene-nar.jpg
Director David Gordon Green Narrates a Scene From 'Joe'
Director David Gordon Green narrates a sequence from his new film, Joe, featuring Nicolas Cage and Tye Sheridan. In the video, he mentions his reasons why he likes to hire non-traditional actors. He likes people who have real skill-sets and not actors who have the skills on their resume. He also talked about this in […]
http://www.dailyactor.com/2014/04/director-david-gordon-green-narrates-a-scene-from-joe/
http://www.dailyactor.com/wp-content/uploads/2014/04/david-gordon-green-joe.jpg
Director David Gordon Green: "I find actors in unusual places"
I keep missing screenings of director David Gordon Greene's new film, Joe. I hear it's really good so I'm looking forward to catching it at some point. Joe stars Nicholas Cage as ex-con Joe Ransom, who isn't the greatest of role models until he meets a 15-year-old boy (Mud's Tye Sheridan). In this featurette, Green […]
http://www.dailyactor.com/2014/04/director-david-gordon-green-i-find-actors-in-unusual-places/
http://www.dailyactor.com/wp-content/uploads/2014/04/judy-greer-i-dont-know-why-you-know-me-from.jpg
Please Don't Say These Things To Judy Greer (video)
Judy Greer - who we love here at Daily Actor – has a new book called, I Don't Know What You Know Me From (Confessions of a Co-Star), a series of essays about her life as an actress, friend and someone who everyone thinks they might know. Here's a blurb about the book: "Want to […]
http://www.dailyactor.com/2014/04/please-dont-say-these-things-to-judy-greer-video/
http://www.dailyactor.com/wp-content/uploads/2014/04/Captain-America-SamuelNick-Fury.jpg
How Samuel L. Jackson Learns His Lines for the Marvel Movies (video)
Samuel L. Jackson stopped by Good Morning America earlier this week to talk about Captain America: The Winter Soldier – which is terrific, by the way – and he told Robin Roberts that for the first Cap film, he had trouble learning his lines. "I sat at home and I did all my studying, and […]
http://www.dailyactor.com/2014/04/how-samuel-l-jackson-learns-his-lines-for-the-marvel-movies-video/
http://www.dailyactor.com/wp-content/uploads/2014/04/andy-karl-margot-seibert-rocky.jpg
Andy Karl and Margo Seibert Talk 'Rocky: The Musical' on 'Today'
Andy Karl and Margo Seibert, the stars of Rocky: The Musical, talked to Today's Matt Lauer about the new Broadway musical. Karl talks about the final fight and taking on the iconic role. This is Seibert's Broadway debut and she's asked about her callbacks (9 in all!) and more. Check it out!
http://www.dailyactor.com/2014/04/andy-karl-and-margo-seibert-talk-rocky-the-musical-on-today/