Biography: Keira Knightley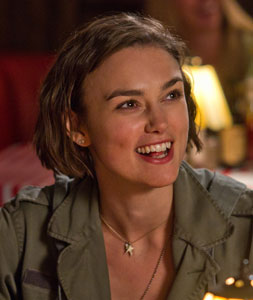 Keira Knightley earned Academy Award and Golden Globe Award nominations for her portrayal of Elizabeth Bennet in Joe Wright's version of Pride & Prejudice, based on Jane Austen's novel, also for Focus Features. Two years later, she was a Golden Globe and BAFTA Award nominee for her performance as Cecilia Tallis in Atonement, again directed by Joe Wright and for Focus Features, based on the novel by Ian McEwan. In the fall of 2012, she stars in the title role of Anna Karenina, reuniting with Mr. Wright and Focus, based on the novel by Leo Tolstoy and adapted by Academy Award winner Tom Stoppard.
The U.K. native made her television debut at the age of 6 in the telefilm Royal Celebration, directed by Ferdinand Fairfax. Her subsequent television credits included such telefilms and miniseries as The Treasure Seekers, directed by Juliet May; Coming Home, directed by Giles Foster; Oliver Twist; Doctor Zhivago, directed by Giacomo Campiotti; and Princess of Thieves, directed by Peter Hewitt, starring as Robin Hood's daughter. Ms. Knightley landed her first feature film role at the age of 10, in Patrick Dewolf's Innocent Lies. She then starred in Nick Hamm's The Hole, with Thora Birch, and Gillies MacKinnon's Pure; and appeared alongside Natalie Portman in George Lucas' Star Wars: Episode I – The Phantom Menace.
Her breakout movie role was in Gurinder Chadha's Bend It Like Beckham, for which she won the London Critics Circle Film Awards' British Newcomer of the Year prize. Audiences worldwide then took notice of her as the heroine Elizabeth Swann in Pirates of the Caribbean: The Curse of the Black Pearl, directed by Gore Verbinski, in which she starred with Johnny Depp, Orlando Bloom, and Geoffrey Rush. She then reteamed with the film's producer Jerry Bruckheimer on Antoine Fuqua's King Arthur; and was part of the ensemble cast of Richard Curtis' Love Actually.
Ms. Knightley next starred opposite Adrien Brody in The Jacket, directed by John Maybury, and as real-life bounty hunter Domino Harvey in Tony Scott's Domino, before reuniting with the Pirates of the Caribbean team on two sequels; the respective movies, Dead Man's Chest and At World's End, were again directed by Gore Verbinski. Her subsequent movies have included The Edge of Love, which reteamed her with director John Maybury and which was scripted by Ms. Knightley's mother Sharman Macdonald; François Girard's Silk; Saul Dibb's The Duchess, for which she earned a British Independent Film Award (BIFA) nomination for Best Actress; Mark Romanek's Never Let Me Go, for which she was again a BIFA Award nominee; Massy Tadjedin's Last Night; William Monahan's London Boulevard; and David Cronenberg's A Dangerous Method, in which she starred as real-life psychoanalyst Sabina Spielrein.
She made her West End theatrical debut in Martin Crimp's translation of Molière's comedy The Misanthrope, staged by Thea Sharrock at the Comedy Theatre in London, in December 2009. She received an Olivier Award nomination as well as an Evening Standard Award nomination for the Natasha Richardson Award. In January 2011, Ms. Knightley returned to the Comedy Theatre and starred in Lillian Hellman's The Children's Hour, staged by Ian Rickson.
She supports – among other charitable and humanitarian causes – Amnesty International, Comic Relief, and Women's Aid; and is a patron of the SMA Trust, which funds medical research into the children's disease Spinal Muscular Atrophy.
Latest Videos
http://www.dailyactor.com/wp-content/uploads/2014/09/audtion-tapes-robin-wright-and-h.jpg
Audition Tapes: Robin Wright and Haley Joel Osment Audition with Tom Hanks for 'Forrest Gump'
Check out Robin Wright auditioning for the role of Jenny from Forest Gump opposite Tom Hanks. Interestingly enough, Hanks doesn't quite have Gump's southern drawl down just yet while the other actors audition with him. In fact, Hanks would base Gump's voice on the voice of Michael Conner Humphreys, who played the young Forrest and […]
http://www.dailyactor.com/2014/09/audtion-tapes-robin-wright-haley-joel-osment-tom-hanks-forrest-gump/
http://www.dailyactor.com/wp-content/uploads/2014/08/bryan-cranston-emmy-award-speech.jpg
Watch: Bryan Cranston's Emmy Award Speech: "I love to act. It is a passion of mine and I will do it until my last breath."
The Emmy Awards weren't the most exciting awards show this year but with Bryan Cranston winning for Outstanding Actor in a Drama for Breaking Bad, we at least got to hear one heck of a fantastic acceptance speech. "I was a kid who always looked for the shortcut," he said. "I did happen to stumble […]
http://www.dailyactor.com/2014/08/watch-bryan-cranston-and-aaron-pauls-emmy-award-speeches/
http://www.dailyactor.com/wp-content/uploads/2014/08/audition-tapes-gerard-butler-aud.jpg
Audition Tapes: Gerard Butler Auditions for 'Dracula 2000′
Check out Gerard Butler auditioning for the role of Dracula in the movie, Dracula 2000. The film, about a group of thieves who break into a chamber expecting to find paintings, but instead find Dracula himself, also starred Christopher Plummer, Jonny Lee Miller and Nathan Fillion. Bulter has some sweet rock star hair, huh?
http://www.dailyactor.com/2014/08/audition-tapes-gerard-butler-dracula-2000/
http://www.dailyactor.com/wp-content/uploads/2014/08/interview-matt-dillon-and-carla.jpg
Interview: Matt Dillon and Carla Gugino Talk 'Wayward Pines'
FOX has a new limited-series that's got a terrific cast and interesting premise. It's called Wayward Pines and stars Matt Dillon, Carla Gugino, Melissa Leo, Toby Jones, Terrance Howard, Juliette Lewis, Tim Griffin and Shannyn Sossamon. The show, whose pilot was directed by M. Night Shyamalan, is about a Secret Service agent (Dillon) goes to […]
http://www.dailyactor.com/2014/08/interview-matt-dillon-carla-gugino-wayward-pines-comic-con/
http://www.dailyactor.com/wp-content/uploads/2014/08/interview-wayward-pines-stars-ti.jpg
Interview: 'Wayward Pines' Stars Tim Griffin and Shannyn Sossamon on the Show, Their Characters and More!
Griffin and Sossamonwere at Comic-Con where they sat in on some roundtable interviews to talk about the show.
http://www.dailyactor.com/2014/08/interview-wayward-pines-stars-tim-griffin-shannyn-sossamon-comic-con/