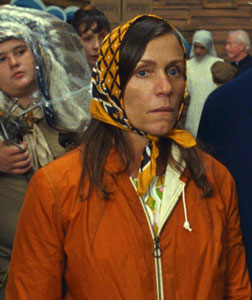 Frances McDormand recently returned to Broadway in the Daniel Sullivan-directed hit staging of David Lindsay-Abaire's play Good People. Her portrayal of Margie Walsh earned her the Drama League, Drama Desk, Outer Critics Circle, and Tony Awards for Leading Actress.
Ms. McDormand has established a worldwide cinema audience with roles in a variety of films, including her Academy Award-winning portrayal of Marge Gunderson in the acclaimed Coen Brothers film Fargo. With the Coen Brothers, she has made four other films; Blood Simple, Raising Arizona, The Man Who Wasn't There, and Burn After Reading.
Other films include Bharat Nalluri's Miss Pettigrew Lives for a Day; Nicole Holofcener's Friends with Money (Spirit Award for Supporting Actress); Niki Caro's North Country (Academy Award, Golden Globe, and SAG Award nominations); Lisa Cholodenko's Laurel Canyon; Nancy Meyers' Something's Gotta Give; Cameron Crowe's Almost Famous (Golden Globe, BAFTA, and Academy Award nominations, as well as several critics' awards); Curtis Hanson's Wonder Boys; Michael Caton-Jones' City by the Sea; Daisy von Scherler Mayer's Madeline; Gregory Hoblit's Primal Fear; John Sayles' Lone Star; Alan Taylor's Palookaville; Mick Jackson's Chattahoochee, opposite Gary Oldman; Sam Raimi's Darkman, opposite Liam Neeson; Ken Loach's Hidden Agenda; Robert Altman's Short Cuts (Venice International Film Festival Award and special Golden Globe Award for Best Ensemble Cast); John Boorman's Beyond Rangoon; Bruce Beresford's Paradise Road; and Alan Parker's Mississippi Burning (Academy Award nomination).
Most recently, she was seen in Michael Bay's blockbuster Transformers: Dark of the Moon. Upcoming films include Paolo Sorrentino's This Must Be the Place, opposite Sean Penn; and, voicing the character Captain Chantel Du Bois, the animated Madagascar 3: Europe's Most Wanted, directed by Eric Darnell.
Ms. McDormand has starred in the television films The Good Old Boys, directed by Tommy Lee Jones; Talking With, directed by Kathy Bates; Crazy in Love, directed by Martha Coolidge; and Hidden in America (Emmy Award nomination), opposite Jeff Bridges and directed by Martin Bell.
She studied at the Yale School of Drama. Other stage appearances include Caryl Churchill's Far Away, directed by Stephen Daldry, at the New York Theatre Workshop; her Tony Award-nominated performance as Stella in A Streetcar Named Desire; The Sisters Rosenzweig, at Lincoln Center; The Swan, at the Public Theatre; A Streetcar Named Desire (this time as Blanche), at the Gate Theater in Dublin; Dare Clubb's Oedipus, at the Blue Light Theater Company, with Billy Crudup; To You, The Birdie! and North Atlantic, with The Wooster Group; and The Country Girl, on Broadway with Morgan Freeman under Mike Nichols' direction.
This biography/filmography of Frances McDormand is courtesy of Focus Features and the film, Moonrise Kingdom