Chris Colfer Talks 'Glee' and His Screenwriting Debut in 'Struck by Lightning'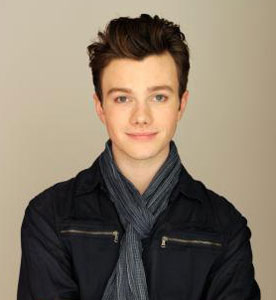 Actor Chris Colfer is famous for playing openly gay high school student, Kurt Hummel, on FOX's Glee.  But it turns out the 21-year-old is not just good at belting out show tunes.  Colfer's new film, Struck by Lightning, just premiered at the Tribeca Film Festival.  He not only stars in the movie, but he also wrote the script about a teenager who starts a literary magazine to impress Northwestern University, and then blackmails his classmates in order to get submissions.
In an interview with NPR, Colfer admitted that he does share some similarities with his character.  He said, "When I was in high school, we had this thing called the senior project where one senior was selected every year to have their own show…All the seniors before me always just did an SNL-like format with a bunch of skits and gags and songs, and I was the only student that ever was like, 'Nope, I'm going to write a show, and we're going to do a full production.'"
However, there is one main difference between the actor and the character he wrote.  Colfer said, "I really wish I could be like that and say exactly what I meant exactly when I felt it and not really give a crap what people thought.  But I was the exact opposite—I really did care a lot what people thought of me.  And I was not as manipulative or as smart and conniving as he is."
Colfer also spoke about an interesting plot device he chose for the movie.  The film is actually told from the main character's point of view after he has died.  The audience learns of his story through flashbacks.  He said, "One of the biggest things I wanted to do is have a character call these people out on their fake grief and mourning.  I mean, how many times are we at someone's funeral and someone speaks at the podium, and we think, 'Oh my God, they're such a liar, they never knew them like I knew them, they weren't as close as they're saying they are.'  I think one of my character's lines in the movie is, 'It's amazing how popular you become once you die.'  I just thought it'd be a great way to tell a story, from the perspective of being dead."
Despite Colfer's foray into film, he is still appreciative of his influential role on Glee.  He said, "I was very nervous about playing a gay character and I kind of went into it knowing I wanted to make him more than just the punching bag that gay characters usually are on TV—the quirky best friend with the bitchy one-liners that we see on almost every other show." 
Colfer was especially proud of his scene in which Kurt comes out to his father.  He said, "It's the most terrifying things kids can ever do in their life, especially at an early age, so I really just wanted to make sure there was a lot of honesty in that scene and it wasn't so forced or arrogant, but it really was just this kid who was terrified of telling his father the truth."
Although Colfer is keeping himself busy, he knows that he's lucky to be having so many opportunities.  He said, "I would love to retire by them time I'm 25, because by then I probably won't be considered relevant anymore and no one is going to care about me.  And I'm very, very well aware that every actor has a shelf life, and I'm just trying to squeeze in as much as I possibly can."
Struck by Lightning will open in wide release later this year.  But you can catch Colfer on Glee on FOX, Tuesdays at 8 PM.
Latest Videos
Watch: Cristin Milioti Talks 'A to Z', 'Once' and 'How I Met Your Mother'
Few actresses have the kind of rise as Cristin Milioti has had in the last few years. A virtual unknown in 2011, she became a bona fide Broadway star in the 2012 hit Once, appeared in a supporting role in the 2013 film The Wolf of Wall Street, and was featured as the titular mother […]
http://www.dailyactor.com/2014/10/watch-cristin-milioti-a-to-z-once-how-i-met-your-mother/
http://www.dailyactor.com/wp-content/uploads/2014/10/watch-bryan-cranstons-acting-adv.jpg
Watch: Bryan Cranston's Acting Advice
With Breaking Bad: The Complete Series Barrel being released on Blu-ray with all kinds of goodies today, it gives us yet another opportunity to reflect on the series' star Bryan Cranston and all of the incredible advice he has offered actors in the wake of his success. In a video he filmed in 2013 for […]
http://www.dailyactor.com/2014/10/bryan-cranston-acting-advice-video/
http://www.dailyactor.com/wp-content/uploads/2014/10/alex-sharp-curious-incident-of-the-dog.jpg
Alex Sharp Talks About His Broadway Debut in 'The Curious Incident of the Dog in the Night-Time' (video)
Alex Sharp went from working in a call-center and renovating houses to going to Julliard. And now, he's starring in one of the most talked about shows of the season, The Curious Incident of the Dog in the Night-Time. Check out this great, inspiring video!
http://www.dailyactor.com/2014/10/alex-sharp-broadway-debut-the-curious-incident-of-the-dog-in-the-night-time-video/
http://www.dailyactor.com/wp-content/uploads/2014/10/Its-only-a-play.jpg
Watch a Scene From Terrance McNally's, 'It's Only a Play', Featuring Nathan Lane and Micah Stock
Here's a quick scene from Terrance McNally's It's Only a Play, currently on Broadway at the Schoenfeld Theater. In this scene, Nathan Lane and Micah Stock meet for the first time. The show, about the opening night of a new play, also stars Matthew Broderick, Stockard Channing, F. Murray Abraham, Rupert Grint and Megan Mullally.
http://www.dailyactor.com/2014/10/watch-a-scene-terrance-mcnally-its-only-a-play-nathan-lane-micah-stock/
http://www.dailyactor.com/wp-content/uploads/2014/10/birdman-director-alejandro-g-ina.jpg
'Birdman' Director Alejandro G. Iñárritu Narrates a Scene from the Film Featuring Michael Keaton and Edward Norton
Director Alejandro G. Iñárritu narrates a scene from Birdman or The Unexpected Virtue of Ignorance that features stars Michael Keaton and Edward Norton. The film is wonderful and if it's playing in your town, definitely check it out!
http://www.dailyactor.com/2014/10/birdman-director-alejandro-g-inarritu-michael-keaton-edward-norton/