Review: 'Three Sisters' at the Sargent Theater (NYC)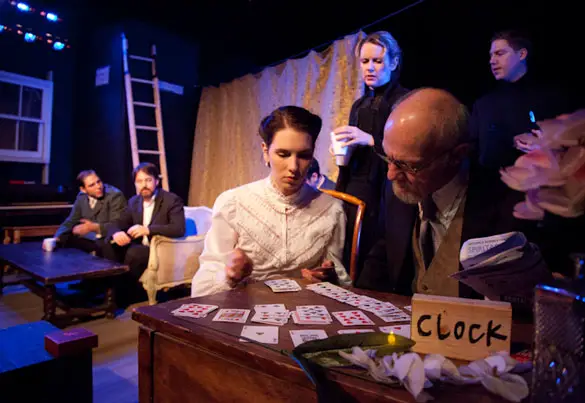 It's always amusing to watch people who obviously don't like each other interact, especially when they are family.  While the titular sisters of Anton Chekhov's play Three Sisters aren't particularly humorous during much of the play, the cast of the current production by The Seeing Place at the Sargent Theater does a remarkable job of playing up the humor in even the play's most tragic elements.
Three Sisters is about four siblings (three sisters and their brother) who are seemingly the only upper-class family living a provincial village in Russia.  They were moved their by their father, a military man, a decade ago.  The father, who died a year before the play begins, has left four children unhappy with their places in their lives but unable to make the necessary decisions to fix them.  Because it is a military town there are a number of soldiers who are regular guests at their family home, most of who are infatuated with Irina, the youngest daughter.  Irina (played by Elisa Pupko) is the most depressing character in the play since she goes from hopeful and joyous to, in her words, "disintegrating" in the four years that the play covers (it is set in the early twentieth century, Pre-Bolshevik era).  The Irina role might be the most demanding, but Pupko has no difficulty with the emotional spectrum that the role requires.
With a boring cast, a dialogue-heavy Chekhov play could be used as an instrument of torture.  It is a long play, and the text of the original contains contains a number of lines that could be easily excised with a talented cast conveying the cut dialogue.  So while this production still clocks in at over three hours, the cast maintains interest throughout with their chemistry. I admit that I'm new to this translation of the play, but it does much to bring out the inherent humor in the material that can be obscured by more literal translations.
Since this is an ensemble piece it's difficult to single out members of the cast for praise.  Had only one cast member been less-than-stellar the entire production would suffer, as this play can only be performed successfully with the type of chemistry that The Seeing Place demonstrates.  Yet it's hard to imagine the production getting as much wit out of the dialogue without an actor like Ned Lynch, who plays Kulygin, the schoolteacher husband of the middle sister, Marsha (played with considerable scowl by Erin Cronican).  Lynch delivers his lines with a buffoonish glee which tells you everything needed to know about his character, who seems to only want to foster peace in the chaotic family.  Other characters, like Solyony (played by Brian Byus) are quite the opposite.  Byus marks his character as the arrogant type of person who is always insistent on proving himself the smartest guy in the room — a personality type that seems as prevalent in the world today as it was when Chekhov wrote the play (the army doctor, Chebutykin — played by Michael Stephen Clay — delivers my favorite line in the play, in which he makes a point about people sitting around discussing Shakespeare and Voltaire without having actually read any of their work, which demonstrates this character flaw).
The less-than-wonderful characters are still marked by great performances.  Though unfortunately the production is a bit soft on establishing Natasha's character in the first act, the performance by Kathleen Brower easily fills us in on her transformation from plain peasant girl to the pinnacle of upper-class obnoxiousness.  There were audible sighs of disgust from the audience whenever she appeared on stage after intermission, which is always a good sign that an actress is doing her job.
Certainly I don't mean to slight any cast members by not mentioning them since I was engaged by the performances of the entire cast.  Even Justin Kress and Daniel Perez, who play the smaller solider parts of Fedotik and Roddey, show a remarkable ability in the final act despite their characters being over-the-top previously, an odd choice by director Brandon Walker (who also stars as Andrey, the brother to the three sisters) that is the only aspect of the play that doesn't quite fit the rest of the performance.  When this otherwise comical duo suddenly becomes serious in the final act it is jarring and makes it seem odd that they acted so silly in the earlier scenes.  But what is initially an odd choice in portrayal is ultimately overshadowed by Kress and Perez's performances in the final act.
A much better decision is the play's curious staging, which makes use of both actual props and objects with large labels of what they are intended to represent on stage.  Also, the stage manager, Livia Hill Mildener, sits at the back of the stage throughout the play and in a disinterested voice intermittently calls out the various lightning cues and sound effects.  Rather than highlighting the limitations of the small Sargent Theater, it gives the production an otherworldly quality, as if these characters are best by the flaws of humanity despite existing outside of it. 
Taking a chance on an indie theater group can be like playing Russian Roulette with your wallet, especially if the cast is performing a play that could easily be a bore in the wrong hands.  But what The Seeing Place offers is impressive performances at an affordable price (tickets are $12).  This is the second production I have reviewed from The Seeing Place, and I haven't seen a better indie theater value out there yet.  But don't misunderstand me — I don't mean value in the same sense as the McDonald's Dollar Menu — the quality of the performance here goes beyond the price.  I hope The Seeing Place will forgive me for the rather pedestrian analogy, but I doubt they would see it as anything less than a compliment.
Three Sisters runs at ATA's Sargent Theater (314 W 54th Street, New York) until March 25.  Performances run Wednesday through Sunday.  Check out http://www.seeingplacetheater.com for more information.
Latest Videos
http://www.dailyactor.com/wp-content/uploads/2014/09/audtion-tapes-robin-wright-and-h.jpg
Audition Tapes: Robin Wright and Haley Joel Osment Audition with Tom Hanks for 'Forrest Gump'
Check out Robin Wright auditioning for the role of Jenny from Forest Gump opposite Tom Hanks. Interestingly enough, Hanks doesn't quite have Gump's southern drawl down just yet while the other actors audition with him. In fact, Hanks would base Gump's voice on the voice of Michael Conner Humphreys, who played the young Forrest and […]
http://www.dailyactor.com/2014/09/audtion-tapes-robin-wright-haley-joel-osment-tom-hanks-forrest-gump/
http://www.dailyactor.com/wp-content/uploads/2014/08/bryan-cranston-emmy-award-speech.jpg
Watch: Bryan Cranston's Emmy Award Speech: "I love to act. It is a passion of mine and I will do it until my last breath."
The Emmy Awards weren't the most exciting awards show this year but with Bryan Cranston winning for Outstanding Actor in a Drama for Breaking Bad, we at least got to hear one heck of a fantastic acceptance speech. "I was a kid who always looked for the shortcut," he said. "I did happen to stumble […]
http://www.dailyactor.com/2014/08/watch-bryan-cranston-and-aaron-pauls-emmy-award-speeches/
http://www.dailyactor.com/wp-content/uploads/2014/08/audition-tapes-gerard-butler-aud.jpg
Audition Tapes: Gerard Butler Auditions for 'Dracula 2000′
Check out Gerard Butler auditioning for the role of Dracula in the movie, Dracula 2000. The film, about a group of thieves who break into a chamber expecting to find paintings, but instead find Dracula himself, also starred Christopher Plummer, Jonny Lee Miller and Nathan Fillion. Bulter has some sweet rock star hair, huh?
http://www.dailyactor.com/2014/08/audition-tapes-gerard-butler-dracula-2000/
http://www.dailyactor.com/wp-content/uploads/2014/08/interview-matt-dillon-and-carla.jpg
Interview: Matt Dillon and Carla Gugino Talk 'Wayward Pines'
FOX has a new limited-series that's got a terrific cast and interesting premise. It's called Wayward Pines and stars Matt Dillon, Carla Gugino, Melissa Leo, Toby Jones, Terrance Howard, Juliette Lewis, Tim Griffin and Shannyn Sossamon. The show, whose pilot was directed by M. Night Shyamalan, is about a Secret Service agent (Dillon) goes to […]
http://www.dailyactor.com/2014/08/interview-matt-dillon-carla-gugino-wayward-pines-comic-con/
http://www.dailyactor.com/wp-content/uploads/2014/08/interview-wayward-pines-stars-ti.jpg
Interview: 'Wayward Pines' Stars Tim Griffin and Shannyn Sossamon on the Show, Their Characters and More!
Griffin and Sossamonwere at Comic-Con where they sat in on some roundtable interviews to talk about the show.
http://www.dailyactor.com/2014/08/interview-wayward-pines-stars-tim-griffin-shannyn-sossamon-comic-con/