Biography: Anne Heche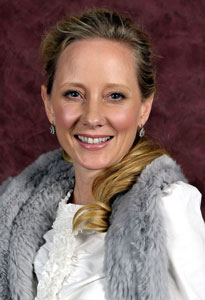 Anne Heche has proven herself as an exceptional actress in film, television, and stage.  Her talents have earned her critical praise, as well as, both Tony and Emmy award nominations. 
Currently, Heche co-stars with Thomas Jane and Jane Adams in the HBO comedy-series Hung, currently in its' third season, and can also be seen in the feature film Cedar Rapids, opposite her Rampart co-star Sigourney Weaver, John C. Reilly and Ed Helms.
In 2007, Heche starred in the ABC series Men in Trees as a female relationship guru who moves to Alaska to get over her philandering ex-fiancée, only to discover herself surrounded by available men. 
She earned her first primetime Emmy Award nomination for her portrayal of a drug-addicted mother in the 2004 Lifetime Television, original movie Gracie's Choice alongside Diane Ladd. In 2005, Heche appeared in the Lifetime movie, Fatal Desire and the Hallmark Channel's holiday movie Silver Bells on CBS, which was seen by over 16 million viewers.  She has created memorable characters in several guest starring performances on hit shows including Nip/Tuck, Everwood, Ally McBeal and HBO's telefilm, If These Walls Could Talk, directed by Cher. 
Heche won The National Board of Review Award for Best Supporting Actress for Barry Levinson's Wag the Dog, in which appeared opposite Robert DeNiro and Dustin Hoffman.  In the previous year she starred opposite Harrison Ford in Six Days Seven Nights. She starred with Tommy Lee Jones in Volcano and achieved critical acclaim for her role in Donnie Brasco.  She co-starred in Gus Van Zant's update of Psycho with Vince Vaughn and Julianne Moore as well as Auggie Rose, alongside Jeff Goldblum, which was screened at the Montreal Film Festival.  In 2002, Heche co-starred in the Denzel Washington drama, John Q and opposite Christina Ricci in the Miramax film, Prozac Nation.  Other film credits include Agnieszka Holland's The Third Miracle opposite Ed Harris, The Juror with Demi Moore and Alec Baldwin, Walking and Talking, The Wild Side, Twist of Fate, Pie in the Sky, Milk Money with Melanie Griffith, The Investigator, I'll Do Anything, Spread and Birth. 
In 2002, Heche made her Broadway debut in the critically acclaimed production of the Tony Award-winning play Proof.  She garnered rave reviews from theatre critics and the show was extended, making it one of the longest running non-musical plays in recent history.  She triumphantly returned to Broadway in the Roundabout Theater stage production of Twentieth Century in 2004.  Her critically acclaimed performance opposite Alec Baldwin earned her a Tony Award nomination for Best Lead Actress in a Play.
Also a writer and director, Heche wrote and directed a short feature entitled Reaching Normal, for Showtime's First Director Series, as well as the second installment of If These Walls Could Talk II. In September 2001, Simon & Schuster published Anne's autobiographical Call Me Crazy, which appeared on The New York Times and the Los Angeles Times bestseller lists.
Filmography courtesy of Millennium Entertainment. Rampart is in theaters March 2nd, 2012.
Latest Videos
http://www.dailyactor.com/wp-content/uploads/2014/08/audition-tapes-gerard-butler-aud.jpg
Audition Tapes: Gerard Butler Auditions for 'Dracula 2000′
Check out Gerard Butler auditioning for the role of Dracula in the movie, Dracula 2000. The film, about a group of thieves who break into a chamber expecting to find paintings, but instead find Dracula himself, also starred Christopher Plummer, Jonny Lee Miller and Nathan Fillion. Bulter has some sweet rock star hair, huh? [...]
http://www.dailyactor.com/2014/08/audition-tapes-gerard-butler-dracula-2000/
http://www.dailyactor.com/wp-content/uploads/2014/08/interview-matt-dillon-and-carla.jpg
Interview: Matt Dillon and Carla Gugino Talk 'Wayward Pines'
FOX has a new limited-series that's got a terrific cast and interesting premise. It's called Wayward Pines and stars Matt Dillon, Carla Gugino, Melissa Leo, Toby Jones, Terrance Howard, Juliette Lewis, Tim Griffin and Shannyn Sossamon. The show, whose pilot was directed by M. Night Shyamalan, is about a Secret Service agent (Dillon) goes to [...]
http://www.dailyactor.com/2014/08/interview-matt-dillon-carla-gugino-wayward-pines-comic-con/
http://www.dailyactor.com/wp-content/uploads/2014/08/interview-wayward-pines-stars-ti.jpg
Interview: 'Wayward Pines' Stars Tim Griffin and Shannyn Sossamon on the Show, Their Characters and More!
Griffin and Sossamonwere at Comic-Con where they sat in on some roundtable interviews to talk about the show.
http://www.dailyactor.com/2014/08/interview-wayward-pines-stars-tim-griffin-shannyn-sossamon-comic-con/
http://www.dailyactor.com/wp-content/uploads/2014/08/interview-m-night-shyamalan-talk.jpg
Interview: M. Night Shyamalan Talks 'Wayward Pines' and Why He Expanded a Young Actors Role on the Show
I talked to Shyamalan at Comic-Con in a roundtable interview where he talked about the cast, what he learned from working in TV and how young actor Charlie Tahan started out with a small part but as the story grew, so did his role.
http://www.dailyactor.com/2014/08/interview-m-night-shyamalan-wayward-pines-comic-con/
http://www.dailyactor.com/wp-content/uploads/2014/08/interview-wayward-pines-producer.jpg
Interview: 'Wayward Pines' Producers and Writer Talk Casting and the 10-Episode Format
FOX's upcoming limited series Wayward Pines looks very cool. The show is supposed to be very Twin Peaks-ish in tone which, just hearing that, definitely sparks my interest. The pilot was directed by M. Night Shyamalan and stars Matt Dillon, Carla Gugino, Melissa Leo, Toby Jones, Terrance Howard and Juliette Lewis and is about a [...]
http://www.dailyactor.com/2014/08/interview-wayward-pines-creators-comic-con/