In order to succeed you must BE. DO. HAVE.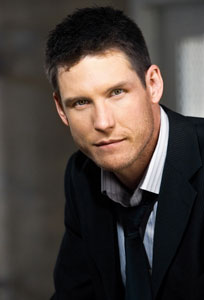 Written by Jamison Haase, L.A. On-Camera Training Center
Most actors start at the end.
Most actors after having moved to Los Angeles right away set about trying to find an agent. They think to themselves, "I need an agent in order to get auditions so that can be the TV/Film actor/star that I want to be."
They struggle to find an agent, or on the very outside chance find someone, but still rarely get auditions, let alone callbacks and bookings. Over time, they grow more and more frustrated, and shed more and more tears not realizing that they were doomed from the start.
Ultimately, they were really saying, "Once I have the career I want, THEN I'll start working hard, and THEN I'll be the person I want to be." You don't have to be caught in that cycle. I know, because I was thinking that way when I first started; spending five years of my life not understanding the key to real success. 
One simple phrase, "Be, do, have."

The first thing that every actor needs to do is to set a goal. Who do you want to "be?" Who for you is "The One?" The person who, when you see them on the big screen you think, "That's where I want to be." Ask yourself if that is truly what you want. You must fully accept and embrace what you are walking into, be honest and clear yourself, Brad Pitt may have a tremendous amount of fame and fortune, but there are many sacrifices that he makes and has made in his personal life to have that fame and fortune.
Now you must "do" everything that an actor of that caliber would do. That might mean getting back into class to sharpen your skills, or if you're a leading man or lady, hitting the gym everyday, making more contacts, using those contacts to further and help your career. Take on the work ethic and behavior that "The One" would have. Do you think that Denzel Washington just fell into being a huge movie star, or that George Clooney walks onto set everyday not having worked on the scenes to be shot for that day? Or how about Meryl Streep, or Ryan Gosling, or anyone who is working at a very high level or even just working consistently? They started working harder than anyone else years ago, perfecting their craft, studying scripts, making a name for themselves, so that they could get to the top of their game, and then have continued to work their asses off to remain at the top. Simply put, you must "do" everything that an actor at that level would do BEFORE you get there. You must spend just as much time and energy, be just as dedicated, as creative, and work just as hard as someone who is already in that position does. 

After having spent hours, days, weeks, months, working on yourself and your craft, without any goal other than to make yourself a better actor, only then will you begin to reap the benefits of all that hard work. Sure there are people who through their family/friend/significant other get work and sometimes, land big roles in film and TV, but if they don't spend the necessary time working, they don't stay there long. Only when you are already "being" a star through your "doing" will you begin to "have" what the career that you want; without fully committing to the steps before, it can only be a dream, both figuratively and literally. You will either not have a clear enough goal, or will not work with the dedication and energy needed to succeed in the business; and you'll end up a bitter could-have-been.
Practice this technique, and you're sure to be a happier and more productive person in both your personal life and your career. No longer will you be just waiting for the phone to ring, you'll be out there making things happen. Being, Doing, and HAVING.

Jamison Haase opened L.A On-Camera Training Center in 2007. At LAOTC Jamison and the rest of the staff teach a simple, hands-on approach at acting for the camera developed by working actors directors and producers, geared specifically towards the audition. Would like more information about classes? Find several ways to connect with us, including our newsletters here: http://about.me/laoncamera.
Latest Videos
http://www.dailyactor.com/wp-content/uploads/2014/09/audtion-tapes-robin-wright-and-h.jpg
Audition Tapes: Robin Wright and Haley Joel Osment Audition with Tom Hanks for 'Forrest Gump'
Check out Robin Wright auditioning for the role of Jenny from Forest Gump opposite Tom Hanks. Interestingly enough, Hanks doesn't quite have Gump's southern drawl down just yet while the other actors audition with him. In fact, Hanks would base Gump's voice on the voice of Michael Conner Humphreys, who played the young Forrest and […]
http://www.dailyactor.com/2014/09/audtion-tapes-robin-wright-haley-joel-osment-tom-hanks-forrest-gump/
http://www.dailyactor.com/wp-content/uploads/2014/08/bryan-cranston-emmy-award-speech.jpg
Watch: Bryan Cranston's Emmy Award Speech: "I love to act. It is a passion of mine and I will do it until my last breath."
The Emmy Awards weren't the most exciting awards show this year but with Bryan Cranston winning for Outstanding Actor in a Drama for Breaking Bad, we at least got to hear one heck of a fantastic acceptance speech. "I was a kid who always looked for the shortcut," he said. "I did happen to stumble […]
http://www.dailyactor.com/2014/08/watch-bryan-cranston-and-aaron-pauls-emmy-award-speeches/
http://www.dailyactor.com/wp-content/uploads/2014/08/audition-tapes-gerard-butler-aud.jpg
Audition Tapes: Gerard Butler Auditions for 'Dracula 2000′
Check out Gerard Butler auditioning for the role of Dracula in the movie, Dracula 2000. The film, about a group of thieves who break into a chamber expecting to find paintings, but instead find Dracula himself, also starred Christopher Plummer, Jonny Lee Miller and Nathan Fillion. Bulter has some sweet rock star hair, huh?
http://www.dailyactor.com/2014/08/audition-tapes-gerard-butler-dracula-2000/
http://www.dailyactor.com/wp-content/uploads/2014/08/interview-matt-dillon-and-carla.jpg
Interview: Matt Dillon and Carla Gugino Talk 'Wayward Pines'
FOX has a new limited-series that's got a terrific cast and interesting premise. It's called Wayward Pines and stars Matt Dillon, Carla Gugino, Melissa Leo, Toby Jones, Terrance Howard, Juliette Lewis, Tim Griffin and Shannyn Sossamon. The show, whose pilot was directed by M. Night Shyamalan, is about a Secret Service agent (Dillon) goes to […]
http://www.dailyactor.com/2014/08/interview-matt-dillon-carla-gugino-wayward-pines-comic-con/
http://www.dailyactor.com/wp-content/uploads/2014/08/interview-wayward-pines-stars-ti.jpg
Interview: 'Wayward Pines' Stars Tim Griffin and Shannyn Sossamon on the Show, Their Characters and More!
Griffin and Sossamonwere at Comic-Con where they sat in on some roundtable interviews to talk about the show.
http://www.dailyactor.com/2014/08/interview-wayward-pines-stars-tim-griffin-shannyn-sossamon-comic-con/