Biography: Chris Pine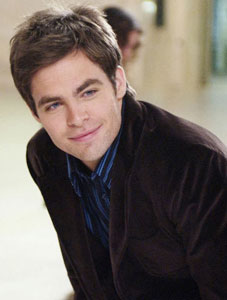 Chris Pine has emerged as one of Hollywood's hottest young actors. Chris was most recently seen in the Twentieth Century Fox feature film Unstoppable directed by Tony Scott and costarring Denzel Washington. Chris has completed production on the drama Welcome to People costarring Michelle Pfeiffer, Elizabeth Banks and Olivia Wilde.
In 2009, Pine starred as James T. Kirk in Paramount's box-office smash-hit feature film Star Trek for director J. J. Abrams. The film chronicles the early days of Kirk and his fellow USS Enterprise crew members. He will reprise that role in two upcoming sequels of the franchise.
Pine's additional feature credits include the Paramount Vantage film Carriers, the educational animated feature Quantum Quest: A Cassini Space Odyssey, Bottle Shock for writer/director Randall Miller, the independent feature Small Town Saturday Night for writer/director Ryan Craig, Joe Carnahan's gritty ensemble drama Smokin' Aces for Working Title Films and Universal Pictures, Blind Dating costarring Eddie Kaye Thomas and Jane Seymour, the Fox/New Regency romantic comedy Just My Luck opposite Lindsay Lohan and The Princess Diaries 2: Royal Engagement opposite Anne Hathaway.
On the stage, Pine was most recently seen starring in Martin McDonagh's The Lieutenant of Inishmore at the Mark Taper Forum in Los Angeles. In Bob Verini's review for Variety, he called Pine's performance "spookily, spectacularly good" and went on to remark that "Inishmore audiences are present at the launch of what promises to be a truly remarkable stage career." In March, 2011 Chris was awarded "Best Lead Performance" by the LA Drama Critics Circle for his performance.
Pine also received rave reviews and a 2009 Ovation Award nomination for his performance in the drama Farragut North starring opposite Chris Noth at the Geffen Playhouse in Los Angeles. His additional stage credits include the Neil LaBute play, Fat Pig, also at the Geffen Playhouse, and The Atheist, a one man show performed off off Broadway.
Pine graduated from the University of California, Berkeley with a degree in English and he has studied acting at the American Conservatory Theater and University of Leeds in the U.K. His extensive theater work includes performances in productions of Our Town, American Buffalo, No Exit, Waiting for Godot, and Orestes.
Pine's parents are actors Gwynne Gilford and Robert Pine. His late grandmother, Anne Gwynne, was a film actress of the '30s and '40s.
Courtesy of 20th Century Fox. This Means War opens February 14th
Latest Videos
http://www.dailyactor.com/wp-content/uploads/2014/09/audtion-tapes-robin-wright-and-h.jpg
Audition Tapes: Robin Wright and Haley Joel Osment Audition with Tom Hanks for 'Forrest Gump'
Check out Robin Wright auditioning for the role of Jenny from Forest Gump opposite Tom Hanks. Interestingly enough, Hanks doesn't quite have Gump's southern drawl down just yet while the other actors audition with him. In fact, Hanks would base Gump's voice on the voice of Michael Conner Humphreys, who played the young Forrest and […]
http://www.dailyactor.com/2014/09/audtion-tapes-robin-wright-haley-joel-osment-tom-hanks-forrest-gump/
http://www.dailyactor.com/wp-content/uploads/2014/08/bryan-cranston-emmy-award-speech.jpg
Watch: Bryan Cranston's Emmy Award Speech: "I love to act. It is a passion of mine and I will do it until my last breath."
The Emmy Awards weren't the most exciting awards show this year but with Bryan Cranston winning for Outstanding Actor in a Drama for Breaking Bad, we at least got to hear one heck of a fantastic acceptance speech. "I was a kid who always looked for the shortcut," he said. "I did happen to stumble […]
http://www.dailyactor.com/2014/08/watch-bryan-cranston-and-aaron-pauls-emmy-award-speeches/
http://www.dailyactor.com/wp-content/uploads/2014/08/audition-tapes-gerard-butler-aud.jpg
Audition Tapes: Gerard Butler Auditions for 'Dracula 2000′
Check out Gerard Butler auditioning for the role of Dracula in the movie, Dracula 2000. The film, about a group of thieves who break into a chamber expecting to find paintings, but instead find Dracula himself, also starred Christopher Plummer, Jonny Lee Miller and Nathan Fillion. Bulter has some sweet rock star hair, huh?
http://www.dailyactor.com/2014/08/audition-tapes-gerard-butler-dracula-2000/
http://www.dailyactor.com/wp-content/uploads/2014/08/interview-matt-dillon-and-carla.jpg
Interview: Matt Dillon and Carla Gugino Talk 'Wayward Pines'
FOX has a new limited-series that's got a terrific cast and interesting premise. It's called Wayward Pines and stars Matt Dillon, Carla Gugino, Melissa Leo, Toby Jones, Terrance Howard, Juliette Lewis, Tim Griffin and Shannyn Sossamon. The show, whose pilot was directed by M. Night Shyamalan, is about a Secret Service agent (Dillon) goes to […]
http://www.dailyactor.com/2014/08/interview-matt-dillon-carla-gugino-wayward-pines-comic-con/
http://www.dailyactor.com/wp-content/uploads/2014/08/interview-wayward-pines-stars-ti.jpg
Interview: 'Wayward Pines' Stars Tim Griffin and Shannyn Sossamon on the Show, Their Characters and More!
Griffin and Sossamonwere at Comic-Con where they sat in on some roundtable interviews to talk about the show.
http://www.dailyactor.com/2014/08/interview-wayward-pines-stars-tim-griffin-shannyn-sossamon-comic-con/