Biography: Chris Pine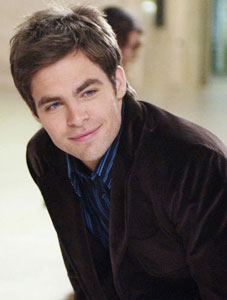 Chris Pine has emerged as one of Hollywood's hottest young actors. Chris was most recently seen in the Twentieth Century Fox feature film Unstoppable directed by Tony Scott and costarring Denzel Washington. Chris has completed production on the drama Welcome to People costarring Michelle Pfeiffer, Elizabeth Banks and Olivia Wilde.
In 2009, Pine starred as James T. Kirk in Paramount's box-office smash-hit feature film Star Trek for director J. J. Abrams. The film chronicles the early days of Kirk and his fellow USS Enterprise crew members. He will reprise that role in two upcoming sequels of the franchise.
Pine's additional feature credits include the Paramount Vantage film Carriers, the educational animated feature Quantum Quest: A Cassini Space Odyssey, Bottle Shock for writer/director Randall Miller, the independent feature Small Town Saturday Night for writer/director Ryan Craig, Joe Carnahan's gritty ensemble drama Smokin' Aces for Working Title Films and Universal Pictures, Blind Dating costarring Eddie Kaye Thomas and Jane Seymour, the Fox/New Regency romantic comedy Just My Luck opposite Lindsay Lohan and The Princess Diaries 2: Royal Engagement opposite Anne Hathaway.
On the stage, Pine was most recently seen starring in Martin McDonagh's The Lieutenant of Inishmore at the Mark Taper Forum in Los Angeles. In Bob Verini's review for Variety, he called Pine's performance "spookily, spectacularly good" and went on to remark that "Inishmore audiences are present at the launch of what promises to be a truly remarkable stage career." In March, 2011 Chris was awarded "Best Lead Performance" by the LA Drama Critics Circle for his performance.
Pine also received rave reviews and a 2009 Ovation Award nomination for his performance in the drama Farragut North starring opposite Chris Noth at the Geffen Playhouse in Los Angeles. His additional stage credits include the Neil LaBute play, Fat Pig, also at the Geffen Playhouse, and The Atheist, a one man show performed off off Broadway.
Pine graduated from the University of California, Berkeley with a degree in English and he has studied acting at the American Conservatory Theater and University of Leeds in the U.K. His extensive theater work includes performances in productions of Our Town, American Buffalo, No Exit, Waiting for Godot, and Orestes.
Pine's parents are actors Gwynne Gilford and Robert Pine. His late grandmother, Anne Gwynne, was a film actress of the '30s and '40s.
Courtesy of 20th Century Fox. This Means War opens February 14th
http://www.dailyactor.com/wp-content/uploads/2016/02/Owen-Wilson.jpg
Owen Wilson on How He Started Acting, Trying "To Be Real" On-Screen and Choosing His Roles
"It's not enough just to be real; you have to try to make it interesting or entertaining" - Owen Wilson on Acting
http://www.dailyactor.com/actors-on-acting/owen-wilson-started-acting-real-on-screen/
http://www.dailyactor.com/wp-content/uploads/2016/02/John-Krasinski.jpg
John Krasinski on His Directing Debut, 'The Hollars', and How He'll Always Be an "Actor at Heart"
"To me, it's not about comedy or drama or genre, it's about, where's the good story?" - John Krasinski
http://www.dailyactor.com/actors-on-acting/john-krasinski-directing-debut-the-hollars-actor-at-heart/
http://www.dailyactor.com/wp-content/uploads/2016/02/david-harewood-supergirl.jpg
David Harewood on 'Supergirl' and How He Was "Struggling to Get a Handle" on His Character
Harewood reveals how he relates to the character and how he eventually got comfortable playing him.
http://www.dailyactor.com/actors-on-acting/david-harewood-supergirlstruggling-to-get-a-handle-on-his-character/
http://www.dailyactor.com/wp-content/uploads/2016/01/Jeff-Daniels.jpg
Jeff Daniels Remembers a Terrible Audition for a Diane Keaton Movie
One actor that knows the ups and downs of the audition process is Jeff Daniels.
http://www.dailyactor.com/actors-on-acting/jeff-daniels-terrible-audition-diane-keaton-movie/
http://www.dailyactor.com/wp-content/uploads/2016/02/Jennifer-Jason-Leigh-The-Hateful-Eight.jpg
Jennifer Jason Leigh on Her First-Ever Oscar Nomination: "It's kind of phenomenal"
"He knew that I could, in his words, 'act the … out of it' and I'm not afraid to take a risk in terms of acting" Jennifer Jason Leigh on Quentin Tarantino
http://www.dailyactor.com/actors-on-acting/jennifer-jason-leigh-oscar-nomination/