Biography: Michael Douglas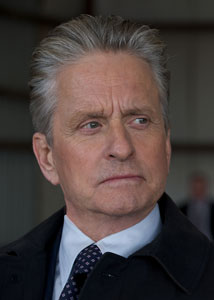 MICHAEL DOUGLAS is an award-winning actor and producer with a career spanning more than 40 years that encompasses theater, film and television. He was already a successful actor when he branched out into independent feature production in 1975 with the Academy Award®-winning drama One Flew Over the Cuckoo's Nest. Douglas has since been involved in a long list of influential and popular films, including his Oscar®-winning role (Best Actor) as Gordon Gekko in Wall Street, directed by Oliver Stone. He reprised his role in the sequel, Wall Street: Money Never Sleeps, released in 2010. Earlier that year, Douglas starred with Susan Sarandon in Solitary Man, directed by Brian Koppelman and David Levien.
Born in New Jersey, the son of Kirk and Diana Douglas, he earned his B.A. from U.C. Santa Barbara. Moving to New York, Douglas studied at the American Place Theater and the Neighborhood Playhouse. His first big break was a pivotal role in the CBS Playhouse's 1969 production of Ellen M. Violett's drama "The Experiment." This led to leading roles in the films Hail, Hero!, Adam at 6 AM, Summertree and Napoleon and Samantha. Between films, Douglas returned to the stage in summer stock and Off Broadway productions.
In 1972, Douglas was cast as Karl Malden's partner in the drama series "The Streets of San Francisco," which became one of ABC's top-rated programs. Douglas earned three consecutive Emmy Award nominations for his role and also directed two episodes of the series. 
Long interested in producing a film version of Ken Kesey's novel One Flew Over the Cuckoo's Nest, Douglas purchased the movie rights from his father. He partnered with Saul Zaentz to produce the film, which is one of only three movies to sweep the Oscars for Best Picture, Best Director, Best Actor and Best Actress. The film won for Best Screenplay as well.
Douglas next produced the prophetic 1979 hit The China Syndrome, in which he starred with Jane Fonda and Jack Lemmon, who both received Academy Award nominations. The film was also nominated for Best Screenplay. Douglas also starred in Michael Crichton's Coma, Claudia Weill's It's My Turn, Peter Hyams' The Star Chamber and Running.
In 1984, Douglas produced the smash-hit romantic action comedy Romancing the Stone, in which he also starred with Kathleen Turner and Danny DeVito, under the direction of Robert Zemeckis. Douglas was also an executive producer on John Carpenter's Starman, a 1984 holiday-season hit. The following year, he was reunited with Turner and DeVito in The Jewel of the Nile, the sequel to Romancing the Stone. He also starred in Richard Attenborough's 1985 film version of A Chorus Line.
Douglas went on to star in one of the biggest hits of 1987, Fatal Attraction, opposite Glenn Close. He then starred in Ridley Scott's Black Rain before re-teaming with Turner and DeVito in the black comedy War of the Roses. In 1992, Douglas starred with Sharon Stone in Paul Verhoeven's memorable erotic thriller Basic Instinct, one of the year's top-grossing films. He delivered a powerful performance in Joel Schumacher's drama Falling Down, opposite Robert Duvall, in 1993.
Over the next five years Douglas starred in Barry Levinson's Disclosure, opposite Demi Moore; Rob Reiner's The American President, with Annette Bening; The Ghost and the Darkness, which he also executive produced; David Fincher's The Game, co-starring Sean Penn; and A Perfect Murder, opposite Gwyneth Paltrow.
During the 1990s, Douglas served as a producer or executive producer on such films as Joel Schumacher's Flatliners, Richard Donner's Radio Flyer, Richard Benjamin's Made in America, John Woo's Face/Off and Francis Ford Coppola's The Rainmaker, based on the John Grisham novel.
In 2000, Douglas starred in Curtis Hanson's Wonder Boys, for which he received Golden Globe Award® and BAFTA nominations. He also shared in a Screen Actors Guild Award nomination as part of the ensemble cast of Steven Soderbergh's award-winning drama Traffic. Douglas produced and starred in the 2001 comedy One Night at McCool's before making a rare guest appearance on the hit television series "Will & Grace," earning a 2002 Emmy nomination for his performance.
Recent film credits include the political thriller The Sentinel, the comedy You, Me, and Dupree, the independent drama King of California, the crime-drama Beyond a Reasonable Doubt, the comedy Ghosts of Girlfriends Past and dramedy It Runs in the Family, which co-starred his father Kirk, mother Diana and son Cameron.
In 1998, U.N. Secretary General Kofi Annan named Douglas a Messenger of Peace, concentrating on nuclear proliferation and the control of small arms. In 2004, Douglas was honored with the Hollywood Foreign Press Association's Cecil B. DeMille Award. Most recently, Douglas was honored with both the Producers Guild Award and the American Film Institute's Lifetime Achievement Award for his vital contributions to filmmaking as both an actor and a producer.
Douglas is married to actress Catherine Zeta-Jones and they have a son, Dylan, and a daughter, Carys. Douglas also has a son, Cameron, from a previous marriage.
Biography courtesy of Relativity Media. Haywire opens on today.
Latest Videos
http://www.dailyactor.com/wp-content/uploads/2014/09/audtion-tapes-robin-wright-and-h.jpg
Audition Tapes: Robin Wright and Haley Joel Osment Audition with Tom Hanks for 'Forrest Gump'
Check out Robin Wright auditioning for the role of Jenny from Forest Gump opposite Tom Hanks. Interestingly enough, Hanks doesn't quite have Gump's southern drawl down just yet while the other actors audition with him. In fact, Hanks would base Gump's voice on the voice of Michael Conner Humphreys, who played the young Forrest and […]
http://www.dailyactor.com/2014/09/audtion-tapes-robin-wright-haley-joel-osment-tom-hanks-forrest-gump/
http://www.dailyactor.com/wp-content/uploads/2014/08/bryan-cranston-emmy-award-speech.jpg
Watch: Bryan Cranston's Emmy Award Speech: "I love to act. It is a passion of mine and I will do it until my last breath."
The Emmy Awards weren't the most exciting awards show this year but with Bryan Cranston winning for Outstanding Actor in a Drama for Breaking Bad, we at least got to hear one heck of a fantastic acceptance speech. "I was a kid who always looked for the shortcut," he said. "I did happen to stumble […]
http://www.dailyactor.com/2014/08/watch-bryan-cranston-and-aaron-pauls-emmy-award-speeches/
http://www.dailyactor.com/wp-content/uploads/2014/08/audition-tapes-gerard-butler-aud.jpg
Audition Tapes: Gerard Butler Auditions for 'Dracula 2000′
Check out Gerard Butler auditioning for the role of Dracula in the movie, Dracula 2000. The film, about a group of thieves who break into a chamber expecting to find paintings, but instead find Dracula himself, also starred Christopher Plummer, Jonny Lee Miller and Nathan Fillion. Bulter has some sweet rock star hair, huh?
http://www.dailyactor.com/2014/08/audition-tapes-gerard-butler-dracula-2000/
http://www.dailyactor.com/wp-content/uploads/2014/08/interview-matt-dillon-and-carla.jpg
Interview: Matt Dillon and Carla Gugino Talk 'Wayward Pines'
FOX has a new limited-series that's got a terrific cast and interesting premise. It's called Wayward Pines and stars Matt Dillon, Carla Gugino, Melissa Leo, Toby Jones, Terrance Howard, Juliette Lewis, Tim Griffin and Shannyn Sossamon. The show, whose pilot was directed by M. Night Shyamalan, is about a Secret Service agent (Dillon) goes to […]
http://www.dailyactor.com/2014/08/interview-matt-dillon-carla-gugino-wayward-pines-comic-con/
http://www.dailyactor.com/wp-content/uploads/2014/08/interview-wayward-pines-stars-ti.jpg
Interview: 'Wayward Pines' Stars Tim Griffin and Shannyn Sossamon on the Show, Their Characters and More!
Griffin and Sossamonwere at Comic-Con where they sat in on some roundtable interviews to talk about the show.
http://www.dailyactor.com/2014/08/interview-wayward-pines-stars-tim-griffin-shannyn-sossamon-comic-con/